Carbs on carbs, man. We all love pizza and we all love pasta, so here's a salad that marries them together. All the best things of pizza are put in this salad and topped with a tomato herb vinaigrette. There aren't any fancy ingredients, just the usuals that go on a pizza.
Baseball, gear and shoes
I took this salad to a BBQ we had for my son's baseball team. It was an end of the season thing before the state tournament starts. The team did well this season. My son tried playing catcher and it turns out he is pretty dang good at it. There were some amazing outs throw from home to second and third base. He also became more confident in using his body to stop the ball on a wild pitch. I think it has something to do with getting new catchers gear. This is my kid that LOVES the gear that comes with any sport. He's a bit of a brand snob. Which is always hilarious when we are back to school shopping because "of course I am not going to get you Nike shorts when the Old Navy ones are $20 cheaper." This is the same child that went through 2 full shoe sizes last school year. So buying him expensive shoes and clothes are just not happening when I know he won't have a chance to wear them in before he grows out of them. I swear all I do is buy pants and shoes for my growing boys.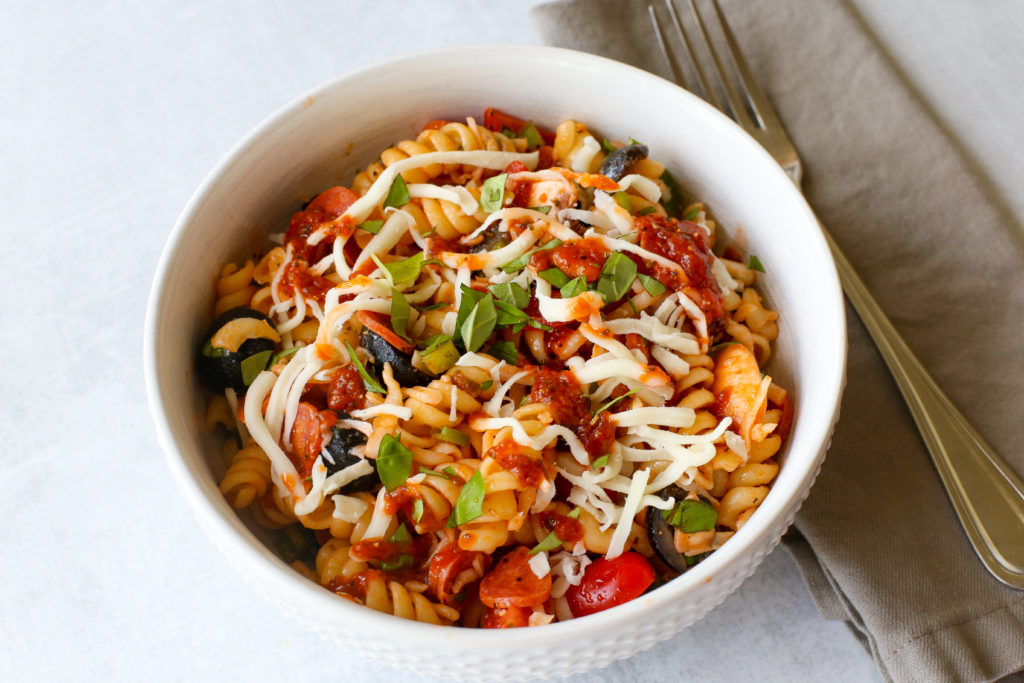 A salad that holds up great
Anywho, I took this pizza pasta salad to the BBQ. It held up great and the little bit of leftovers was used for a quick dinner the next night. A big scoop of pasta salad next to some cut fresh fruit and you have summer dinnertime magic. If you don't have any BBQ or potluck to take this salad to, make it and keep it in the fridge. It will keep for about a week and you can use it for a quick lunch or dinner. The longer it sits, the better it gets. The dressing gets all up in that pasta and it's full of flavor.
Notes on preparation
The recipe calls for the mini pepperonis. They are sold in a bag right by the regular pepperoni. If you can't find those, go ahead and buy a package of regular pepperoni and just chop it up. It will work exactly the same.
I wouldn't buy the already-sliced mushrooms. They are cut way too thick and you don't get a whole lot out of one pack. So buy the whole mushrooms and cut them yourself. This is actually a great task for kids to do since mushrooms are soft and cut really easily.
With most salads, I double the dressing. I just like a lot of dressing. It's nice to have extra. So ahead and do that with this salad. And it's not too expensive because we are just using dried herbs and tomato paste.
Pizza Pasta Salad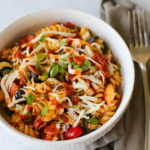 Print This
Ingredients
3 teaspoons kosher salt

2 teaspoons ground pepper

2 teaspoons Italian seasoning blend

2 tablespoons tomato paste

1/4 cup red wine vinegar

3/4 cup extra virgin olive oil

1 pound rotini pasta, cooked according to package directions and cooled (rinse under cold water)

1 green bell pepper, diced

1 small package mushrooms, thinly sliced

1 carton grape tomatoes, halved

1 15 ounce can black olives, halved

1 5 ounce bag mini pepperonis

2 cups shredded mozzarella cheese

1/2 cup chopped fresh basil
Instructions
In a blender, combine salt, pepper, Italian seasoning, tomato paste, vinegar, and olive oil. Blend on low until smooth and well combined. In a large bowl, combine pasta, bell pepper, mushrooms, tomatoes, black olives, pepperoni, cheese and basil. Stir well to combine and pour the dressing on top. Stir well and serve immediately or cover with plastic and refrigerate.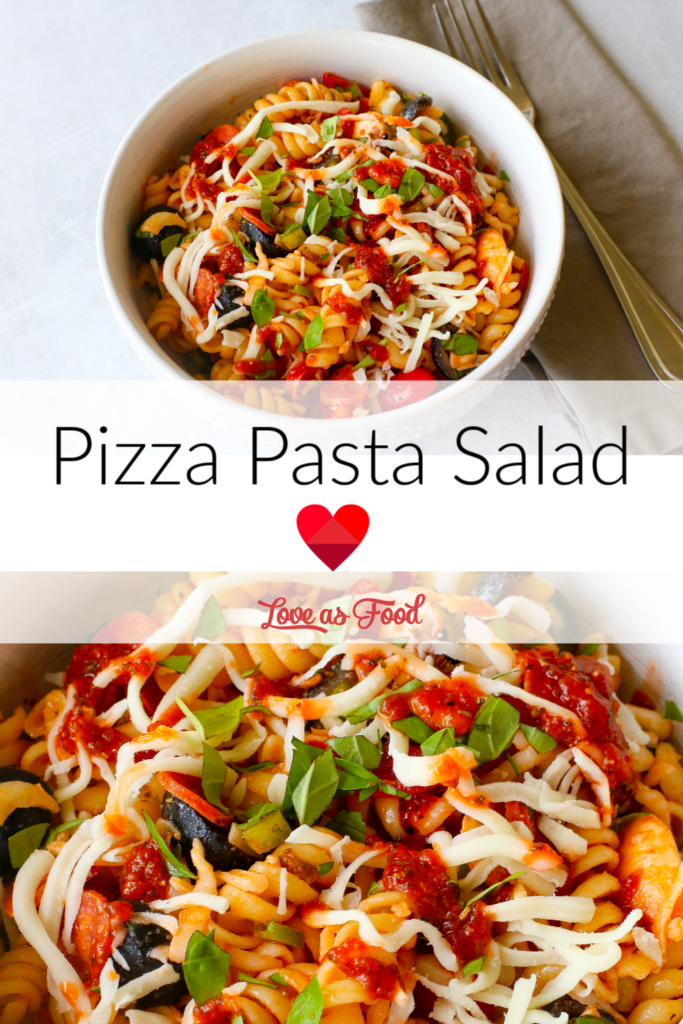 Other great potluck dishes