If you love me, you give me dessert that has both chocolate and peanut butter. I have learned over time that I can go without ice cream and candy. But brownies, cookies and cake? Not a chance. And make it chocolate and peanut butter and I am sold. So naturally, I eat an unreasonable, self-loathing amount of these peanut butter brownies. Totally worth it. They are chewy brownies with a fluffy peanut butter frosting. Then we add chopped peanuts for extra crunch. It hits all the main criteria for a good dessert.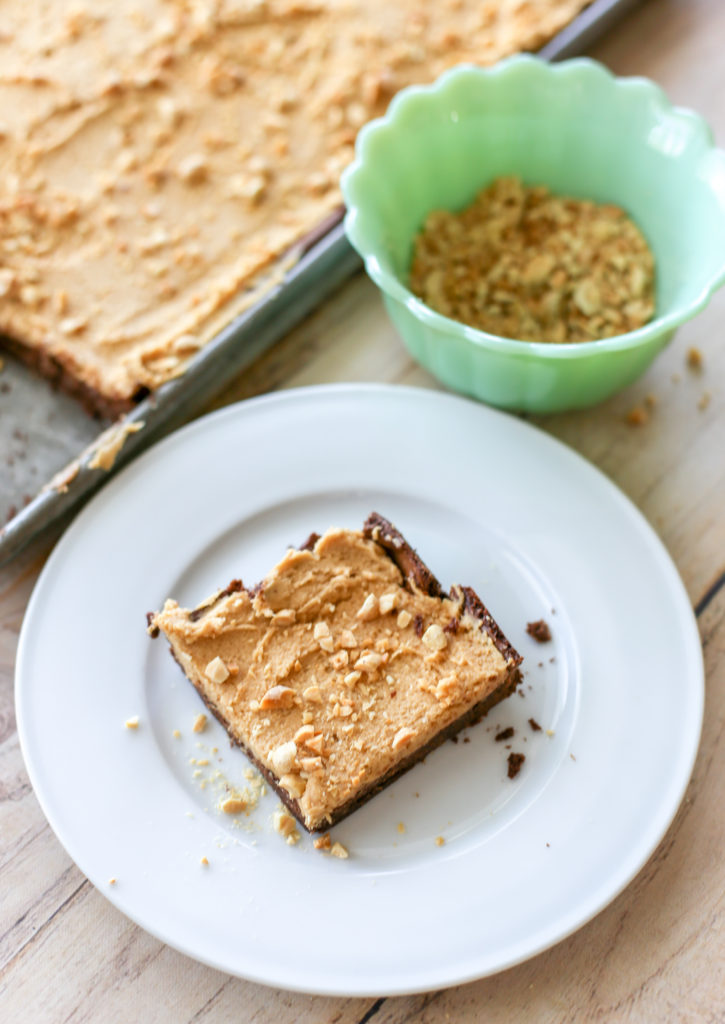 Why sheet pan?
I am partial to sheet pan desserts because they cook fast, cool fast and travel well. They also feed a crowd better than a dessert in a 9×13 inch pan. Plus, I have sheet pans galore. Actually, the amount of sheet pans I have varies from time to time. At the beginning of my boy's Lego careers, we discovered that sheet pans are the perfect place for building. It corrals the Legos well and can be stored easily under a bed or couch. But this means that I find sheet pans under my boys beds and they are furious when I suggest that they just pour their Legos into the communal box and give me back my sheet pan. "But I made this whole thing without directions!" I care/don't care so much. Give me my sheet pan. I would recommend buying a sheet pan with a cover and then you can use them on these peanut butter brownies and all you sheet pan desserts for transporting to future events. Click here for an Amazon link.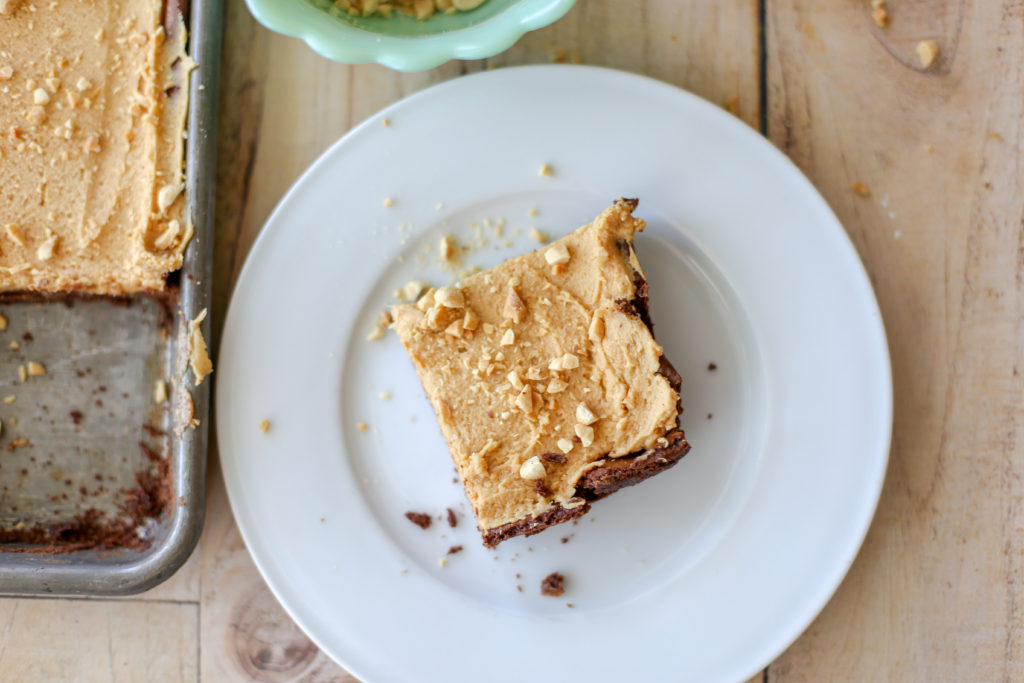 With these peanut butter brownies, brown sugar is key
Brownies are something I am always tinkering with. An extra egg here, take out a ¼ cup flour there. They are easy to fiddle with because whatever you do, they will still be totally edible. The latest think I have been messing with is switching the sugar to be all brown sugar. I have done it with half brown sugar and half granulated sugar, but I am now a fan of all brown sugar. It gives it a chewier texture and they stay moist longer. Give it a try and tell me what you think.
Notes on preparation
These brownies will be ideal if you make them a while before you plan on eating them. Like if you can make them the night before you need them, you will be so glad you took the time. They hold together better and are much chewier, but not dry. Just trust me. I'm a brownie addict and I would never lead you astray.
You might think that amount of peanut butter frosting is excessive. I am here to reassure you it is not. I have made them with half the amount before and it's just not enough to cover the whole pan. We are dealing with a lot of surface area and it all needs frosting.
The consistency of your frosting might vary depending on what kind of peanut butter you use. This is why I left plenty of wiggle room with writing the recipe as ¾-1 cup milk. I would start with ¾ cup and carefully go from there. You need this stuff to be plenty spreadable because otherwise, it's going to rip up the top layer of your brownies and just make a mess.
Sheet Pan Brownies with Peanut Butter Frosting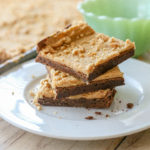 Print This
Ingredients
¾ cup all purpose flour

½ cup cake flour

½ cup unsweetened cocoa powder

¾ teaspoon baking powder

½ teaspoon salt

¾ cup unsalted butter, roughly chopped

6 ounces semisweet chocolate, roughly chopped

1½ cups granulated sugar

3 eggs

1½ teaspoons pure vanilla extract

½ cup unsalted butter, softened

2 cups smooth peanut butter

4 cups powdered sugar

3/4-1 cup milk

1 cup chopped salted peanuts
Instructions
Set oven to 325 degrees F. Spray a half sheet pan with non-stick spray and set aside. In a medium bowl, combine both flours, cocoa powder, baking powder and salt. Whisk well to combine and set aside. In a double boiler over simmering water, add butter and chocolate. Melt them both over medium heat, stirring occasionally until smooth. Remove bowl from over the water. With an electric hand mixer, add sugar. Once the sugar is incorporated, add the eggs and vanilla extract. Mix until smooth. Spread brownie batter in the prepared pan, being sure to spread all the way to the sides. Bake for 25 to 30 minutes, or until an inserted toothpick comes out clean. Allow brownies to cool completely. Once the brownies are cooled, prepare the peanut butter frosting. In the bowl of a mixer fitted with the whisk attachment, add the butter and peanut butter. Mix on medium until combined. Add the powdered sugar. Once the powdered sugar is incorporated, add the milk a few tablespoons at a time, until the frosting is smooth and spreadable. Carefully spread the frosting on the brownies. It will be a little tricky to make sure the top layer of the brownies doesn't lift, so take your time. Sprinkle the chopped peanuts on top.