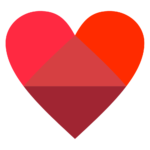 We all need a pound cake recipe on standby. Something with uncomplicated ingredients that can fill in for a dessert we weren't planning on having to provide. This cream cheese pound cake is your new standby. It's perfectly dense, ready to take on any sauce, crunchy topping, ice cream, fresh fruit- whatever you've got a jonesing for.
I first started making this years ago when it was my Christmas gift offering. I made about a dozen of these along with a jar of spiced apple and cranberry sauce. It was as Christmasy as possible. The next appearance it made was with whipped cream and strawberries in the summertime. Another application was taking a loaf of this, cutting it up into chunks and making a trifle with chocolate pudding, fresh raspberries and whipped cream. You can truly use this recipe for any seasonal dessert.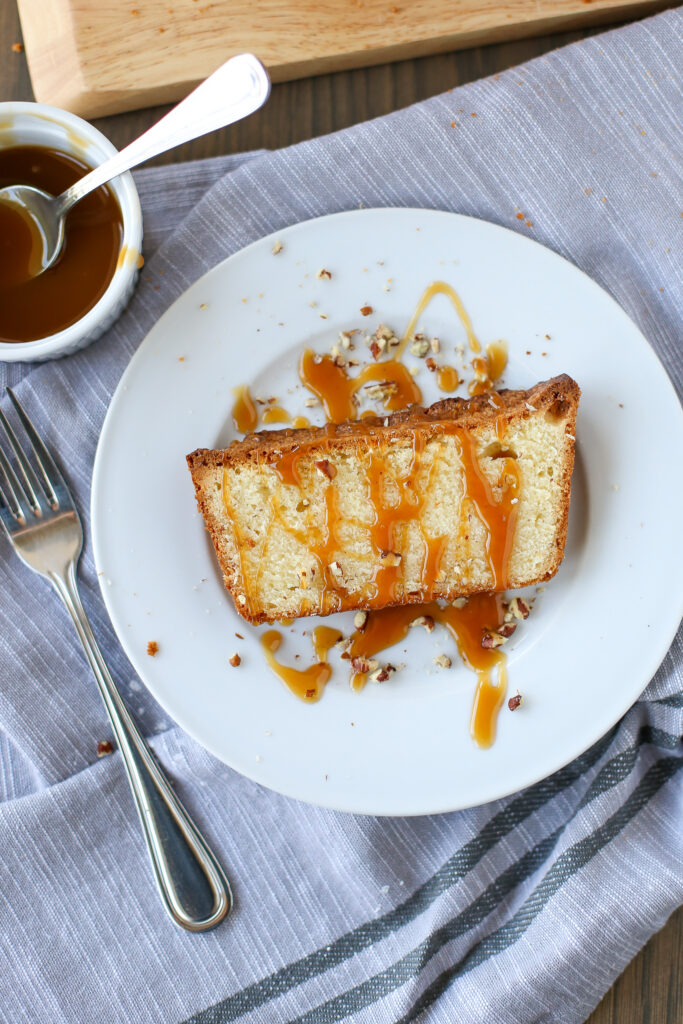 Butter
This is one of those recipes that is going to benefit from room temperature ingredients. Room temp butter is going to cream with the sugar much better, giving you a more consistent texture and bake. If you can, remember to leave some butter out on the kitchen counter before you go to bed the day before you plan on making this cream cheese pound cake. You will be grateful for the silky texture as it blends with the butter.
Cream cheese
Will you hate me if I tell you I am not a cream cheese fan? It's fine, you can hate me. I might not like cheese anything, but I know I am wrong. You won't see me trying to justify it. I might have an aversion to cream cheese, but I like it in this cream cheese pound cake. It gives the slightest tang and makes the cake super moist and gives it a delicious chewy crust. You will be stealing pieces of the crust, I promise.
Cream cheese really needs to be at room temperature for this recipe to come together correctly. You can get away with having to carefully nuke the butter in the microwave to soften it, but you can't do that with the cream cheese. So again, leave out the cream cheese at least a few hours before you start this recipe.
Granulated sugar
The last time I made this cream cheese pound cake, I was pulling the sugar out of the pantry and had a moment wondering what brown sugar would be like. Alas, I didn't venture outside the recipe and try it. Maybe next time. I do not think it would ruin it, bit might give it a deeper flavor. Definitely not a bad thing. For those of you who like the rules, stick with granulated sugar.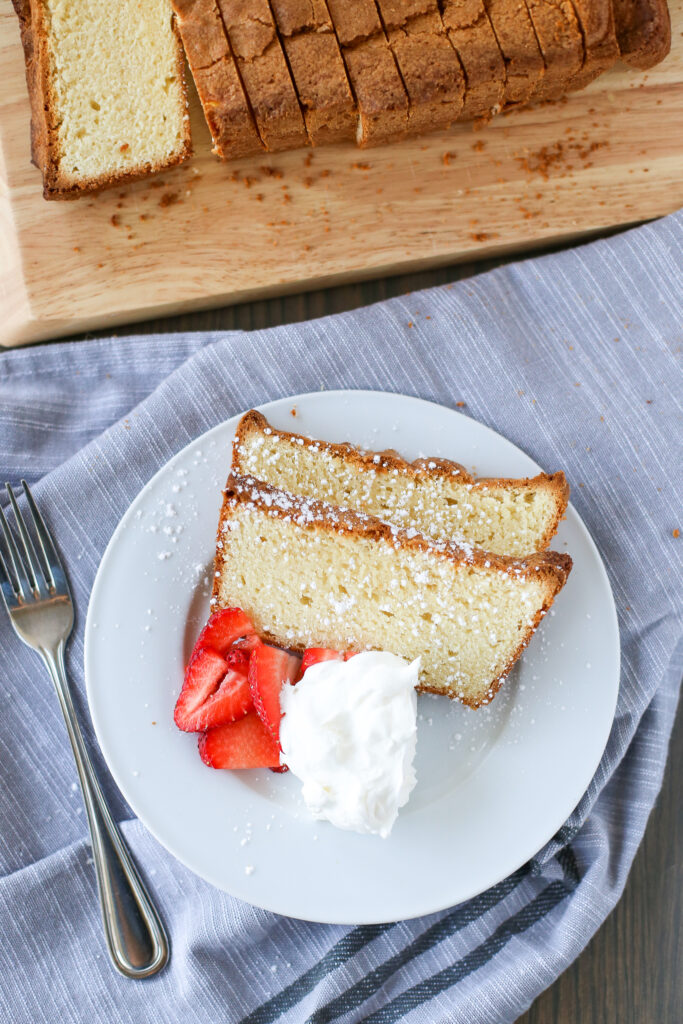 Eggs
This is when I beg you again to get your ingredients to room temperature before making this cream cheese pound cake. Again, its going to make for a smoother consistency that will result in a more even bake. Is it a deal-breaker if the eggs aren't at room temperature? No. Of all the ingredients that should be at room temperature, the eggs can stand to not be. It isn't the end of the world.
Pure vanilla extract
How is your vanilla supply looking these days? Have you been able to find it for a good price? If you haven't, go ahead and trade in some almond extract. Almond extract is taking center stage these days because it is so much less expensive. Go ahead and use it. Coconut extract would be great too.
Cake flour
When we started this whole pandemic party, so many random things were hard to find. Cake flour was one of them. In fact, from March to October, I couldn't find any. I eventually found some at Target. And it was the good King Arthur Flour stuff. So of course I got two boxes and felt a little guilty.
Cake flour is great in this recipe because cake flour makes things more tender. It has less protein, so that means less of a structure. You get a finer crumb. If you do not have cake flour, go ahead and do all-purpose. No worries.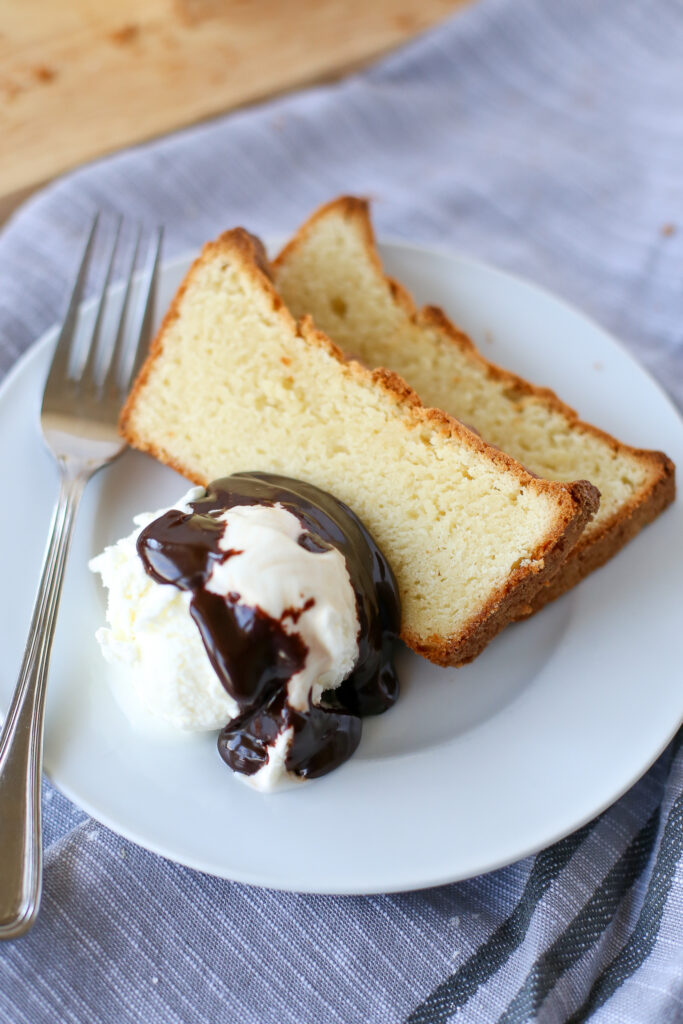 Print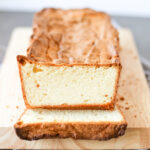 Cream Cheese Pound Cake
---
Description
Cream cheese pound cake is the ideal blank canvas for all kinds of desserts. No matter the season, you have an easy dessert with this cake.
---
¾ cup

unsalted butter, at room temperature

4 ounces

cream cheese, at room temperature

1½ cups

granulated sugar

3

eggs, at room temperature

1

egg yolk, at room temperature

1½ teaspoon

pure vanilla extract

1½ cups

cake flour

½ teaspoon

salt
---
Instructions
Set oven to 350 degrees F. Spray a 9×5 inch loaf pan with non-stick spray and set aside.
In the bowl of a mixer fitted with the paddle attachment, add butter and cream cheese and mix until creamy and well combined. Add sugar and mix on medium speed for 2 minutes, until light and fluffy.
Add the eggs, one at a time, mixing well after each addition. Be sure to scrape the sides of the bowl. Mix in vanilla. Add flour and salt and mix well, being sure all ingredients are well incorporated.
Pour mixture into the prepared pan, smoothing the top. Bake for 1 hour and 15 minutes. Check for doneness by inserted a toothpick. If it comes out clean, it is ready. Cool in pan for 10 minutes and then transfer to a cooling rack.
Prep Time:

15 minutes

Cook Time:

75 minutes

Category:

Cake, Dessert
Keywords: cake, dessert, pound cake