Do you love "The Great British Baking Show" on Netflix? If so, then you are probably well-acquainted with Nadiya Hussain, the winner of series 6/collection 3. Find me one person who doesn't tear up after she wins when she gives her little speech about underestimating herself. Our pal Nadiya went on to make a few shows, one of which is "Nadiya Bakes" on Netflix. And she makes the most brilliant teriyaki chicken noodles. I knew I had to make the U.S. version of Nadiya Hussain's teriyaki chicken noodles.
This dish is what simple homemade food dreams are made of. Familiar flavors, simple marinade with pantry ingredients and baked in the oven with little effort. It was a big hit with my family. I found the recipe from "Nadiya Bakes" online and then converted the measurements for U.S. cooking. The results are tender, teriyaki chicken and tender yet chewy noodles. The whole method of how Nadiya did these teriyaki chicken noodles had me completely entranced. It is brilliant. No other way to put it. Let's get into it.
How to make Nadiya Hussain's Teriyaki Chicken Noodles
Marinate
First we make a really easy marinade for the chicken to soak in for a couple hours. It is just hot water, brown sugar, soy sauce, ginger, garlic and red pepper flakes. Those ingredients combine and then you pour it into a 9×13 inch baking pan and add the chicken. Cover the dish with plastic and let it sit in the fridge for at least 30 minutes or up to overnight.
Bake
Once it is time to eat, you just put the whole pan in the oven for 30 minutes. Of course you take off the plastic wrap, but the whole thing bakes uncovered. The chicken thighs basically braise in the marinade. They become super tender, not dried out. Try to stick with chicken thighs instead of chicken breast. Chicken breast won't be as tender and moist.
Soak
When using vermicelli noodles, you do less of a boil and more of a soak in hot water or broth. Here, we have the noodles soak in the marinade and they drink up all the sauce. Which is why they go in white/clear and come out golden brown.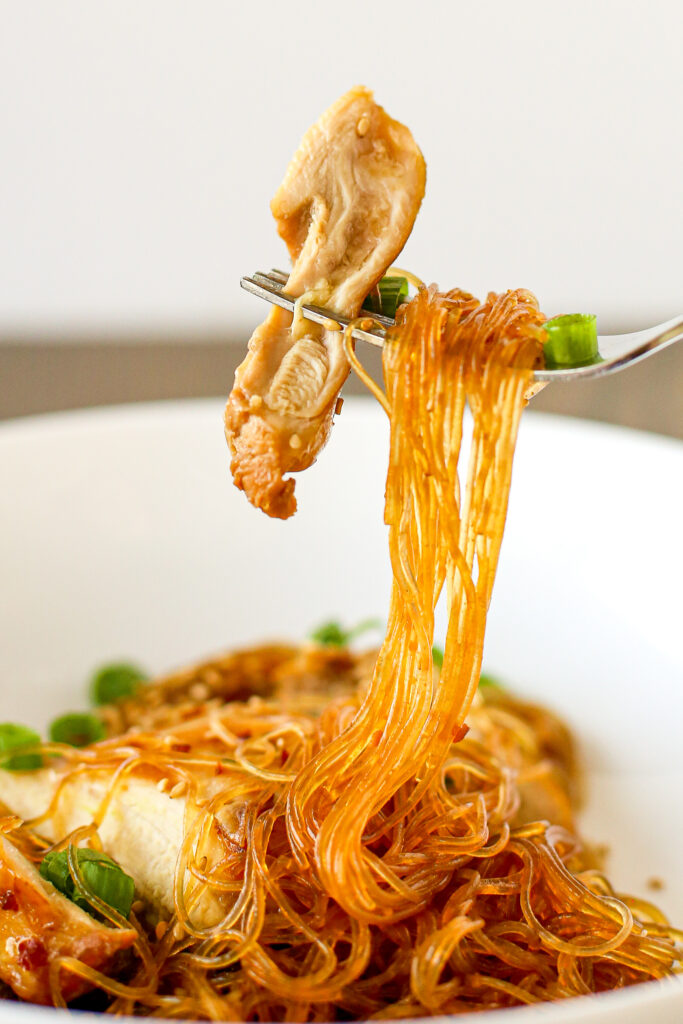 Ingredients
Brown sugar
I think the brown sugar is key when making Nadiya Hussain's teriyaki chicken noodles. Brown sugar gives it a little more complex flavor than granulated sugar. If you do not want to use refined sugar, use equal parts honey instead. I think pure maple syrup would work great too.
Soy sauce
This is a big fat duh. Teriyaki sauce must have soy sauce. I like to keep a bottle of gluten-free soy sauce at my house for when I might cook for my sister and niece who cannot have gluten. It doesn't taste any different.
Ginger
I keep a bottle of pureed ginger in my fridge. Of course when I can, I use fresh ginger, but having a bottle of fresh ginger puree is really handy. I find mine in the produce section of my grocery store.
Garlic
I will always add more garlic to a recipe. I do not understand the people who don't! It is too good. Currently, I have a jar of chopped garlic in my fridge that my husband bought and I would really love for it to not take up so much space. So I have been trying to use it up. Jarred garlic is great in a recipe like this because it is cooked and we aren't relying on fresh flavor. A recipe like this is great for jarred garlic.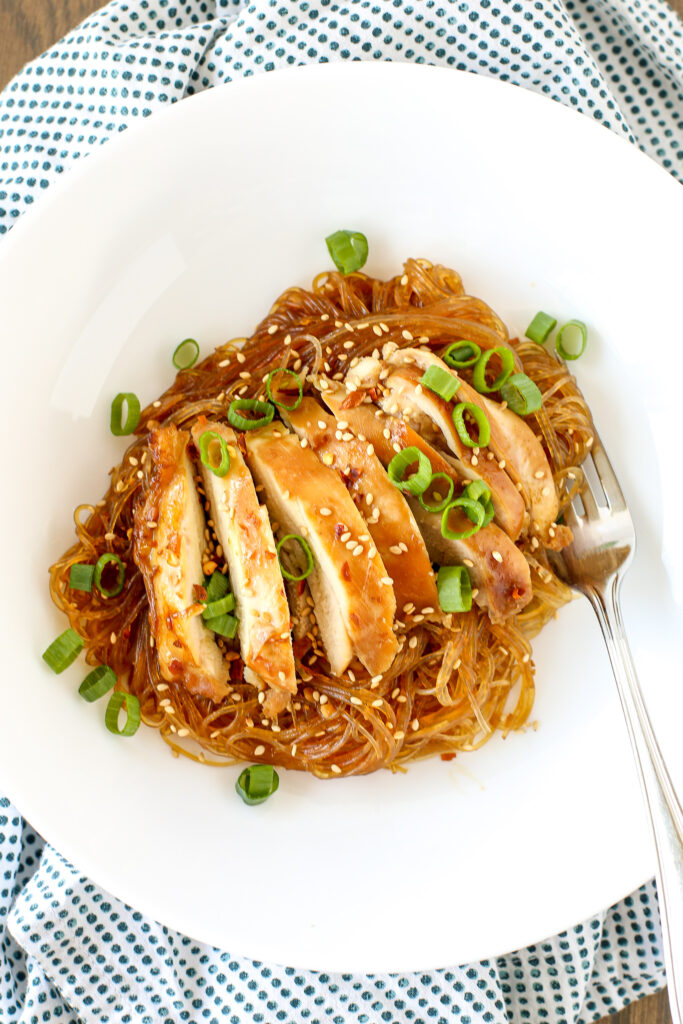 Red pepper flakes
Call it what you will. Red pepper flakes, chile flakes. Whatever. I always add extra red pepper flakes to my portion. If you live with heat-sensitive people, you can omit it all together.
Boneless skinless chicken thighs
The more I use chicken thighs, the less inclined I am to buy chicken breast. It is just more tender and flavorful. Where did we all go wrong when we thought chicken thighs were so high in fat and bad for us? Teriyaki chicken thighs are truly delicious. In fact, after I made this meal, I packed up the leftovers in the fridge and cleaned up the kitchen. Then my daughter went back down to the kitchen and took two of the now-cold teriyaki chicken thighs and wrapped them in a paper towel and snuck them up to her bedroom for a late night snack.
Vermicelli noodles
If these type of noodles are new to you, click HERE for more info on them. These noodles do not have to be boiled. They just need to soak in hot water. Once they are softened, they can be used for all kinds of things. Add them to some spring rolls, make a stir fry, swim them in some chicken soup. They are very versatile and DELICIOUS.
Vermicelli noodles are often made with rice, but some can be made with mung beans. The vermicelli I used were made from mung beans. Personally, I cannot tell the difference between mung bean vermicelli noodles and rice vermicelli noodles. Here is an Amazon link to the ones I use.
Print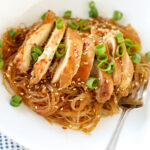 Nadiya Hussain's Teriyaki Chicken Noodles
---
Description
Here's Nadiya Hussain's teriyaki chicken noodles as featured on "Nadiya Bakes" on Netflix! This includes U.S. measurements!
---
1/2 cup

soy sauce

1/3 cup

brown sugar

6

garlic cloves, minced

2 tablespoons

grated fresh ginger

1/2 teaspoon

red pepper flakes

1 cup

boiling water

6

boneless, skinless chicken thighs

5

vermicelli noodle bundles

1 cup

hot water

1/2 cup

chopped green onion

1 tablespoon

sesame seeds
---
Instructions
In a medium bowl, combine soy sauce, brown sugar, garlic, ginger and red pepper flakes. Pour boiling water over the top and mix until sugar is dissolved. Pour marinade into a 9×13 inch pan. Add the chicken thighs in a single layer. Cover with plastic wrap and refrigerate for at least 30 minutes or up to 12 hours.
Set oven to 400 degrees F. Remove the plastic from the 9×13 inch pan and place it in the oven. Bake the chicken in the marinade for 30 minutes, or until an inserted thermometer reaches 165 degrees F.
Once the chicken is cooked, remove the pan from the oven and transfer all the chicken to a plate or bowl. Add the hot water and the vermicelli noodle bundles. Place the chicken thighs on top of the noodles. Bake for another 10 minutes, until the noodles are softened. If the noodles are still dry, add an additional 1/2 cup of hot water and bake for 5 more minutes.
Serve the chicken and noodles with green onions and sesame seeds.
Prep Time:

10 minutes

Cook Time:

40 minutes

Category:

bakes and casseroles

Method:

baking
Keywords: teriyaki, chicken, noodles, one-pan meal, bakes,