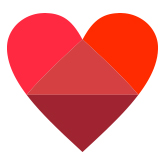 Hey-o! Time for more of my favorite type of dessert: CHOCOLATE AND PEANUT BUTTER. I have already posted about peanut butter brownies. But one other recipe isn't enough. I have dreams of making a big section of chocolate and peanut butter desserts. Pudding, cookies, cake, candy- all the things that make me happy. Here's chocolate peanut butter pie. This one definitely makes me happy.
Chocolate Peanut Butter Pie
Pie is always a good idea. Whether it's Thanksgiving or the Fourth of July, we could all find an excuse to have pie. Plus, it seems so American. Did you ever see the episode of Great British Baking Show when they made American-style pies? Click here for Vulture's recap. I wish they would do a whole season on American treats. Everything would be overly sweet. And I support it. What if they just did a week of chocolate and peanut butter desserts?!
This chocolate peanut butter pie would make the cut. It's a crumbly crust made from chocolate wafer cookies with creamy peanut butter filling and chocolate ganache on top. And some chopped salted peanuts for crunch. You serve it cold, which would go well with the cold glass of milk my husband would claim is essential with a rich dessert like this.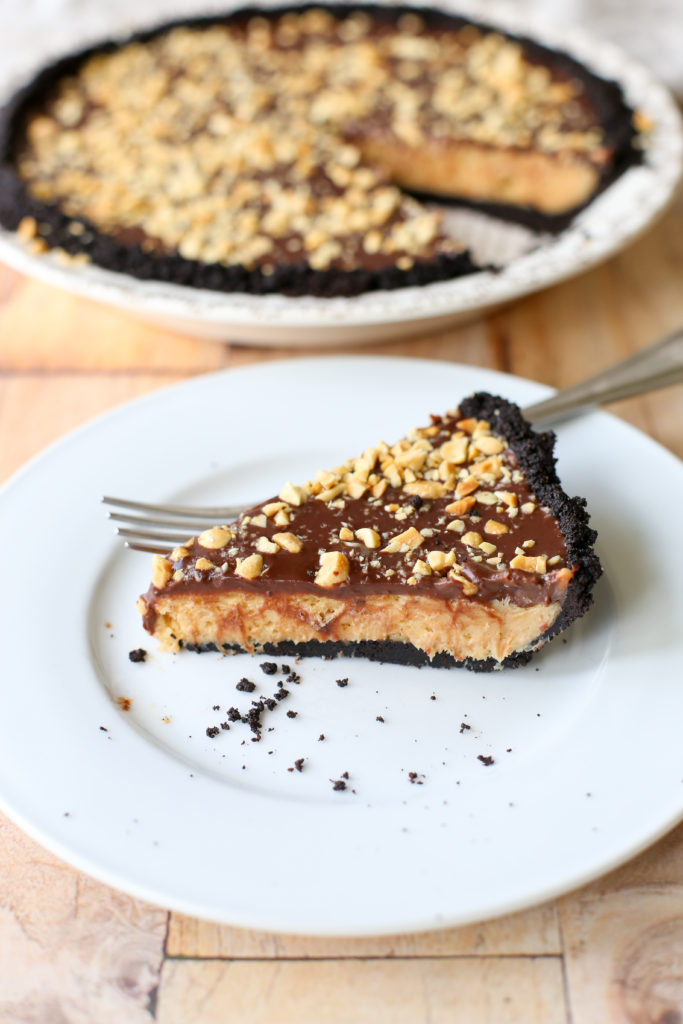 Semisweet or milk, that is the question.
Some would claim that you always use milk chocolate. I call those people lame. Semisweet serves a purpose. When you have a filling that is sweet, like this peanut butter filling, you want something that is more bitter. That's where semisweet comes in. It's the same with chocolate chip cookies. The dough is full of two kinds of sugar, granulated and brown. So you need something less sweet and more bitter. In comes the semisweet chocolate. If you claim you don't like dark chocolate, that's fine. But don't cut it completely out when it comes to an addition to dessert.
Chunky or smooth, that is the other question.
There are two very defined teams when it comes to peanut butter. It's rare to find someone who could go both ways (haha). I personally prefer smooth. But I will say that the honey roasted peanut butter from City Peanut Shop in Boise is unreal for dipping with apple slices. However, when it comes to everything, and desserts like chocolate peanut butter pie, I want smooth peanut butter. What about you? Where do you stand?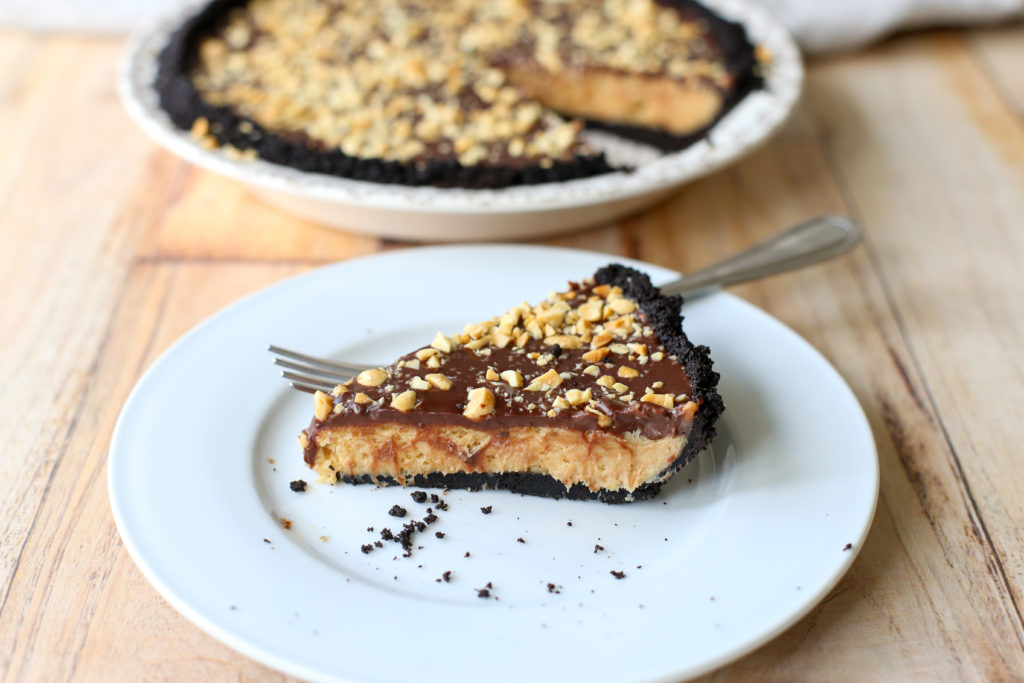 Notes on preparation
This pie is made with a crumb crust, more specifically, chocolate crumb. Now I am not saying chocolate graham cracker. I am talking pure chocolate. I used Nabisco Famous Chocolate Wafers. There are just plain-Jane chocolate cookies that are more for recipes than for just eating.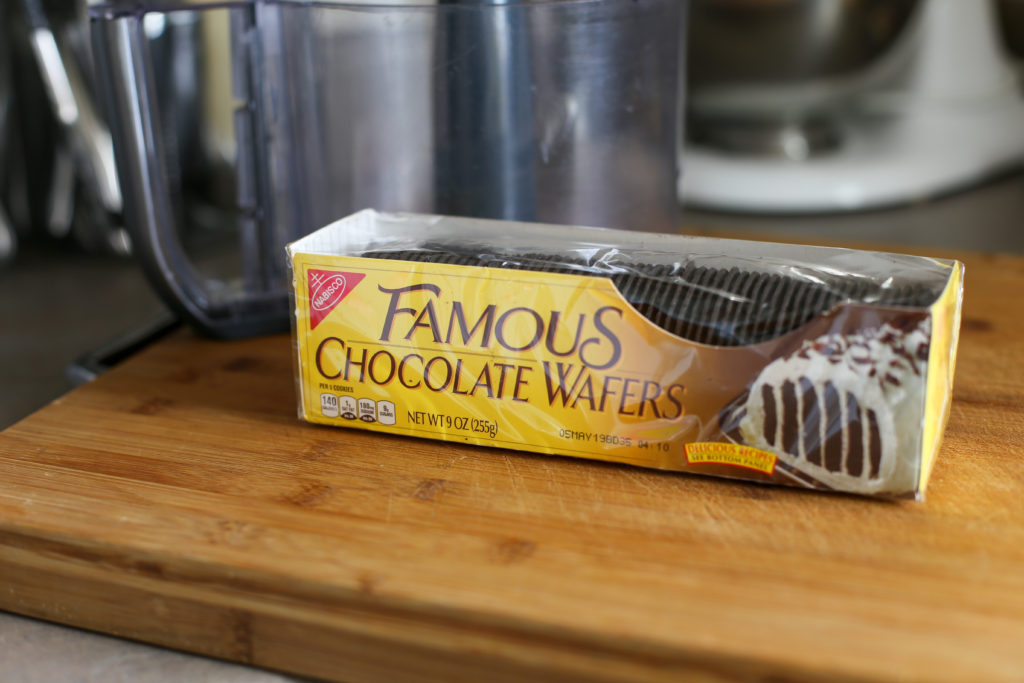 Some people add sugar to their crumb crusts. I do not. I think the pie fillings themselves have enough sugar. You are welcome to add sugar if you so desire. I would start with 2 tablespoons and then see if it's sweet enough. I do like to add cinnamon to graham cracker crusts. It adds just a little extra something.
Chocolate Peanut Butter Pie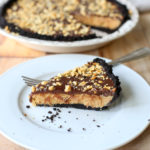 Print This
Ingredients
1/2 9 ounce package chocolate wafer cookies

6 tablespoons unsalted butter, melted

8 ounces cream cheese, softened

½ cup smooth peanut butter

⅓ cup granulated sugar

1 egg

1/2 cup heavy cream

4 ounces (or 1/2 cup) semisweet chocolate, chopped

¼ cup chopped peanuts
Instructions
Set oven to 375 degrees. In the bowl of a food processor, add chocolate wafer cookies. Process until the cookies are fine crumbs. Pour into a shallow pie plate and pour melted butter on top. With a fork, mix together the crumbs and butter until all the crumbs are moistened. Using a measuring cup or small drinking glass, press crumbs firmly into the bottom and onto the sides of the plate. Bake for 10 minutes, until the crust is slightly dried out. Let cool for 15 minutes.
In a mixing bowl, combine cream cheese, peanut butter, sugar and egg. Mix on medium speed until smooth. Scoop into pie crust and smooth the top. Bake for 10 minutes, until pie is set. Allow pie to cool to room temp. While pie is cooling, combine cream and chocolate in a double boiler over simmering water and allow chocolate to melt. Whisk until smooth. Pour over the pie and then sprinkle peanuts over the top. Cover loosely with plastic wrap. Refrigerate until chocolate is set, at least 3 hours.