I have a problem with buying stuff to put in cookies but then forgetting I bought the stuff and then I end up with tons of fun things and not desire to make cookies. I recently inventoried all the fun cookie mix-ins I have and it was embarrassing. Milk, semisweet and white chocolate chips, peanut butter chips, toffee chips, mint chocolate chips, unicorn chips (what the hell?), caramel bits, every kind of nut imaginable and mini M&Ms. It was time for some peanut butter M&M cookies then. I made these with mini M&Ms and chopped up salted peanuts. Soft cookie, a little crunch for texture and plenty of peanut butter flavor. They are my kind of treat.
None of the ingredients in this are complicated. And all of them are easy to find. Well, maybe not the mini M&Ms. Let's talk about those.
Mini M&Ms
Mini M&Ms are elusive for me. Sometimes I can find them in my grocery store by my house in bags by the chocolate chips, other times I cannot. If I am desperate, I buy a bunch of the tubes of them where all the candy is sold. Recently, the Target by my house was carrying big bags of them in the candy section. So I bought a ton and forgot about them and then found them and here we are.
Chopped peanuts
You have got to buy this little nut chopper on Amazon. I have been in a steamy relationship with mine for about a year. It makes chopping and measuring any kind of nuts a total cinch. I have one kid who is a grump about nuts in things. I find that totally unacceptable. But if I chop nuts really fine, said kid doesn't gripe. This nut chopped makes that easy. Buy it! I like the chopped peanuts in these peanut butter M&M cookies because it gives us a little more crunch. Alternately, you could use chunky peanut butter. Also, I don't add salt to the recipe because the peanuts I use are lightly salted and just right.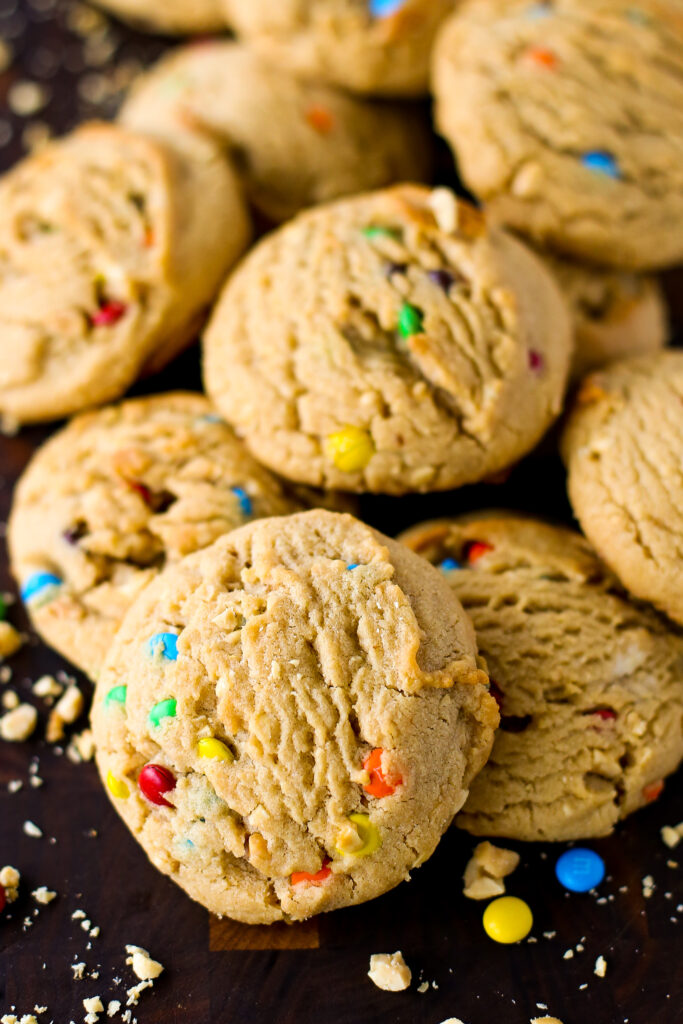 Brown sugar and granulated sugar
I need to get something off my chest. I cannot abide people calling granulated sugar "white sugar". Sure, I have an unreasonable reaction to it. How can we properly title and label sugar in a recipe? Well, what does the bag say when you buy it at the grocery store? Granulated sugar isn't labeled "white sugar".
For our peanut butter M&M cookies, we use both brown and granulated sugar. Besides makes the cookies sweet, a combination of both sugars makes for a chewy cookie and a little more complex flavor. And that will come from the molasses.
As a side note, the other night at dinner, I was telling my family about this podcast listened to about the Great Molasses Flood in Boston in the winter of 1919. Yeah, it was a flood of molasses in the streets of Boston and 21 people died. Who knew?! As we were all talking about it, my husband asked what molasses is made from. So I go get the bottle of it out of the cupboard and what does it say? "Ingredients: molasses". So that wasn't so helpful. A further Google search told us it is made from stuff that is the byproduct of making regular granulated sugar. There ya go!
You can replace granulated sugar with brown sugar in any recipe that doesn't require the sugar to come to a certain temperature, like for candy making. Go ahead and get creative with cookies, cakes, brownies etc.
How to make peanut butter M&M cookies
We start any cookie recipe with getting the oven set and getting out cookie sheets out and ready to go.
Next, combine your flour and leavening agents in a bowl and whisk them up to get them good and combined. A lot of recipe say to sift your ingredients together. I find whisking to be sufficient.
Now it is time to add your butter and peanut butter together. We want them to be nice and smooth. The sugars are added next and it will be a little less fluffy like when you make other cookies. And this is because of the peanut butter. Don't let it detour you. All is well.
Add your eggs and vanilla extract. Again, the mixture won't be as light as other cookies recipe. Carry on.
In goes the flour mixture you whisked together earlier. To avoid overmixing, add your M&Ms and chopped peanuts at this point too. Mix it all up until there aren't any streaks of flour left.
Once the dough is mixed and you have eaten a few spoonfuls of it, use a cookie scoop to portion out the dough on a cookie sheet. Scope around Amazon for different sizes of scoops. I have a 1 teaspoon, 1 tablespoon, 1/4 cup and 1/2 cup scoops. Each size has so many uses in a kitchen.
If you can, in between, baking the dough off, keep it in the fridge.
Print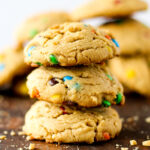 Peanut Butter M&M Cookies
---
Description
Do you need a sugar fix? Whip up some peanut butter m&m cookies. They are soft, rich and mega peanut butter flavor!
---
2 1/2 cups

all-purpose flour

1 teaspoon

baking powder

1 teaspoon

baking soda

1 cup

unsalted butter, softened

1 cup

smooth peanut butter

1 cup

brown sugar

1 cup

granulated sugar

2

eggs

1 teaspoon

pure vanilla extract

1 cup

mini M&Ms

1 cup

chopped peanuts
---
Instructions
Set oven to 350 degrees F. In a medium bowl, combine flour, baking powder and baking soda. Whisk together well and set aside.
In the bowl of a mixer fitted with the paddle attachment, add butter and peanut butter and mix until smooth. Add both sugars and mix on medium speed for 3 minutes, until light and fluffy. Add eggs and vanilla extract. Mix well, being sure to scrape the side of the bowl with a rubber spatula. Add flour mixture, M&Ms and chopped peanuts.
Portion the cookie dough into 2 inch balls and set on a baking sheet, spacing them about 2 inches apart. Bake for 10-12 minutes, or until the edges are lightly browned. Transfer to a cooling rack and repeat with the remaining dough.