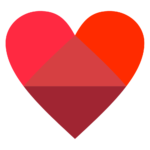 How is everyone holding up these days? Pandemic still treating you well? Me too. And by well I mean making everyday feel like a political, economical and social circus. Fun times to be an America, am I right? Let's just get this across ASAP, I can hardly wait for Trump to be voted out. CANNOT WAIT. Anywho, time for some cookies. Confetti cookies. And you are gonna love 'em.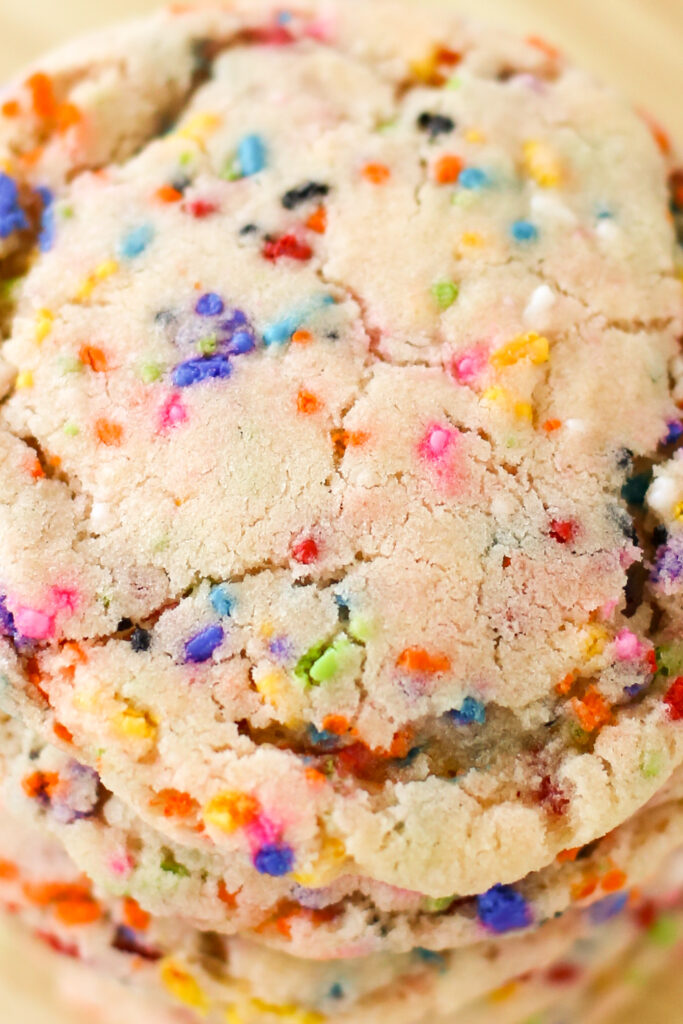 Not my own creation
The first time I had a cookie like this was at the Utah Taste Off Sugar Cookie Taste Off. It was B.C. (before Covid), back in February. If you want to hear about my most embarrassing moment of my whole entire life, ask me in person. I can't tell you on here because it's that bad. Let's just say I shouldn't run my mouth because I never know who is listening. (Insert palm-on-face emoji)
The sugar cookie at the Utah Taste Off that was my favorite was from Brookey Bakes. Brooke's sugar cookie was what she calls a jimmiedoodle. Snickerdoodle dough without the cinnamon sugar coating and jimmie sprinkles added in. It was SO GOOD. Per the usual, I needed to make my own version. To be fully honest, my confetti cookies aren't as good at Brooke's jimmiedoodles, but they are damn near close.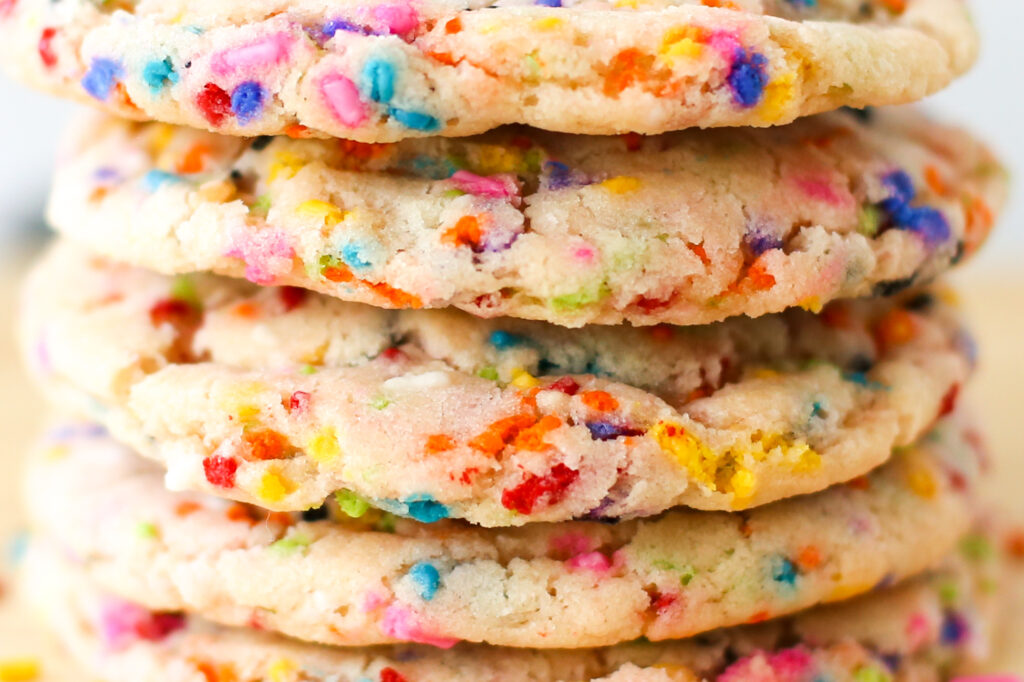 Colored everything
One of the most appealing things about these confetti cookies is that you can get creative with the jimmie sprinkles you use. I love a chance to create a color combo for anything. Cookies, bathroom towels, front porch flower pots, eyeshadow. I want everything to be bright and loud. (currently writing this while sitting on a peacock blue couch).
My local grocery store down the street sells pack of sprinkles in their bakery. I always keep an eye out for a fun color combo. The one in these pictures is just my speed. Although I don't love the black sprinkles. But I will let it slide. It would be fun to do different shades of green for St. Patrick's Day or of course red, white and blue for the 4th of July. These are great cookies for a party or holiday.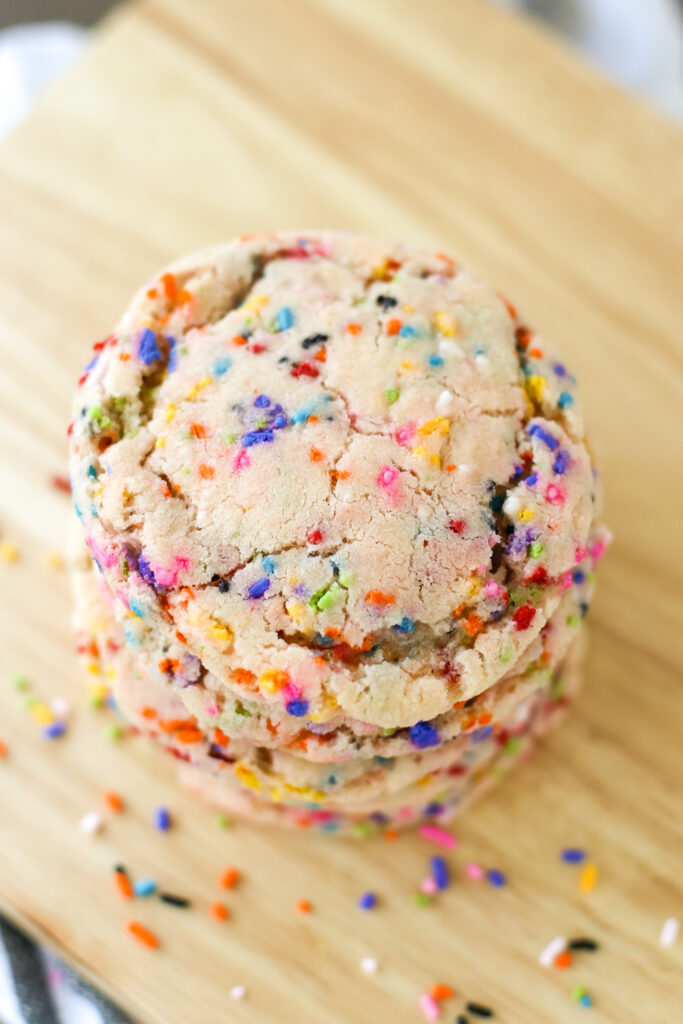 Notes on preparation
I would stick only with jimmie sprinkles. They are soft and add just the right amount of texture to the cookies. I wouldn't use nonpareils, dragees or quins. They aren't pleasant to chomp down on. Here is a link to an awesome guide to sprinkles (yes, a guide actually exists).
When it comes to mixing in the jimmies, do so gingerly. The more they break down, the more they will color the dough. So make sure they are just incorporated and then turn off the mixer.
With any cookie, I recommend making the dough earlier, shaping it and then putting it in the fridge overnight or even for a couple of days. It's just better.
Print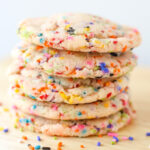 Confetti Cookies
---
Description
Confetti cookies are the perfect cookie for a party or holiday. There are so many options for the color of jimmie sprinkles you use.
---
2¾ cups

all-purpose flour

1½ teaspoons

cream of tartar

1 teaspoon

baking soda

1 teaspoon

salt

½ cup

unsalted butter, softened

½ cup

vegetable shortening

1½ cups

granulated sugar

2

eggs

2 teaspoons

pure vanilla extract

1 cup

jimmie sprinkles
---
Instructions
Set oven to 350 degrees F. In a medium bowl, combine flour, cream of tartar, baking soda and salt. Whisk together well and set aside.
In the bowl of a mixer fitted with the paddle attachment, add butter and shortening and mix until smooth. Add sugar and mix on medium speed for 3 minutes, until light and fluffy. Add eggs and vanilla extract. Mix well, being sure to scrape the side of the bowl with a rubber spatula. Add flour mixture and mix on medium speed. While mixing, pour in jimmie sprinkles.
Portion the cookie dough onto a baking sheet in 2 inch balls, spacing them about 2 inches apart. Bake for 10-12 minutes, or until the edges are lightly browned. Transfer to a cooling rack and repeat with the remaining dough.
Prep Time:

15 minutes

Cook Time:

12 minutes

Category:

Dessert