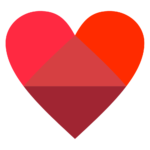 It's that time of year. I don't care how basic I am, I want to pumpkin spice all the things. Any normal person starts with a 28 ounce can of Libby pumpkin in the fridge and uses 1/2 cup here and 1 cup there to add to things like waffles, pancakes, pasta sauce and COOKIES. Everyone keeps their can covered with plastic wrap and a hair elastic to secure it in place, right? When you are ready to pull out your open can of pumpkin puree, give these pumpkin cookies with maple frosting a go.
"What makes these worth my time anyways?"
For these pumpkin cookies with maple frosting, we are going for texture. The cookies themselves have the slightest chew to them, especially around the exterior. I have no idea how or why, but it's delightful. Then the frosting is made with cream cheese and it's so delightfully smooth and creamy, as most cream cheese frostings are. But that's two soft textures, so we need crunch. Thank you pecans. If you are feeling extra special, chop them up and then TOAST them. Bonus points for you.
If you are feeling like these are too boring without stuff in them to chew on, maybe go for some chocolate chips or toffee bits. Ever tried peanut butter chips with pumpkin cookies? It isn't a bad idea.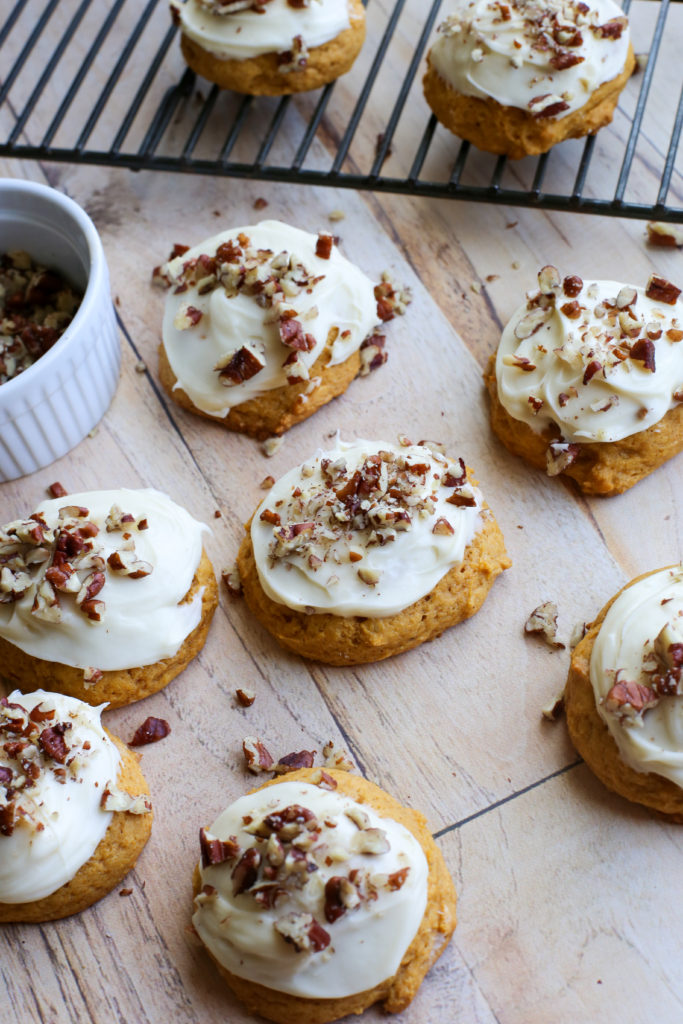 A couple fun ideas for changing things up
If you are feeling like pumpkin cookies have had their run in your life, use these pumpkin cookies with maple frosting recipe as a framework for changing things up. The cookies have a perfect texture to be turned into whoopie pies. So flip them over, add the frosting and top with another cookie. You could also turn the cookies into ice cream sandwiches. Pumpkin ice cream or salted caramel ice cream would do the trick. What about a pumpkin trifle? Make the cookies, chop them up and layer them in a trifle bowl with vanilla or butterscotch pudding, whipped cream and toffee bits. Everyone will love you. You could even do that with little mason jars. How cute would that be?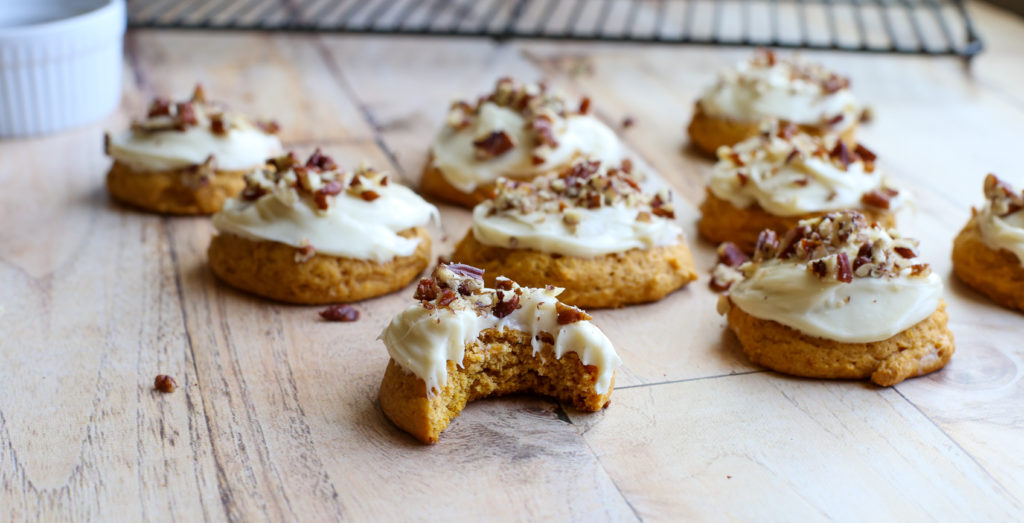 Notes on preparation
If you can possibly have everything be room temperature, that would be ideal. It isn't essential, but preferable. Here's why: the butter already has to be softened, so that is room temp when it comes in and it combines with the sugar really well. But then if you add cold pumpkin puree and a cold egg, that butter seizes up a bit and doesn't combine as well. It isn't the end of the world, but will make you more evenly baked cookies.
Having said all that, you don't want to let the butter completely melt in the cookie dough. Like between batches of cookie dough, keep it in the fridge. If the butter melts, it will make for flat cookies.
If you do not have pure maple syrup, I would say go with maple extract, just a touch. In fact, I would just add 1/2 teaspoon at a time and see how it tastes. Not a fan of maple, forgo the syrup all together and add vanilla extract. Worried about saving your precious, expensive vanilla? Go with almond. It's cheap and delicious.
Print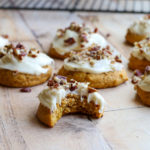 Pumpkin Cookies with Maple Frosting
---
2½ cups

all-purpose flour

1 teaspoon

baking powder

1 teaspoon

baking soda

1 teaspoon

ground cinnamon

½ teaspoon

ground ginger

½ teaspoon

ground nutmeg

½ teaspoon

salt

½ cup

unsalted butter, softened

1½ cups

granulated sugar

1 cup

pumpkin puree

1 teaspoon

pure vanilla extract
For the frosting
8 ounce

cream cheese, softened

3 tablespoons

unsalted butter, softened

2 cups

powdered sugar

3 tablespoons

pure maple syrup

1/2 cup

chopped pecans
---
Instructions
Set over to 350 degrees F. Spray a baking sheet with non-stick spray and set aside.
In a medium bowl, combine flour, baking powder, baking soda, cinnamon, nutmeg, ginger and salt. Whisk well and set aside. In the bowl of a mixer fitted with the paddle attachment, add butter and mix on medium speed until light in color and smooth, about 1 minutes. Add sugar and mix until light and fluffy, about 1 minute. Add pumpkin puree, egg and vanilla extract. Mix on medium speed until well-combined, being sure to scrape the sides of the bowl. Stir in flour and mix until combined.
Scoop dough out onto the prepared baking sheet into 2-inch balls, about 12 total. Bake for 15 minutes. Allow to cool completely. Repeat with remaining cookie dough.
Once cookies are cooled, prepare the frosting. In a large bowl, combine cream cheese and butter. Mix with a handmixer until smooth and creamy. Add powdered sugar and maple syrup and continue to mix until combined. Spread frosting on cooled cookies and sprinkle chopped pecans on top.
Prep Time:

15 minutes

Cook Time:

30 minutes

Category:

Dessert