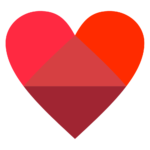 While I have been making lots of key lime pie for no particular reason, I have ended up with a lot of leftover egg whites. Random bowls of goo in the fridge and my family going, "What is this for? Can I throw it away?". No! Whether I throw it in my morning eggs for some extra protein or use it in a recipe, we are keeping it! Instead of morning eggs, I have been making meringues, in particular, these cinnamon sugar meringues.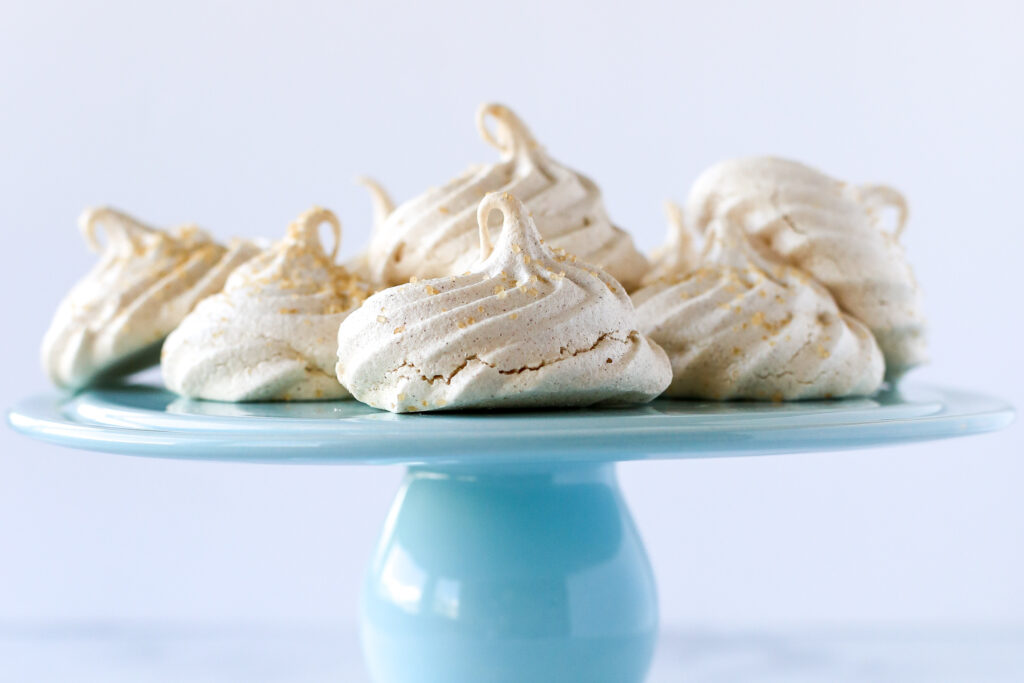 An ingredient with a bad reputation
Egg whites can be daunting for some people. We see the Instagram food pictures and the shows on Food Network with these billowing lemon meringue pies or even Baked Alaska. Meringue can be overwhelming. There are a few tricks with these cinnamon sugar meringues that will help you nail it every time.
Room temperature egg whites. It might be tempting to just pull out the eggs from the fridge and start whacking out some meringues. Resist the urge. The egg whites whip up much more effectively when they are at room temperature. Leave the bowl of whites out on the kitchen counter for a couple of hours. You will have much better results
Cream of tartar. It's sort of weird stuff. It isn't cream of anything. It's powder. But I am sure cream of tartar looks more appealing on the label instead of tartaric acid. The need for cream of tarter is simple. It stabilizes the egg whites. In more scientific terms, cream of tartar loosens the proteins of the egg whites making it more elastic and sturdy. If you are a food science nerd, read this article from Food52 about how cream of tartar works.
Patience. For great meringue results, be patient and allow the mixer to do its thing. You could use a hand mixer to make meringues, but you will get tired. Let your stand mixer do what it does best. Just hook up the whisk attachment and let her spin. I have found that if my mixing bowl is warm, say if I have just pulled it out of the dishwasher, the egg whites whip up faster. It might be helpful to rinse your bowl under hot water and then dry off before you start mixing. But if your egg whites are taking a while, be patient.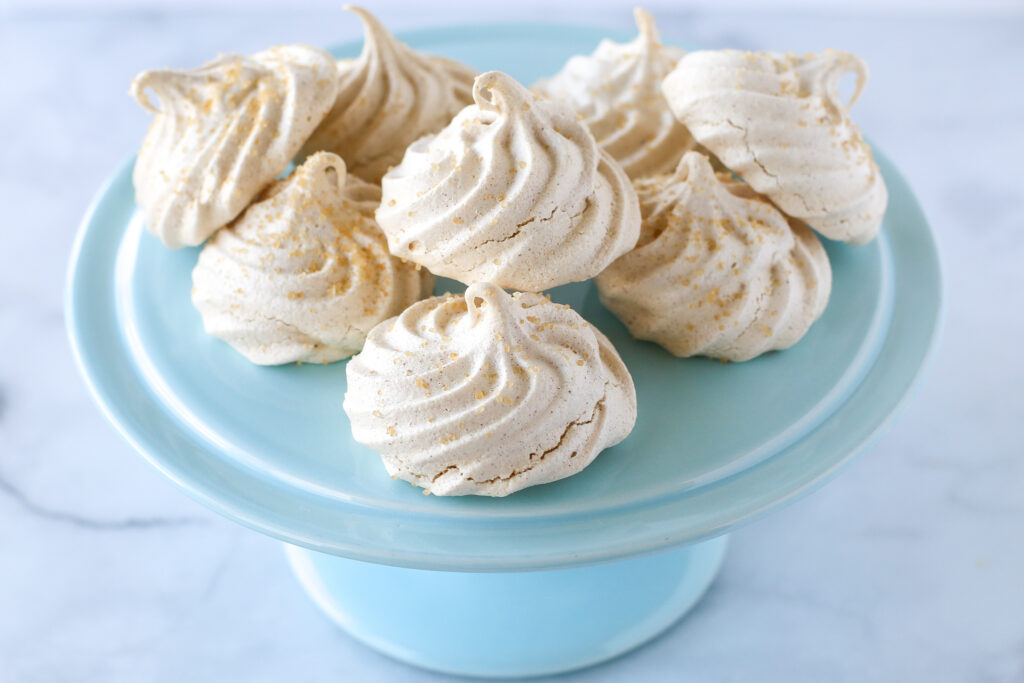 Cinnamon sugar for this batch!
You are welcome to play with flavors with this recipe. It's pretty rock solid and the method always works. So go ahead and mess with the flavors. For me, I just wanted cinnamon sugar. Simple and always good. Cinnamon is added to the sugar before it is added to the egg whites and it helps each meringue taste exactly the same. Equal flavor all around. And some turbinado sugar on top before going in the oven makes them pretty.
The last batch I made of meringues was chocolate. I added just a bit of cocoa powder to the sugar and it made for a nice cocoa flavor. You could also add lemon zest or lime zest. Orange would be nice too. I have also seen chai flavored meringues. Earl Grey would be delightful. Or just stick with the plain sugar. You won't be sad.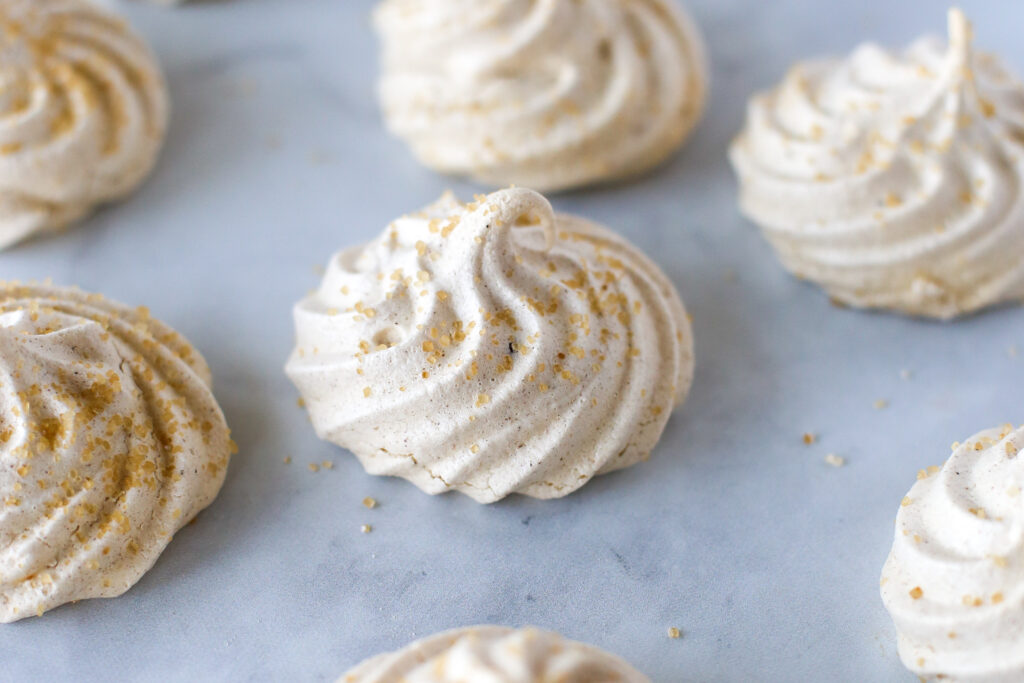 Notes on preparation
If you don't have a piping bag, no worries at all. I have made these by just using my cookie scoop and plopping them on the baking sheet. They still turn out fantastic.
Let me reiterate once more, room temperature egg whites are important. Don't let them be cold.
I use a giant reusable piping bag for these cinnamon sugar meringues. To wash the bag, did you know you can just throw it in the washing machine? True story. Just let it air dry after instead of putting it in the dryer.
Print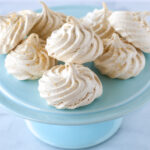 Cinnamon Sugar Meringues
---
Description
Lots of recipes call for egg yolks, but what can you do with the whites? Cinnamon sugar meringues! Meringue is the best culinary trick!
---
¾ cup

granulated sugar

1 teaspoon

ground cinnamon

3

egg whites, room temperature

¼ teaspoon

cream of tartar

¼ teaspoon

salt
turbinado sugar, for sprinkling
---
Instructions
Set oven to 225 degrees F. Lay a sheet of parchment paper on a baking sheet and set aside. In a small bowl, combine sugar and cinnamon and set aside.
In the bowl of a mixer fitted with the whisk attachment, add egg whites. Mix on medium speed until the egg whites are foamy. While the mixer is still running, add cream of tartar and salt. Increase speed to medium-high. Once the egg whites are thickening and beginning to turn white, add cinnamon sugar mixture a tablespoon at a time. Mix until egg whites are tripled in volume, are glossy and hold a stiff peak. The full time of mixing should take between 6 and 8 minutes.
Scoop the meringue into a piping bag fitted with a large star tip. Pipe small rounds of meringue onto the baking sheet, leaving a small amount of space between each one. They will not spread very much at all. There should be a yield between 12 and 15 meringues.
Sprinkle turbinado sugar on each one and bake for 2 hours. After 2 hours, turn the oven off and allow the meringues to further dry out for another hour sitting in the oven.
Prep Time:

10 minutes

Cook Time:

180 minutes

Category:

Dessert
Cooking equipment used in this recipe
Listened to while in the kitchen