My husband's best friend is named Ryan. He has known Ryan since he was a young teenager. They have sang in bands together, lived together, been in each other's weddings and told each other their deepest secrets like a couple of giggly little girls. My kids know him as Uncle Ryan. Over the last year or so, Ryan has committed to making dinners more at home for his family. I get phone calls and texts often from him asking about cooking or wanting recipes. A while back, he wanted to know if I had a recipe for tater tot casserole. I didn't have one, which only got the wheels in my head turning. I needed to create a tater tot casserole recipe that used whole ingredients. No creamed soup. Thus, this recipe is born.
How to make tater tot casserole from scratch
My perceived snobbery about creamed soup mostly comes from not wanting to keep single-use ingredients around. I have a pretty small kitchen with not a ton of storage. Keeping a bunch of cream of whatever soup takes up needed space. However, the ingredients needed to make a cream sauce from scratch are already in my kitchen and can be used for lots of things. To make a cream sauce to use in this tater tot casserole, I use butter, flour, milk and beef bouillon. Those ingredients can be used for everything from double chocolate cookies to chicken and biscuits. I would rather make space for multi-use ingredients than cans of creamed soup I would rarely use.
Besides needing a creamy sauce to make tater tot casserole, we also need various veggies and ground beef. Let's take a deep dive on these ingredients.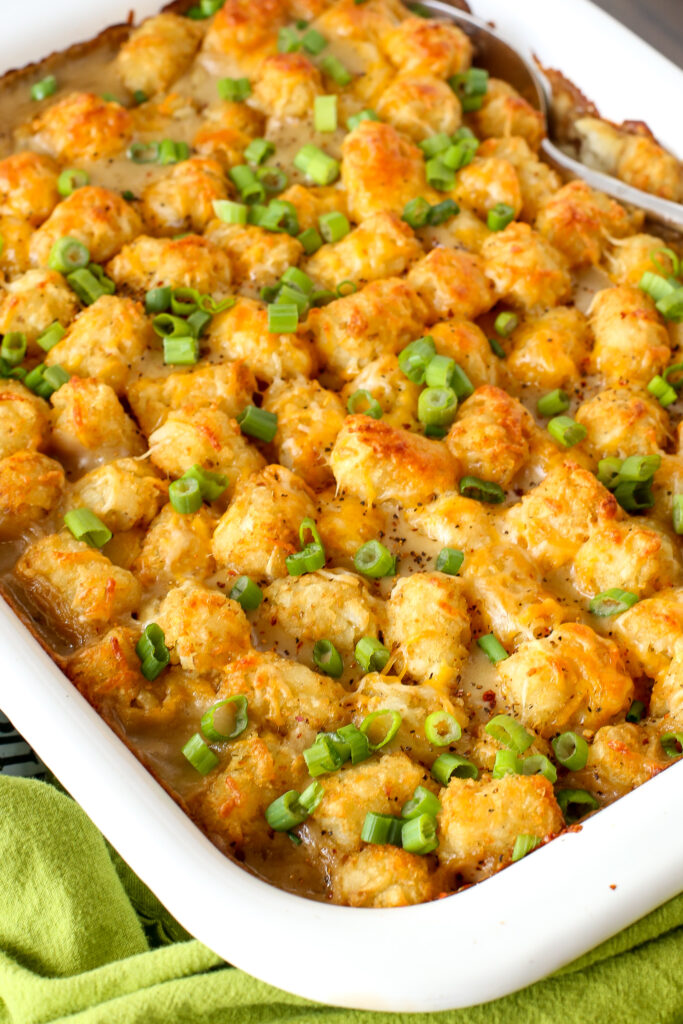 The cream sauce
What makes a casserole like this delicious is the creamy sauce. You can use a can of creamed soup or like we do here, make it from scratch with uncomplicated ingredients.
Our cream sauce starts in a small saucepan by melting some butter. Once it is melted, you stir in the flour. You don't have cook it very long, just stir until it is well combined with the butter. Once all of that is brought together, it is time to stir in the milk. I keep 2% in my fridge, but any kind of milk you have will work. Although I am not 100% sure about nut milks or soy milk. We whisk in the milk in two batches. We get 1 1/2 cups whisked in and all thick and then we add the other 1 1/2 cups. At this point, we also add in the beef bouillon. This can be either granulated beef bouillon or beef base like Better Than Bouillon, which I love. It will take a minute for the sauce to thicken back up since we just added cold milk to a warm sauce. But be patient, it will thick up again. Once the sauce is thick and creamy, that is it! You just set it aside and have it ready to pour over the ground beef once it is cooked.
Onion and garlic
To get things rolling with this recipe, we saute up an onion in butter. Onion is the base flavor for just about everything, especially beef. I almost always use yellow onions, but you can use whatever you have on hand. I try to dice up the onions as small as I can, just so my onion-picky family members won't give me any grief. If you are short on time and don't want to chop up an onion or garlic, add onion powder and garlic powder to the ground beef. It won't be as rich and well-rounded in flavor, but you will get the gist of it.
Ground beef
I like to buy the tubes of frozen ground beef at Costco. You know the ones. they come in a bag of 5 near the frozen burger patties. I have found that beef to be great quality and just the right amount of lean. I don't have a bunch of beef fat to drain off when I cook with it. Could you use another kind of ground meat in this recipe? Absolutely. All you need is two pounds of ground turkey, chicken or pork. The flavor will still be great.
Frozen mixed vegetables
Anything goes with these vegetables. I like to use the mix that is peas, carrots, corn and green beans. But if your family is a green bean family, use all greeny beanies. If you guys are an all-corn kind of crowd, do that. Whatever frozen veggies you choose, do 2 cups, which comes out to about 9 ounces.
If you are fresh out of frozen vegetables, consult your pantry for some canned vegetables. Again, anything goes. I would recommend draining and then rinsing canned vegetables before using them.
Shredded cheese
If you have read any of my other posts, you will find out that I am not a big cheese fan. Thus, I do not use a lot of it in my cooking. I only use 1 cup of shredded cheese to top this tater tot casserole. You are welcome to use more, of course. When it comes to what cheese I use, I just grab whatever is in the drawer in my fridge. On this particular day, it was a colby jack shredded cheese mix. If your crew is more of a shredded mozzarella group, do that. Whatever works is what is going to work.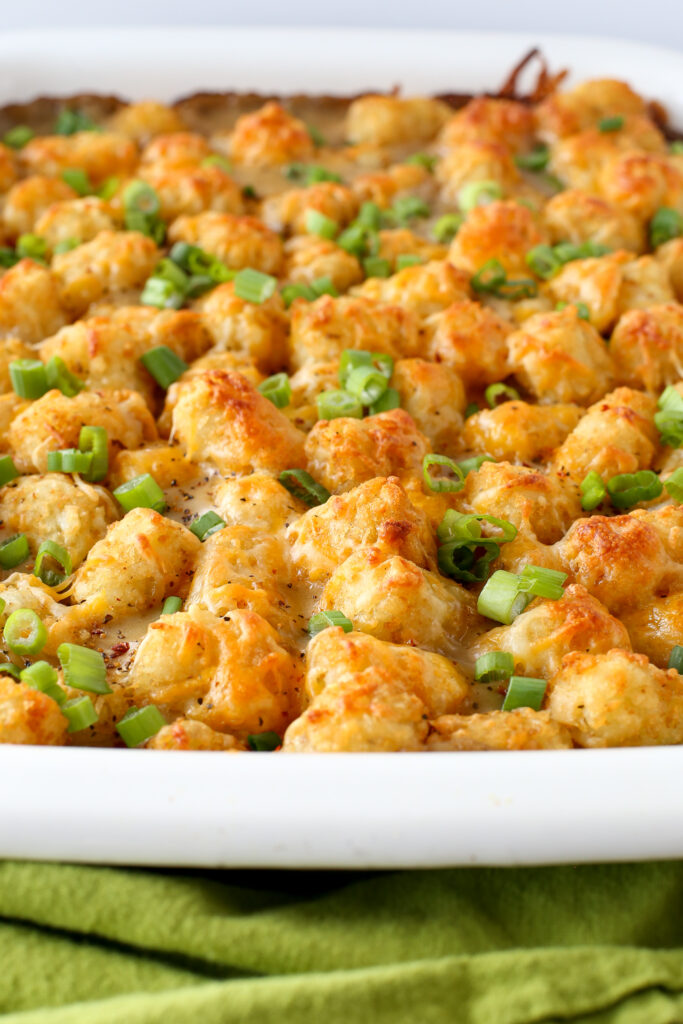 Green onion
You will notice that just about every recipe I create, it has some kind of green something to finish it. Today we are doing green onion. Again, beef goes great with onion flavor, so green onion is the winner garnish here. Of course, you do not have to add a green garnish to this, but remember- we eat with our eyes first!
Don't listen to the critics
If you look at any tater tot casserole from scratch recipes, there are going to be the haters in the comments saying it isn't "authentic" if you don't use canned creamed soup. That is a matter of opinion. Don't let that detour you from taking the extra 5 to 7 minutes to make the sauce from scratch. You got this!
Print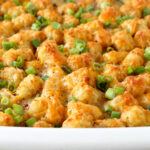 Tater Tot Casserole
---
Author:

Whitney Ingram

Total Time:

1 hour 20 minutes

Yield:

8

servings

1

x
Description
If you are looking for a tater tot casserole using whole ingredients, today is your lucky day! Simple ingredients can make magic!
---
1/2 cup

unsalted butter, divided

3/4 cup

all-purpose flour

3 cups

milk

1 tablespoon

beef bouillon or beef base

1

yellow onion, diced

2

garlic cloves, minced

1 1/2 teaspoons

kosher salt

1 teaspoon

ground pepper

2

pounds ground beef

2 cups

mixed frozen vegetables

2

pounds frozen tater tots

1 cup

shredded cheese

1

bunch green onion, diced
---
Instructions
Set oven to 400 degrees F. Set a 9×13 inch pan aside.
In a small saucepan over medium high heat, add 6 tablespoons of butter. Once the butter is melted, stir in flour. Stir until combined. Whisk in half of the milk, stirring constantly until thickened. Once thick, add the other half of the milk and the beef bouillon. Whisk constantly until the mixture is thickened and creamy. Set aside.
In a large skillet over medium high heat, add the remaining 2 tablespoons of butter. Once melted, add the onion, garlic, salt and pepper. Saute until onion is softened, about 10 minutes. Add ground beef and saute breaking up with a wooden spoon or a potato masher. Saute until beef is cooked through, about 10 minutes.
Once the beef is cooked, add frozen vegetables and cream sauce. Stir together and bring to a simmer. Pour mixture into the 9×13 inch pan. Top with frozen tater tots and shredded cheese.
Bake, uncovered, for 40 minutes, until the casserole is bubbly and the tater tots are lightly browned. Garnish with green onion.
Prep Time:

10 minutes

Cook Time:

70 minutes

Category:

bakes and casseroles
Keywords: bakes and casseroles, beef