Sourdough snickerdoodle cookies are a great way to change things up. We all have a pandemic sourdough starter, right? I am actually very afraid of mine. For one, it smells awful. When I first got it, I would feed it while wearing a face mask. Convenient that there are face masks aplenty these days. I am pretty dumb about smells. Cheese, sour cream, buttermilk, yogurt… they all smell terrible and often make me gag. So of course I am going to be afraid of sourdough starter.
I feel pretty confident in the sourdough loaf I make. I make one a couple times a week. But then I saw a recipe in the March 2021 Martha Stewart Living magazine for sourdough chocolate chip cookies. WHAT. Time to dive down that hole. I decided on sourdough snickerdoodle cookies. If they were awful, I wouldn't be sad because I didn't waste any chocolate chips. I was extremely skeptical about them. Turns out they turned out! More than turned out! They are amazing.
I had so many concerns and they all were unfounded. Here is where I was worried.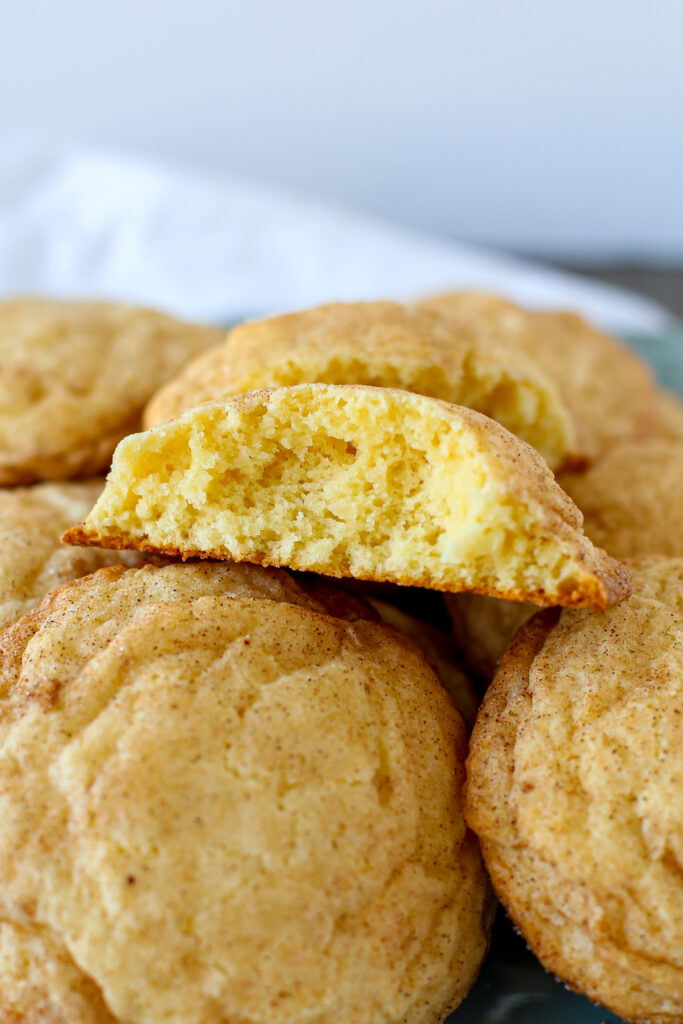 The dough would be runny
After all, I was adding liquid to cookie dough. Certainly it would be a gloppy sticky mess. False. It was completely fine. Sure, I had to handle the dough a little more gingerly than usual snickerdoodle cookie dough. After we finish making the dough, we let it sit for 30 minutes. This gives the hungry start a quick moment to eat some of the cookie dough ingredients. What results is a dough that is a little more fluffy.
It wouldn't be sweet enough
I worried these sourdough snickerdoodle cookies would be more sour than sweet. False. They are plenty sweet like a regular snickerdoodle, except we get some complex flavor from the sourdough starter. These could be the perfect answer for the people who don't like overly sweet treats.
The texture would be weird
Quite on the contrary, the texture is so lovely. The exterior is crisp while the inside is soft and cakey. So different from the regular snickerdoodle I am used to.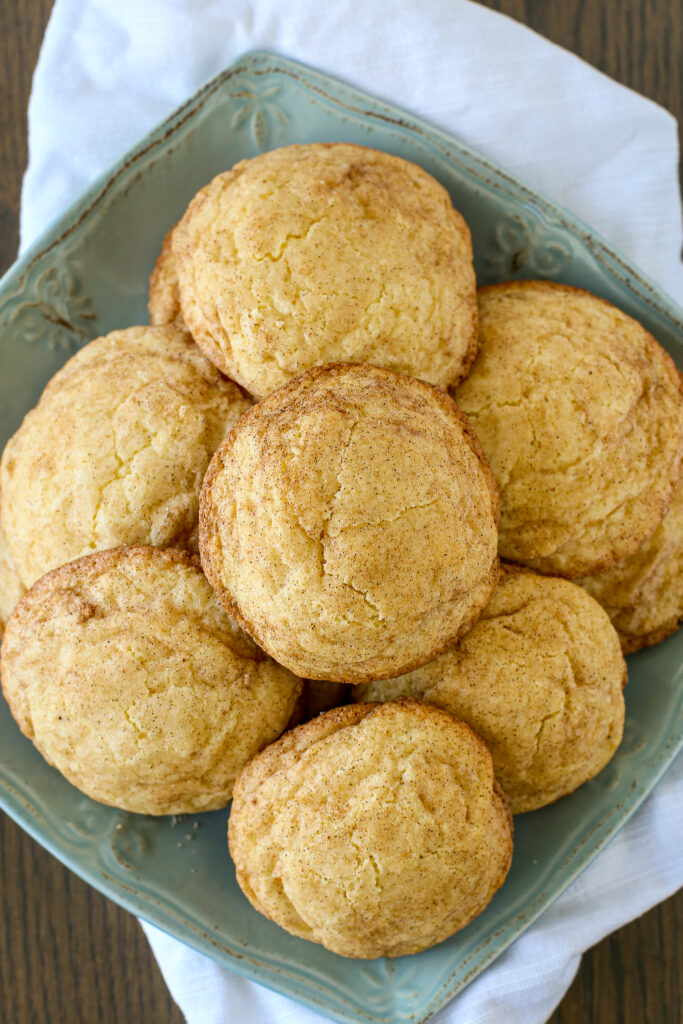 The cream of tartar would do something weird to the starter
One of my favorite parts of a snickerdoodle cookies is the flavor from the cream of tartar. And I worried it would do something to the starter. Kill it, make it triple in size, make it rob a bank. I don't know. But it was completely fine.
Don't discard your discard!
Part of feeding a sourdough starter often requires you to throw away some of the hungry starter. It is always a little sad to pour it down the drain. This remedies that. Set aside the discard and whip up some sourdough snickerdoodle cookies. You can make this dough, form it into balls and save it in the fridge for up to 3 days. The longer the dough can sit, the more developed the sourdough flavor will be. While it is discard, it is still hungry and it will get to work on that cookie dough.
Print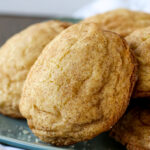 Sourdough Snickerdoodle Cookies
---
Description
Here's a new way to use your sourdough starter: sourdough snickerdoodle cookies! Soft, cakey inside while crisp on the outside. A perfect cookie! Don't toss that sourdough discard after feeding. Save it and try these.
---
2 3/4 cups

all-purpose flour

1 1/2 teaspoons

cream of tartar

1/2 teaspoon

baking soda

1 teaspoon

salt

1 cup

unsalted butter, at room temperature

1 1/2 cups

granulated sugar

2

eggs

3/4 cup

sourdough starter discard

2 teaspoons

pure vanilla extract

1/2 cup

granulated sugar

1 tablespoon

cinnamon
---
Instructions
 In a medium bowl, combine flour, cream of tartar, baking soda and salt. Whisk together well and set aside.
In the bowl of a mixer fitted with the paddle attachment, add butter and mix until smooth. Add sugar and mix on medium speed for 3 minutes, until light and fluffy. Add eggs, sourdough discard and vanilla extract. Mix well, being sure to scrape the side of the bowl with a rubber spatula. Add flour mixture and mix on medium speed until well combined.
Set the mixing bowl aside and cover with a towel. Allow to rest for 30 minutes to an hour. Once the dough is rested, set the oven to 350 degrees F. In a small bowl, combine the 1/2 cup of granulated sugar with the cinnamon. Whisk together. Shape the cookie dough into 1/4 cup balls and roll in the cinnamon sugar. Set onto a baking sheet, spacing them about 2 inches apart
Bake for 14-16 minutes, or until the edges are lightly browned. Transfer to a cooling rack and repeat with the remaining dough.
Prep Time:

45 minutes

Cook Time:

15 minutes

Category:

cookies

Method:

baking