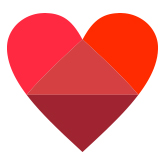 I will be real. I will always choose chocolate over vanilla. My husband is different. He choose vanilla and the plainer the better. Like if we choose ice cream at the grocery store, I want the one full of the most stuff. And he just wants Breyers natural vanilla. So these vanilla cream sandwich cookies are his jive. Simple vanilla, no fluff. And this is when you use your good vanilla. Remember how vanilla prices have skyrocketed? I remember when the Costco Kirkland pure vanilla extract was $12 a bottle. The last time I bought (while crying dollar signs), it was $34. WHAT. I have found myself going the route of almond extract more often just to save up my expensive vanilla. But unlock your vanilla extract from the safe and use a bit with these vanilla cream sandwich cookies.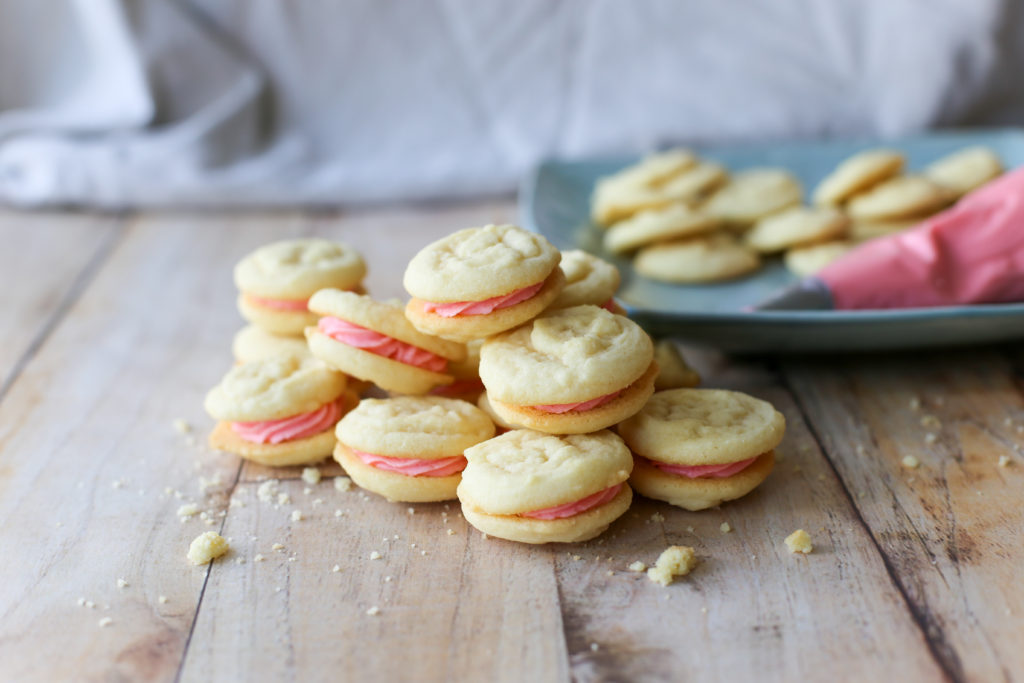 Vanilla Cream Sandwich Cookies
The actual cookie I use in this recipe came from my childhood neighbor, Irene. Irene was known for giving out sugar cookies at Halloween and having her babies potty trained at 9 months (surely that can't be true). Once she leapt over the fence to rescue me from my hair being tangled in our backyard swing. Irene also made these butter cookies. They are impossibly soft and melty, and that is thanks to the addition of vegetable oil and powdered sugar, along with the butter and granulated sugar. These are a great cookie for making into vanilla cream sandwich cookies. Even eating plain, they are just delightful. DANGER: because they are small, you will be tempted to just keep eating "one more". You have been warned.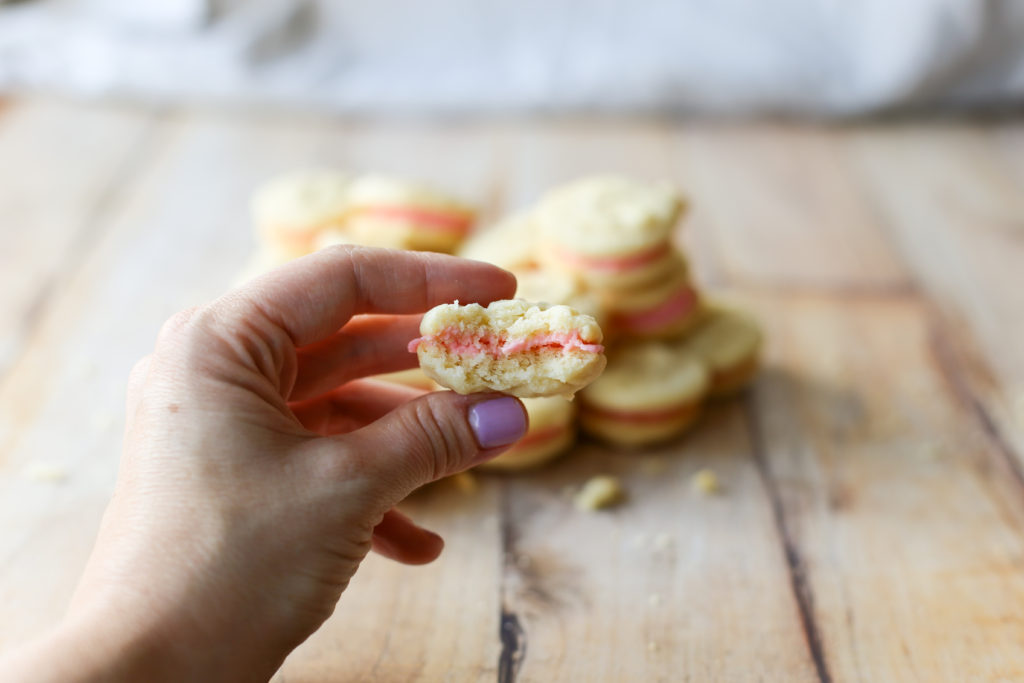 To flavor or not to flavor, that is the question
With the buttercream frosting, you can do what I did and just flavor it with vanilla. But there are plenty other options that would be amazing. Like some lemon zest and juice or even a dash of coconut extract. What is you flavored the frosting with coconut extract and then rolled the sides in toasted shredded coconut? That sounds perfect to me. Turning the frosting into chocolate buttercream wouldn't' be a terrible idea either (of course I think that). Just add a tablespoon or two when you add the powdered sugar. Whatever flavor road you go down, you can't go wrong.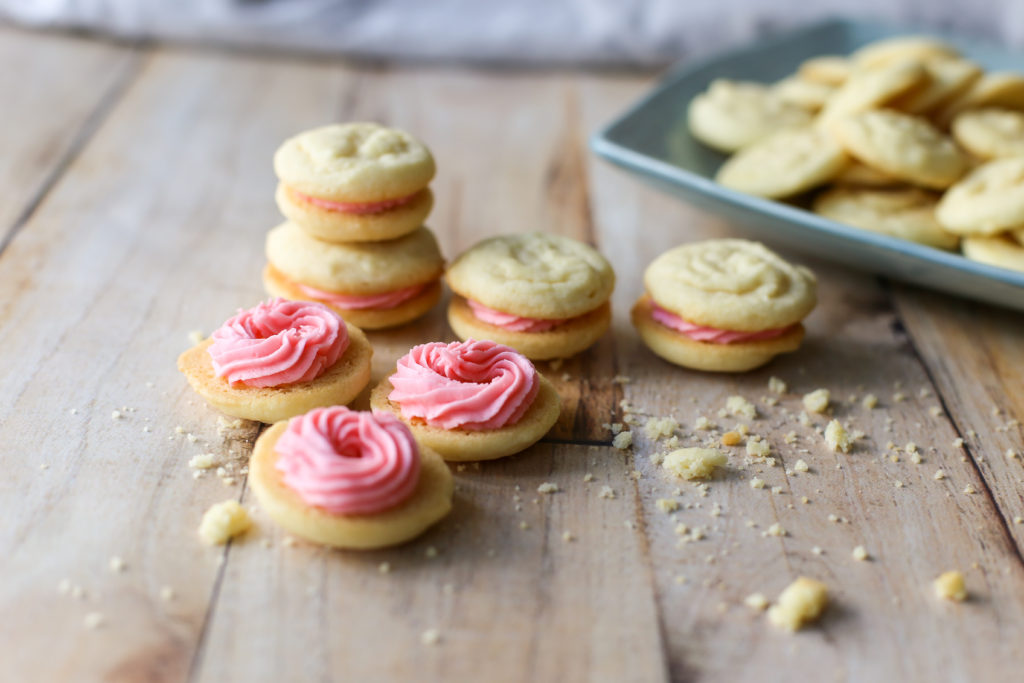 Notes on preparation
Color is completely up to you. I did pink, but even just plain white would be pretty. I have done them with lavender too. You could even color the dough for the cookies. Like pink cookies with a yellow buttercream would be super cute.
These little babies bake up quickly. 9 minutes is plenty of time. If you go over, you won't get that soft crumb. We want that soft crumb. So keep an eye on the oven. You are looking for light brown bottoms and maybe barely browned on the edges.
When it comes to packing these up to take somewhere, they stack just fine. Put a layer of either paper towels or wax paper in between the layers.
For scooping, try using this 25mm scoop. It's about 1/2 a tablespoon and the perfect size for these cookies. If you buy one of these, you will find you use it a whole lot more than you thought.
Questions, feel free to ask.
Vanilla Cream Sandwich Cookies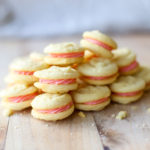 Print This
Ingredients
FOR THE COOKIES:

2 cups all-purpose flour

1/2 teaspoon baking soda

1/2 teaspoon sat

1/2 teaspoon cream of tartar

1/2 cup unsalted butter, softened

1/2 cup granulated sugar

1/2 cup powdered sugar

1/2 cup vegetable oil

1 egg

1/2 teaspoon pure vanilla extract

FOR THE FROSTING:

1/3 cup unsalted butter, softened

2 cups powdered sugar

1/2 teaspoon pure vanilla extract

1 1/2 - 2 tablespoons milk

food coloring, if desired
Instructions
Set oven to 350 degrees F. In a medium bowl, combine flour, baking soda, salt and cream of tartar. Whisk well to combine and set aside. In the bowl of a mixer fitted with the paddle attachment, add butter and both sugars. Mix on medium speed until light and fluffy. Add vegetable oil, egg and vanilla extract. Mix until well-combined. Add flour mixture and mix until a dough is formed, being careful not to overmix.
Scoop dough into 1/2 tablespoon balls and bake 20 to a baking sheet. Bake for 9 minutes, or until the bottoms of the cookies are light brown but the edges are barely browned. Repeat until all the dough is baked.
For the frosting, add butter to the bowl of a mixer fitted with the whisk attachment. Mix until the butter is light and fluffy. Add powdered sugar, vanilla extract, milk and food coloring if using. Mix until frosting is smooth. Transfer to a piping bag fitted with a star tip.
Once cookies are cooled, pipe frosting on one and top with another.