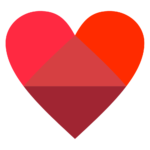 In full disclosure, I already have a recipe for double chocolate cookies. It's in my cookbook. And it's…. fine. But not my favorite. I have wanted it to be better. Thicker, fudgier. Kind of like a brownie. And it's taken years to get it to what I want. I can officially say I have it! These double chocolates cookies are all I have been looking for.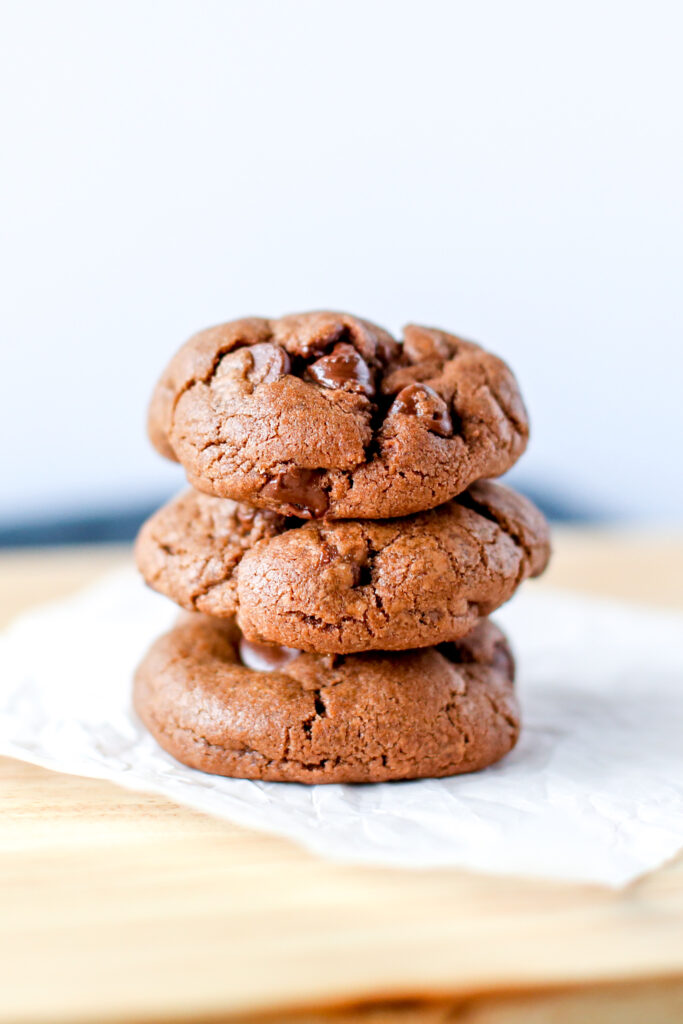 Weird times, eh?
There is no better time to nail down a recipe than during all of this COVID-19 virus business. We can't leave the house, we can't be around other people. So why not spend the time in the kitchen? The first week or so of all of this panic made it difficult to wrap my brain around just about anything. Glued to my phone, my days seemed to blur together. Then I soon realized that I needed to disconnect from social media and the news in general. It was definitely helpful.
The hardest thing has been to keep my kids calm. They have experienced such disappointment. I think we often forget our kid's worlds' are so much smaller than our own as adults. So when my son's 5th grade overnight camp was canceled, he was far-more devastated than any adult would have been. My daughter's school play won't happen. And my oldest, who worked so hard to make the high school baseball team, won't have a baseball season after all. This has been more of an exercise in managing disappointment than anything else.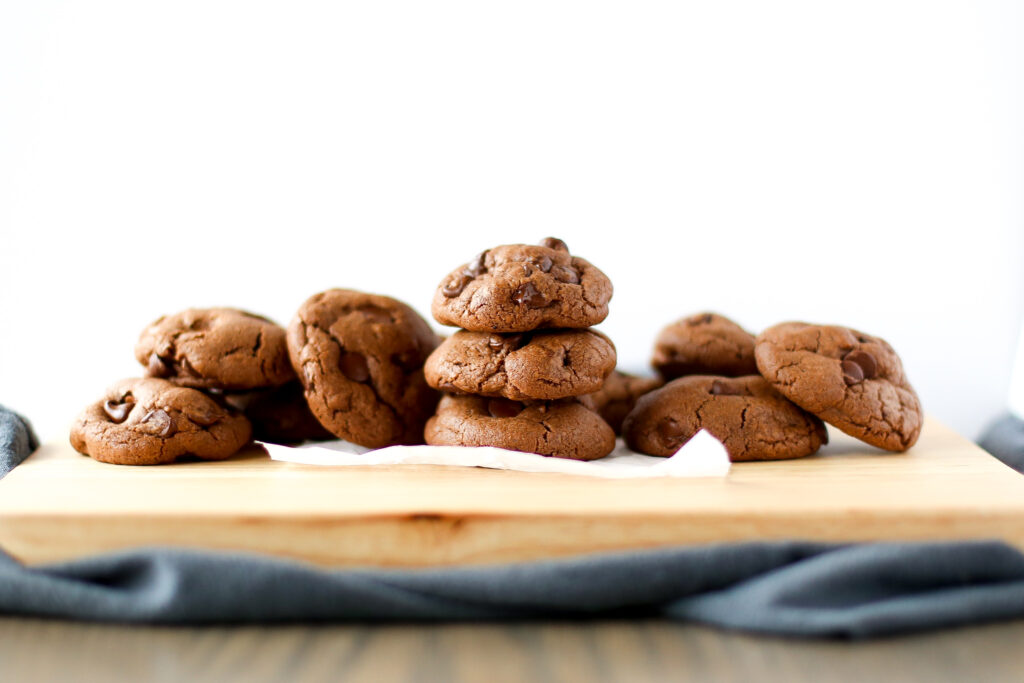 Do the things that make you feel fulfilled
After the shock of all these life changes, I realized I needed to create a new normal for our home and myself. And that means I need to do the things that make me feel fulfilled, make me feel like me. That will always bring me back to the kitchen. Cracking eggs, seasoning chicken, chopping fresh broccoli, stirring pancake batter. When the world feels upside down, I always turn to what is ever consistent and true. Food and cooking.
The truest is always chocolate. It never lets you down, especially when it is in baked form. Cookies, cake, brownies, cupcakes. It is always good. These double chocolate cookies were the first thing I made once the severity of the virus and our social distancing was going to be set in. And for good measure, I made them again a few days later.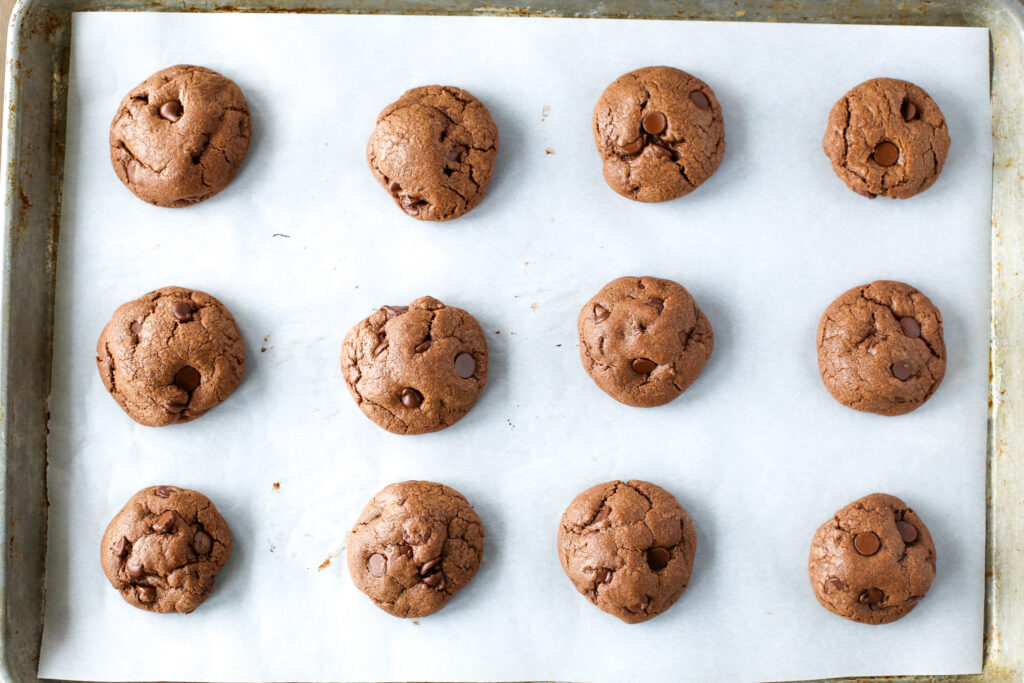 Notes on preparation
What makes these cookies better than my last double chocolate cookie recipe? Melted butter. I have been doing some reading and research on how to make perfect double chocolate cookies. And one of the biggest barriers is cocoa powder. Cocoa powder is drying. And somehow, the butter being melted solves that problem with these cookies. I would like to think it is similar to brownies. When you make brownies, the butter is added when it is melted, not softened. So these cookies come out fudgy more than cookie-y (that's a word. Look it up. Okay not it isn't.)
With this recipe, I also added less cocoa powder than I normally would. I think it is a better balance this time around. Less rich, but still indulgent and satisfying. Also, cocoa powder can be drying, so if we don't need to use a lot, let's not.
These cookies do great being baked off a day or two after the dough is made. So go ahead and bake off one batch and put the rest of the dough in the fridge for a couple of days later.
If I had my own way, I would add some almonds, pecans or walnuts to this, but my middle child is a grump about nuts. So no. But you are welcome to. I would do 1 cup chocolate chips, 1/2 cup chopped nuts. Speaking of chopped nuts, I just bought this cute little nut chopper on Amazon. I am so excited about it!
Print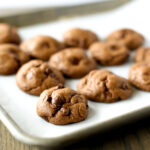 Double Chocolate Cookies
---
Description
Every recipe binder needs a solid recipe for double chocolate cookies. These bad boys are fudgy and gooey on the inside, crisp on the outside. Go ahead and add other mix-ins as your heart desires.
---
1 cup

unsalted butter, melted and cooled

2½ cups

all-purpose flour

⅓ cup

cocoa powder

1 teaspoon

baking soda

½ teaspoon

salt

1½ cups

granulated sugar

2

eggs

1 teaspoon

pure vanilla extract

1½ cups

semisweet chocolate chips
---
Instructions
Set oven to 350 degrees F. Melt the butter in the microwave or on the stovetop. Set aside to cool. In a medium bowl, combine flour, cocoa powder, baking soda and salt. Whisk together and set aside.
In the bowl of a mixer fitted with the paddle attachment, add melted, cooled butter and sugar. Mix on low speed until well combined. Add eggs and vanilla extract and mix on medium speed until combined. Add flour mixture and mix on medium speed. While mixing, pour in chocolate chips. Mix until combined.
Portion the cookie dough onto a baking sheet in 2 inch balls, spacing them about 2 inches apart. Bake for 10-12 minutes, or until the edges are lightly browned. Transfer to a cooling rack and repeat with the remaining dough.
Prep Time:

15 minutes

Cook Time:

10 minutes

Category:

Dessert
Cooking equipment used in this recipe
Listened to while in the kitchen