Ever had an angry ovary? I have. About 7 years ago, it sent me to the hospital. It was angry in the way it had a cyst. If you have ever had those, you know it's no joke. And there isn't much you can do but wait it out with pain killers. After I came home from the hospital after a nasty angry ovary episode, my friend Kalli showed up to console me with this chewy coconut granola. And ever since, it's been a staple in our house.
The many ways to give away granola
Over the years, I have given this chewy coconut granola away in a myriad of ways. One year, I whipped up a big batch and gave it away to my kids school teachers during Teacher Appreciation Week. Two of the three teachers emailed me and asked for the recipe. One of my sisters was sick and I gave her some. Now she makes it regularly. A couple months ago, a friend Emily was hosting a bake sale to raise money for a family in the neighborhood whose bathroom set on fire and was coming up short on their deductible. I made a bunch of cute cups of this and they sold out in a flash. Side note: Emily and I decided that the key to a successful bake sale is all in the packaging. So next time you are bake-saling it, make a trip to the restaurant supply store for good packaging for your goods.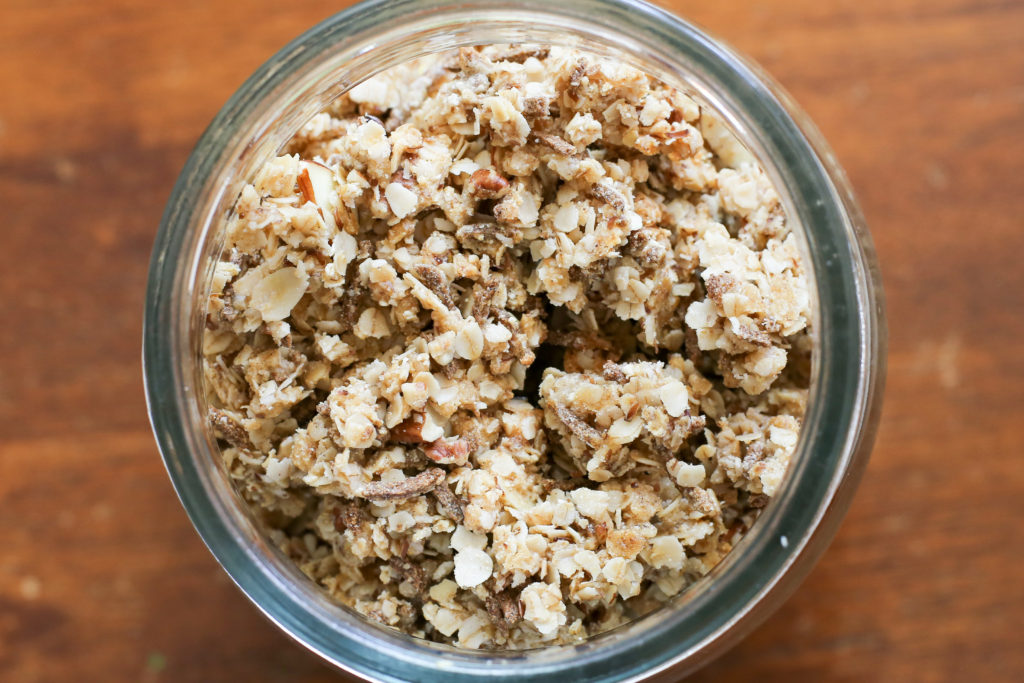 What makes this granola special?
If this granola is always received with such high praise, what makes it so special? For one, it's chewy, not crunchy. This is thanks to coconut oil and honey. And lots of both. We also only bake this granola for 10 minutes when many granola recipes call for 30+ minutes to dry it out and make it crunchy. I think this granola is much less messy because it's chewy. Think Nature Valley granola bars. Delicious yet a disaster to eat. You also get these big pieces instead of all crumbly. Perfect for snacking!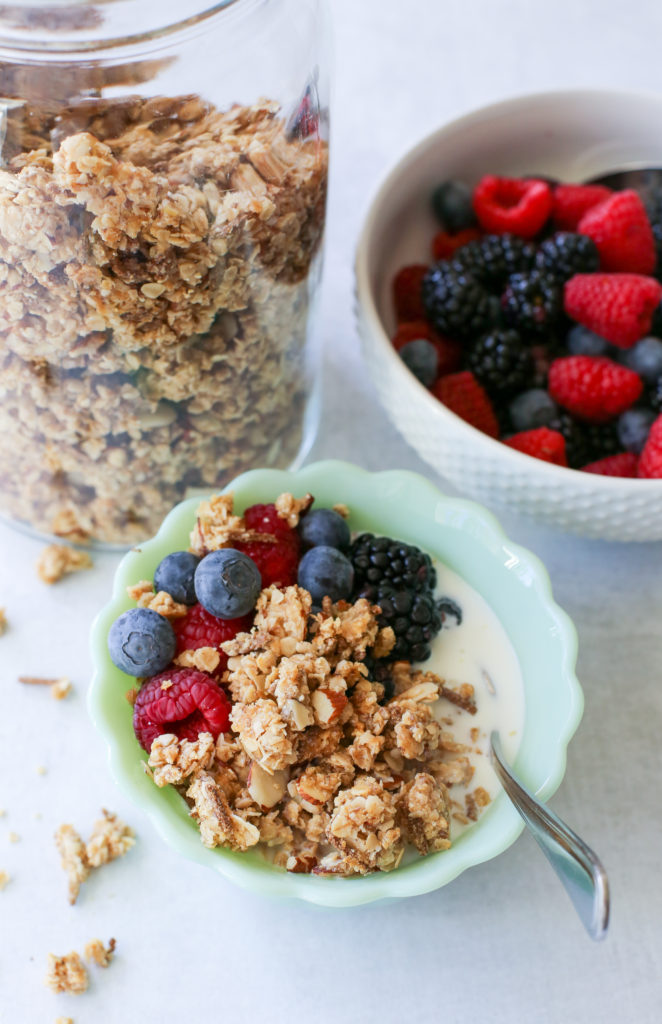 Notes on preparation
You will notice that the recipe says "chopped nuts". That means it's up to you. You can put whatever nuts you want. 100 points if you know about this movie clip about nuts. For this batch, I did pecans and sliced almonds. But peanuts, walnuts, macadamias or cashews would be killed. Or what about honey-roasted peanuts?! I am totally doing that one next time. Here's a total tragedy in my life: my boys are allergic to cashews- the best nut of them all. I mourn this fact regularly. For a long time, I thought it was in their heads so I bought that Asian salad mix at Costco and just picked out the cashews. Well, it didn't take long for my oldest to start with the itching throat and swollen eyes. We rushed over to Target to get some Benedryl and it was just like that scene on "Hitch".
(Wow, that "note" really got off track.)
The recipe calls for powdered milk. If you don't have any in your pantry, don't stress. You can make it without it.
Cool fact: you can freeze this granola. Thank you coconut oil. It defrosts in a jiff.
Chewy Coconut Granola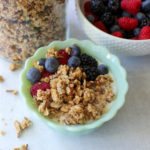 Print This
Ingredients
4 cups rolled oats (quick or old-fashioned)

1 cup All-Bran cereal

1 cup powdered milk

1 cup shredded coconut

1 cup chopped nuts

3 tablespoons ground flax seed

1 cup coconut oil, melted

1 cup honey

1 teaspoon kosher salt
Instructions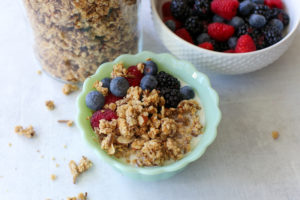 Set oven to 350 degrees F. Combine all ingredients in a large bowl with a wooden spoon until combined and then using your hands, work the honey into the dry ingredients, combining well. Spread granola onto two baking sheets sprayed with non-stick spray and spread into an even layer. Bake for 10-12 minutes. Allow to cool on baking sheets completely and then transfer to a big jar or Ziploc bag for storage.