Double lemon bundt cake is called double because we are giving it two layers of lemon. There is lemon in the cake itself and then the glaze has a punch of lemon too. My sister Megan appreciates lots of lemon, so a cake like this makes me think of her. This cake is moist, tart, tender and perfect. And during the cold winters months we are in right now, some bright lemon might just be what the doctor ordered.
Bundt cakes of years past
I wrote a cookbook a number of years ago. It is called "The Family Flavor" and you can buy it on Amazon. The book was incredibly rewarding to write and I don't know if I will ever feel as accomplished as I felt the day it arrived in the mail. I learned a lot writing my book. Like I feel like I can write a recipe really well, like the technical part of it. And I learned how to do that consistently. I also learned how to take rejection better. I didn't get all awesome reviews on my book and some of them were hard to take. I learned that it is impossible to write a book that everyone will like. I also learned that a bad review doesn't erase all the good ones.
In that book, I wrote a recipe for orange cream cake. It has been a Christmas Eve tradition for many years since. It is just part of the days after Christmas now. You wake up, eat a slice of cake for breakfast and then go about your day. It is a jolly way to enjoy the Christmas break. I wrote this double lemon bundt cake recipe to be similar to that orange cream cake. Moist, flavorful, tart and only gets yummier as the days go on. Here are the ingredient particulars.
Butter
You can sub in vegetable oil for this recipe if you don't have butter handy. It will taste great and still be super moist. When it comes to unsalted or salted butter, I am not strict. Whatever you have will work great. Don't let all the Food Network chefs scare you about too much salt in your baked goods. I used to fall for that back in the day, but soon realized that it isn't that consequential to use salted butter. However, whatever butter you choose, make sure it is room temperature.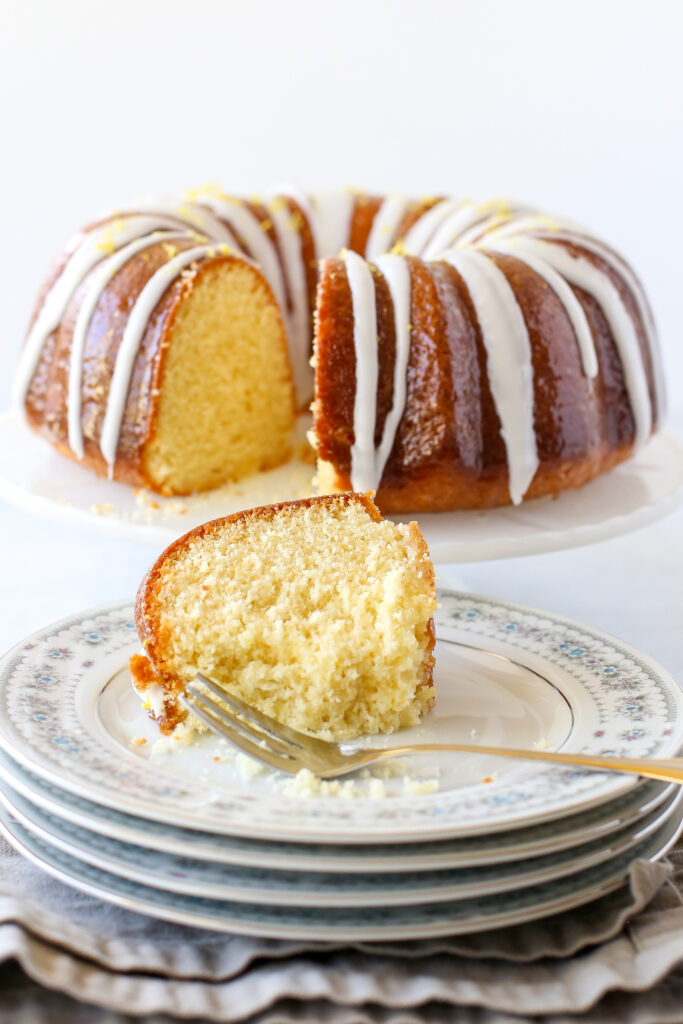 Eggs
With the eggs, we want room temperature if at all possible. If you didn't remember to leave some eggs out, don't stress. Just put the eggs in a bowl and fill it with warm water for a little while. Like do that first thing when you go to make this recipe. It works great.
Granulated sugar
Typical cake, using a ton of sugar. We use 2 cups here. But what did you expect? It's cake for goodness sake! That rhymes. I am a poet and I didn't even know it!
Lemon zest and lemon juice
The fresher your lemons are, the more zest you will get. But it's okay if they aren't super fresh. Everything will still taste great. If you are still grated lemon zest on a box grater, I beg of you to buy THIS on Amazon. Do it. Just do it right now real quick.
For juicing, I use THIS guy and love it. Put your lemon halves in to the juicer cut side down and then juice it. It turns the lemon inside out, squeezing every bit of juice out of it.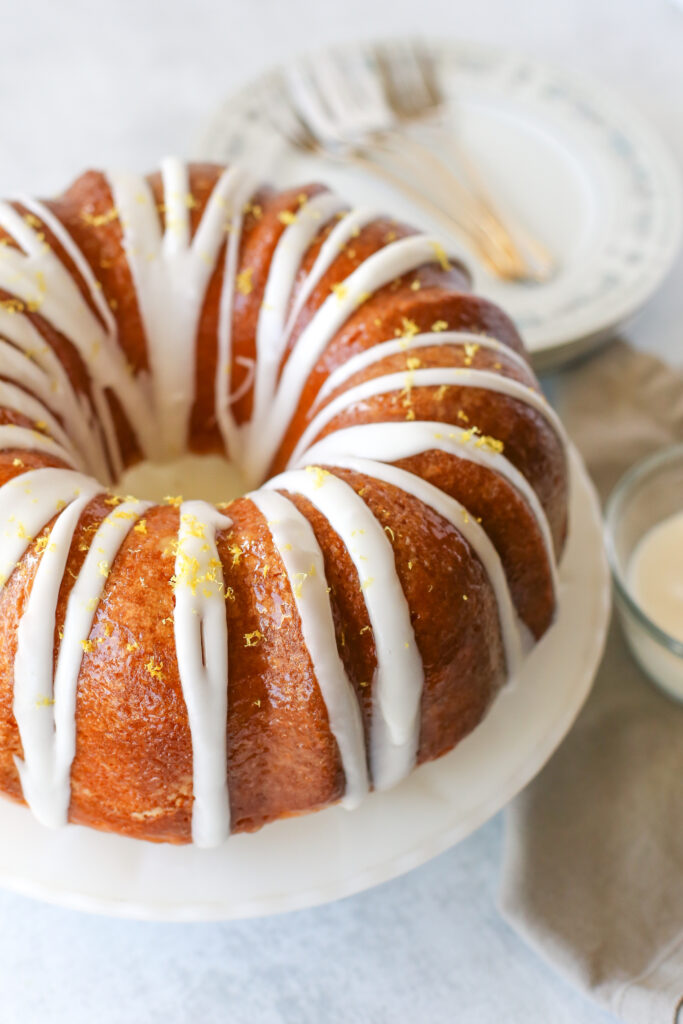 All-purpose flour
I think you could use cake flour here no problem. In fact, I know I will try that next time I make this double lemon bundt cake. It is going to give us a more tender crumb, so why not.
Buttermilk
Buttermilk is the secret champ in any baked goods. And if it is room temperature, even better. To get my buttermilk to room temp, I just nuke it in the microwave for 30 seconds.
Why do I keep blabbing about everything cold not being cold? Because cold will seize up all the other room temperature ingredients. For example, if you have room temperature butter, but not eggs and buttermilk, the butter is just going to get cold and not blend as nicely throughout the cake.
The lemon syrup
Part of what makes this double lemon bundt cake is the syrup you brush on it after it is baked. We do not do equal parts lemon juice and sugar. We actually add a little extra sugar and that gives us more of a thick glaze that makes it shiny and pretty. As you can see from the pics, she is very shiny and pretty.
Print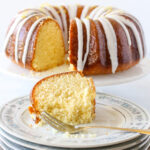 Double Lemon Bundt Cake
---
Author:

Whitney Ingram

Total Time:

1 hour and 20 minutes

Yield:

12

slices

1

x
Description
Double lemon bundt cake is double because you get mega lemon flavor. It is perfectly sweet and tart, just as a lemon cake should be.
---
3 1/2 cups

all-purpose flour

2 teaspoons

baking powder

1/2 teaspoon

baking soda

1 teaspoon

salt

1 cup

unsalted butter, room temperature

2 1/2 cups

granulated sugar, divided

4

lemons, zested and juiced

3

eggs, room temperature

1 teaspoon

pure vanilla extract

1/2 cup

buttermilk, room temperature

3 tablespoons

milk

2 cups

powdered sugar
---
Instructions
Set oven to 350 degrees F. Spray a bundt pan with non-stick spray, dust with flour and set aside.
In a medium bowl, add flour, baking powder, salt and baking soda. Whisk to combine and set aside.
In the bowl of a mixer fitted with the paddle attachment, add butter, 2 cups sugar and the lemon zest. It will be about 1/4 cup. Mix on medium speed until well combined and light and fluffy, about 2 minutes.
Add the eggs, one at a time, mixing well after each addition. Add vanilla extract.
Add the flour mixture in three addition, alternating with the buttermilk. Add 1/4 cup lemon juice.
Spoon the batter into the prepared pan, smoothing the top. Bake for 55-60 minutes, or until an inserted toothpick comes out clean.
While the cake bakes, make the syrup. In a small pan over medium heat, add the remaining 1/2 cup sugar and 1/3 cup lemon juice. Bring to a simmer, stirring until the sugar is dissolved. It should only take a few minutes. Set the pan aside to cool.
Once the cake is baked, cool in the pan for 20 minutes before turning out onto a cooling rack. Brush some of the syrup on the top of the cake as it cools. Once the cake is turned out, brush the remaining syrup on the outsides of the cake. Brush the syrup on the cake as it cools over a period of time so that it can fully soak in.
Once the cake is fully cooled, prepare the glaze. In a medium bowl, combine the milk and powdered sugar. Stir together to make a smooth consistency. Drizzle or pour the glaze on top. Allow to set before serving.
Prep Time:

20 minutes

Cook Time:

60 minutes

Category:

cake
Keywords: bundt cake, dessert, lemon