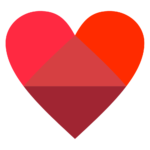 What is it with kids and their unwillingness to eat the last of the crackers in a box? It is just my kids? It's like they get 7/8 of the way finished with the box and no one will finish it. I hate throwing out food, so all those crackers just live in the pantry forever, until I use them up and make something like this. Cracker-crusted chicken tenders are the solution. All the dredges get pulverized in the food processor and I use the crumbs to coat chicken tenders. And everyone, including myself, is happy.
Endless possibilities
This recipe can be however you need it to be. Are you a gluten-free family? Easy, just use anything crunchy in your pantry. Does your family stick to one kind of crackers, like a Goldfish-only family? No problem, all Goldfish would be delicious. You could also throw in the last of some Corn Chex, sliced almonds or even rice cakes. I actually did rice cakes with this batch.
What about the sweet dredges in your pantry, like cereal and cookies? This same idea could be used for French toast. Like imagine some french toast coated in some pulverized Cinnamon Toast Crunch, Honey Nut Cheerios and shredded coconut??? Right?!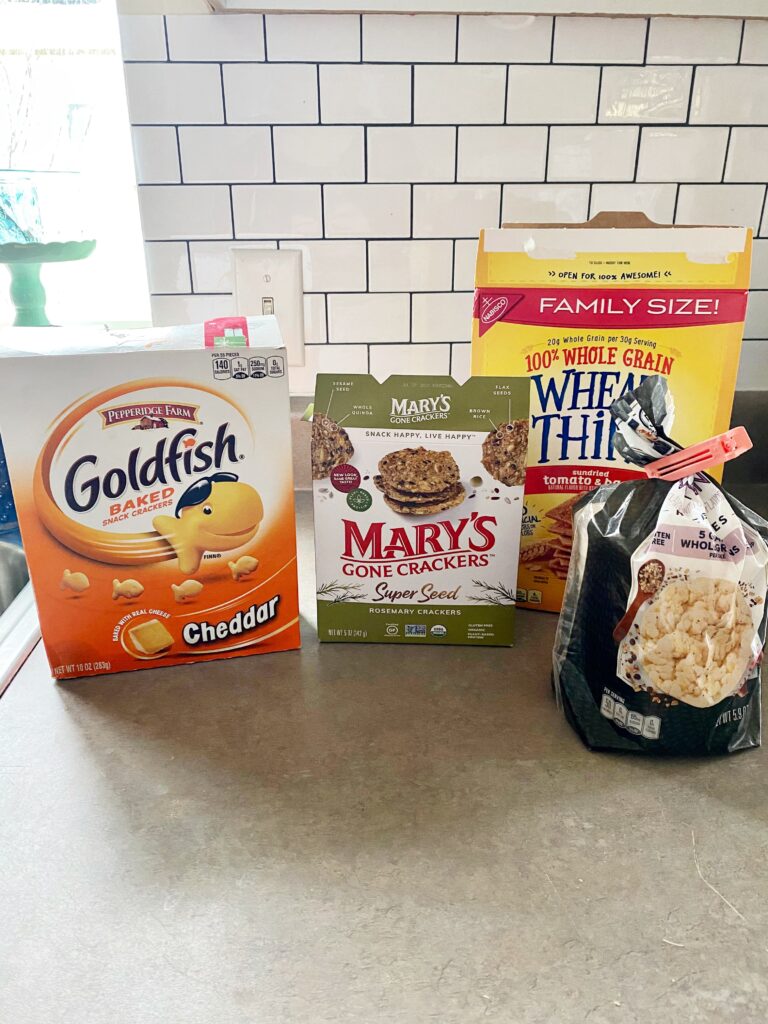 Let's go over each of the ingredients:
Crackers
Like I said before, anything goes for cracker-crusted chicken tenders. For this run, I used Goldfish crackers that our neighbors gave us at Christmas, which is as weird as it sounds. I also used some Mary's Gone crackers, tomato basil Wheat Thins and some Everything seasoning rice cakes. You will need about two cups of cracker crumbs for coating the chicken tenders. A little over or a little under won't matter. If you have lots more, go ahead and double dip the chicken tenders in the batter and crumbs.
If you want bonus points, toast the crumbs before dredging. Just spread them out on the baking sheet you are using and put it under the broiler for a couple minutes, keeping a close eye on them. This will give the chicken tenders a crunchier texture, which is never a bad thing.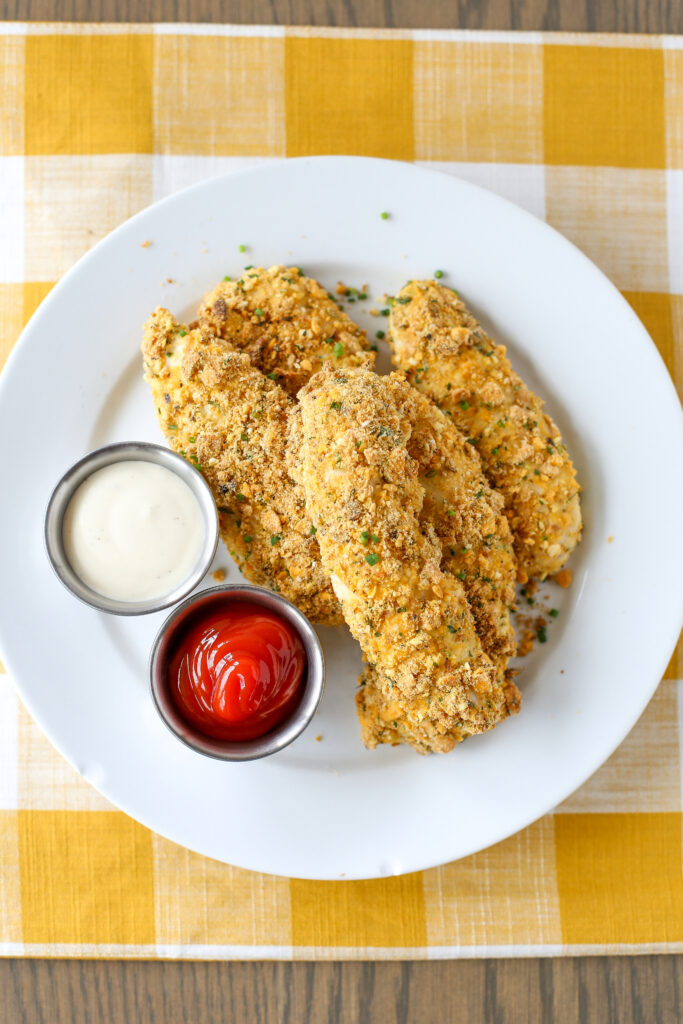 Salt and pepper
This is going to be totally subjective. Cracker-crusted chicken tenders can vary widely on the salt levels. This is because certain crackers have more salt than others. So taste the crumbs and see if they need salt or if it is good as is. You are also welcome to add some dried herbs. I like to add dried parsley.
You can also add Parmesan cheese. Some finely grated parm would work well.
Dredging batter
Instead of doing just an egg dredge, we are making a batter of sorts. This will make sure our crumbs stick extra good. We are whisking an egg, some flour and a some mayonnaise. This works as great glue for the cracker coating. If you are looking for some extra flavor, add a big squeeze of mustard to the batter.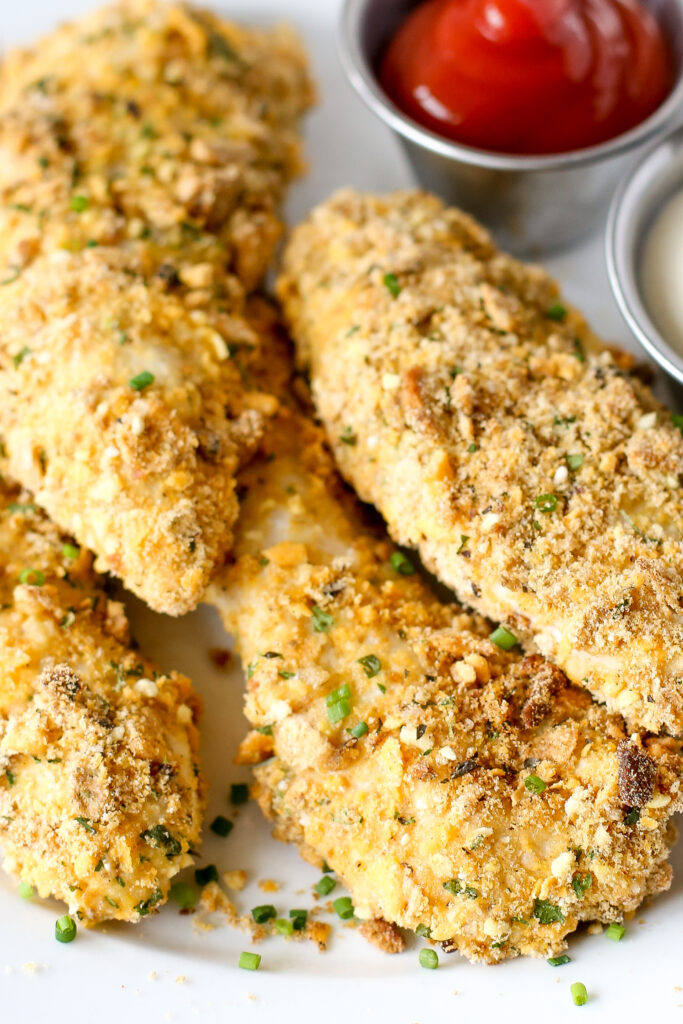 Print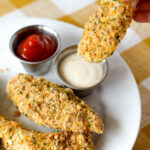 Cracker-Crusted Chicken Tenders
---
Description
Cracker-crusted chicken tenders are a great way to use up the last of the crackers in the pantry that no one will eat!
---
1

egg

2 tablespoons

all-purpose flour

¼ cup

mayonnaise

2

pounds chicken tenders, about

10

tenders

2 cups

cracker crumbs ((process in the food processor or blender. Measure after.))
kosher salt and ground pepper, as needed

1 tablespoon

dried parsley
sauces for dipping
---
Instructions
Set oven to 400 degrees F. Spray baking sheet with non-stick spray and set aside.
In a medium bowl, combine egg, flour and mayonnaise. Whisk well to combine. Add chicken tenders, completely coating each one.
Add cracker crumbs to a pie plate. Add salt and pepper if needed. Add parsley. Stir to combine. Add coated chicken tenders one at a time, being sure each one is completely covered in crumbs. Transfer to baking sheet and repeat with the remaining tenders.
Bake for 15-20 minutes, or until an inserted thermometer reaches 165 degrees F. Serve with any dipping sauces you prefer.
Prep Time:

10 minutes

Cook Time:

20 minutes