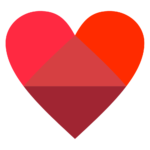 I missed out on Pie Day on March 14th- 3.14. I needed to make up for it. So key lime pie! I missed Pie Day because life was starting to take some weird turns. The news cycle was getting worse by the hour with COVID-19 updates. There were a lot of emails from my kids' schools about school being dismissed and my boys' games being canceled. It was my middle child that took the biggest hit. First, his overnight school camp was canceled. Then his basketball season was canceled. And the worst of it was his baseball season was canceled before it even started. Baseball is everything for that kid. He plays catcher and has a good bat. He has been chomping at the bit to send some baseballs deep.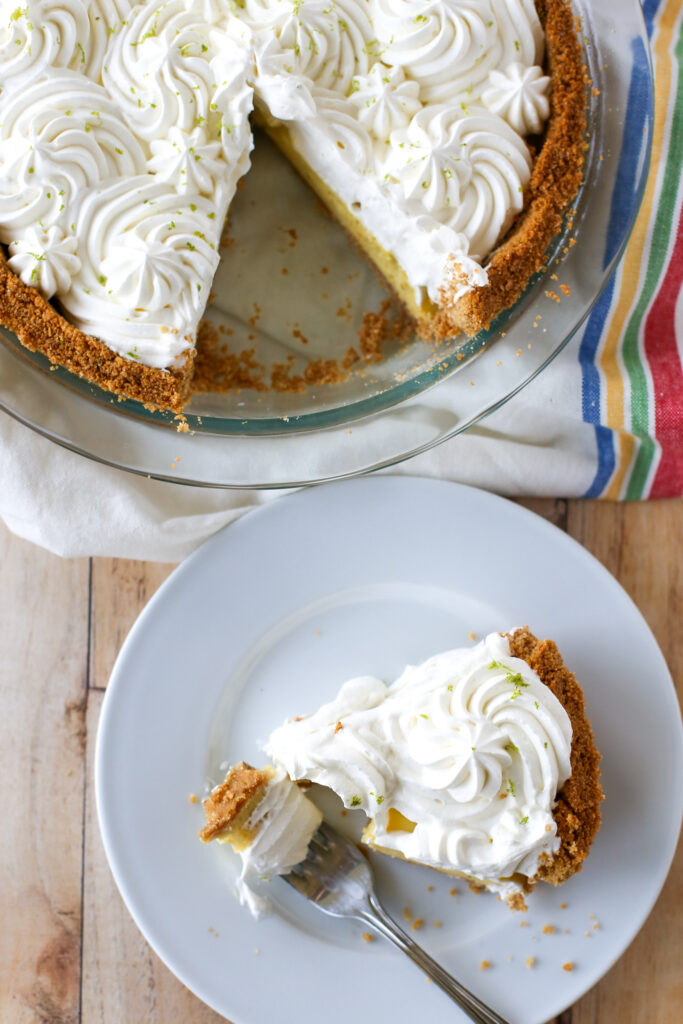 My oldest son's baseball season got axed as well. He worked his buns off to make the high school baseball team. And then once he does, it's over. His favorite pie is key lime pie. It makes sense that I make food their balm right now. I mean I am always preaching that food is love. So I will make pie as love.
The most forgiving pie
If you are looking for a pie that will tolerate your mistakes and endure your misgivings, it's key lime pie. And we can thank sweetened condensed milk. It keeps this pie stable and sweet. You can add plenty of liquid and it will still be nice and firm, but not cloying. The egg yolks are helpful too. But sweetened condensed milk is your best friend here. You can go many different flavor routes. Orange, lemon, vanilla, cinnamon.
From what I have found, different brands of sweetened condensed milk have a different color. And it definitely gets darker in color the longer it sits on your shelf. It might be darker in color, but it doesn't change the flavor. So if you crack open a can and it seems darker, don't stress. Your pie will still be great.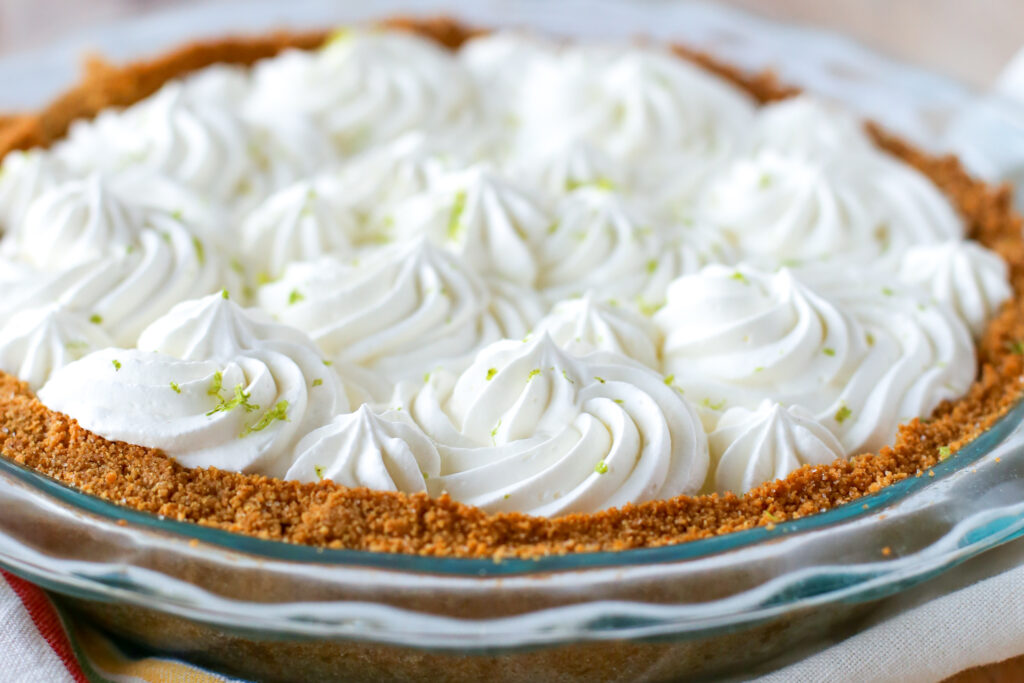 What kind of crust do you like?
Another reason to love this pie is the crust can be just about anything. You can make a crust with just about any cracker or cookie. I have done it with graham crackers and Biscoff cookies. You can do even do cereal. I know Ayesha Curry uses Cinnamon Toast Crunch for key lime pie. Nilla wafers, pretzels, sugar cones, gingersnaps, shortbread cookies- just go through your pantry and put anything together. Why not even add a couple of saltines? We all love that sweet-and-salty in desserts.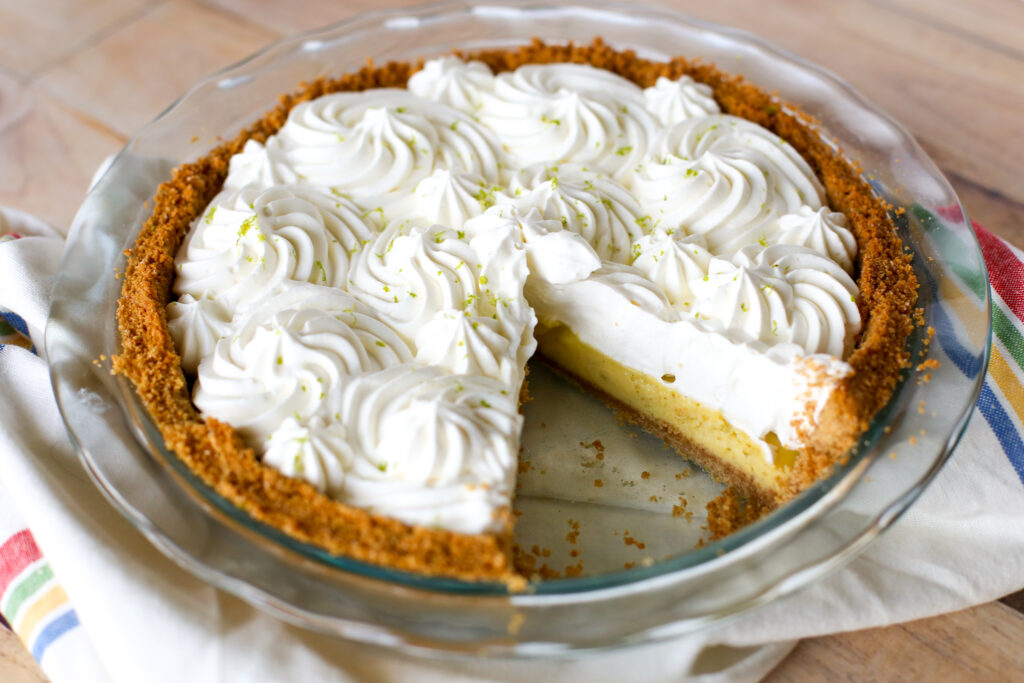 Notes on preparation
As I said, this pie is forgiving. It tolerates a lot. I have made this pie three days before it's eaten. I have made it the same day it is going to be served. Don't stress too much about making this on any particular day before it is going to be served.
You can find key lime juice in just about every grocery store. Find it in the spot where the stuff for mixed drinks is sold. The one I have always been able to find is Nellie and Joe's. You don't have to just use it in key lime pie. It's great for adding acid to a vinaigrette or a marinade. Or a squirt in your Diet Coke is great too. One bottle will make 3 pies.
You will have three egg whites leftover after you make this pie. Click HERE for Cinnamon Sugar Meringues. Simple and delicious and a great way to use up egg whites.
Print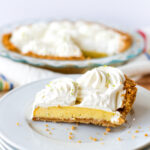 Key Lime Pie
---
Description
Key lime pie is the happiest sweet and tart treat A summertime delight! Bright flavors, easy ingredients and loads of fresh whipped cream!
---
For the crust
1½ cups

graham cracker crumbs

2 tablespoons

granulated sugar

6 tablespoons

melted butter
For the filling
14 ounce

can sweetened condensed milk

3

egg yolks

½ cup

key lime juice

2

limes, zested

2 cups

heavy cream

⅓ cup

powdered sugar
---
Instructions
Set oven to 350 degrees F. In a medium bowl, combine graham cracker crumbs, sugar and melted butter. Mix well, using a fork to break up the melted butter. Pour into a 9 inch pie pan. Using a dry measuring cup, press the graham cracker crumbs on the bottom and up the sides of the pan.
Bake for 10 minutes, until the edges are lightly browned. Set aside to cool while you prepare the filling.
In a large bowl, add sweetened condensed milk, egg yolks and key lime juice. Using a hand mixer, mix on medium speed until well-combined and smooth. Using a rubber scraper, fold in lime zest.
Pour filling into the prepared crust. Bake for 15 minutes, until slightly firm. Cool for a few minutes and then refrigerate for at least 4 hours or up to 3 days.
When ready to serve, prepare the whipped cream. In a large mixing bowl, add whipped cream and powdered sugar. Mix with a hand mixer on medium speed until thickened, then increase the speed to high. Mix until whipped cream is stiff and holds shape. Spread whipped cream over the pie or pipe on top.
Prep Time:

15 minutes

Cook Time:

25 minutes

Category:

Dessert
Cooking equipment used in this recipe