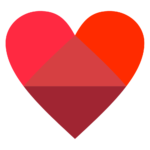 Cream puffs are an excellent magic trick. I have talked about other kitchen magic tricks, like meringues. We can consider cream puffs with strawberry curd a magic trick. Cream puffs, also called pâte à choux, are made with the most basic of ingredients. It's just water, butter, salt, flour and eggs. The manner in which we combine the ingredients is where the magic happens. Melting the butter in the water and then adding the flour. Let it cool for a bit and then add the eggs one at a time. Once the little blobs of goop go in the oven, they come out as these hollow shells ready for filling with all sort of delicious things. Today, we are doing whipped cream and strawberry curd.
Mrs. Cluff
When I think of cream puffs, I think of my foods teacher in high school, Mrs. Cluff. Cream puffs were part of the Foods 1 class. Choux pastry dough is the most basic of pastry skills. So many desserts come from this type of dough. Big fan of eclairs? Choux pastry dough. Do you love French crullers like I do? Choux pastry dough too. If you can make cream puffs with strawberry curd, you can make all kinds of great pastries.
Mrs. Cluff was a huge part of my teenagehood. I took all her foods classes and even her catering class, which is ironic because my husband and I now own a catering company. I also was a T.A. for Mrs. Cluff and went with her to buy groceries every morning for her classes. We would also buy Ben and Jerry's ice cream pints. Then at lunch, a bunch of foods class junkies would stick around and pass around pints. I remember the art teacher would also show up. When I wasn't in my usual high school classes, I could mostly be found in Mrs. Cluff's classroom.
Mrs. Cluff was hard on me when I needed it and would call me out on my stupid shit. She trusted me and made me feel important. I think of her often when I am in the kitchen. I could never make cream puffs without thinking of her.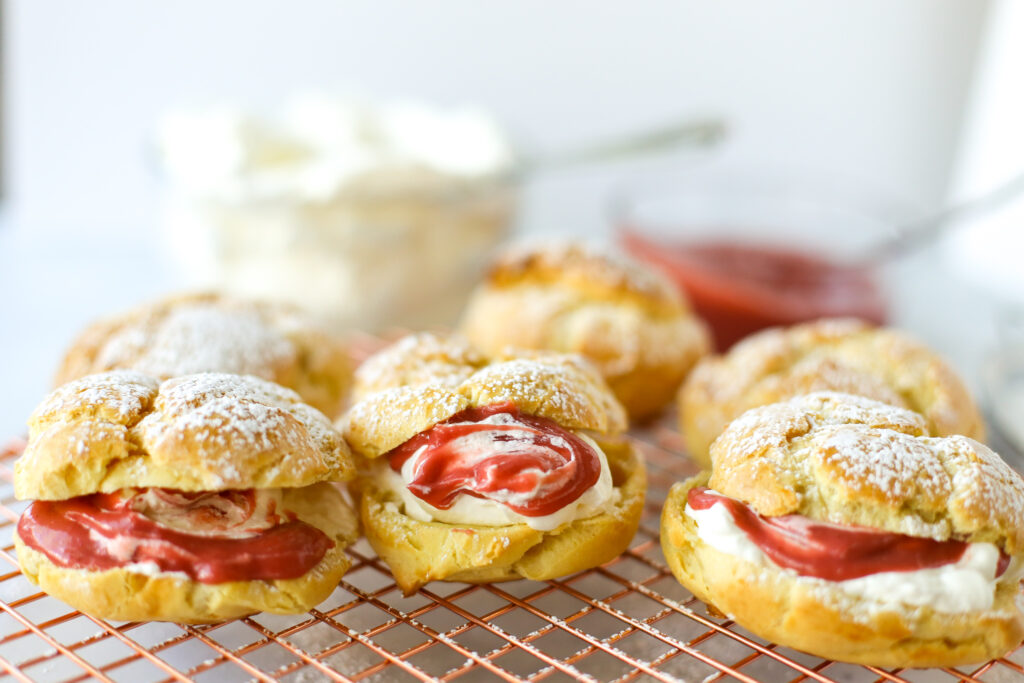 Do we have to call it curd?
Yes, we do and I hate it too. The word "curd" just has to go. It sure doesn't make me think of something sweet and tart. But this strawberry curd is just that. It's simple fruit puree mixed with egg yolks, sugar and cornstarch. What comes out is the most spreadable goodness, ready for cream puffs, toast, cake or just a spoon.
I have made this exact curd recipe with blueberries and it is gross. The color looks like….. I don't even know. Not purple, not blue, not gray. Maybe all of those colors mixed together. Strawberry is just prettier than blueberry. Even the strawberry curd came out with a sort of drab pink color. Like what I would imagine an intestine looks like. So I added a couple drops of red food coloring and it made me feel much better.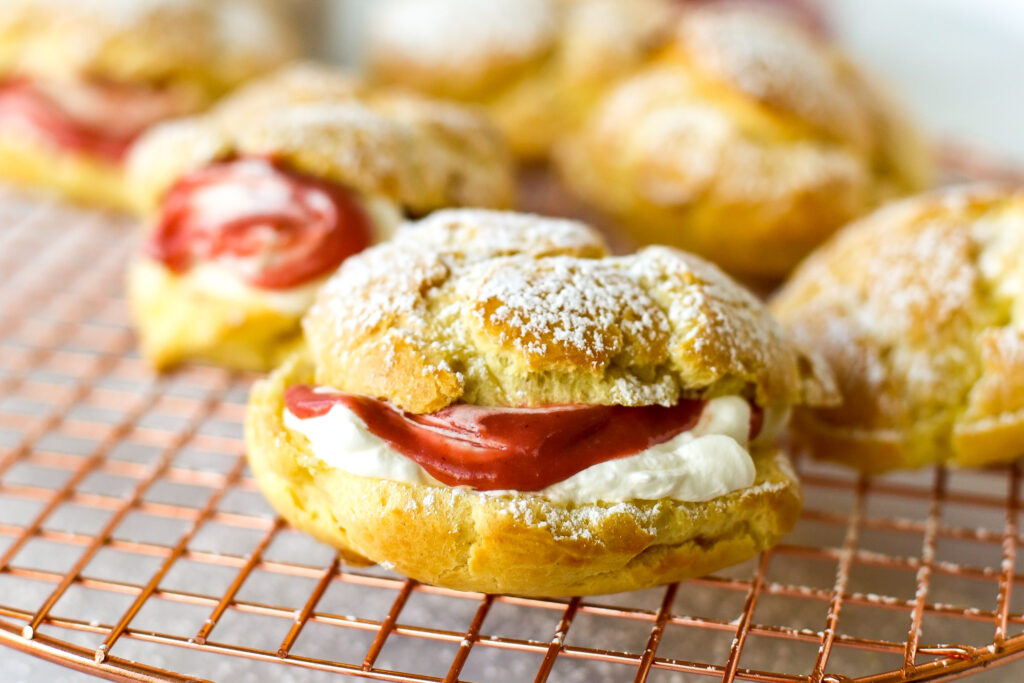 Notes on preparation
You can make the curd way ahead of time. Like two weeks ahead of time. It will just happily sit in the fridge, waiting for when you come up with ways to use it.
You can also make these cream puff shells ahead of time. About 3 days is what I would say. I can't decide if they should be kept in the fridge or not. I am going to err on the side of no.
You are welcome to pipe these into a pretty shape. I just plop the choux dough on a baking sheet and call it good. You can also make these small, like using a cookie scoop. A bunch of cute little cream puffs would be adorable.
Print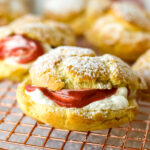 Cream Puffs with Strawberry Curd
---
Total Time:

50 minutes

Yield:

10

cream puffs

1

x
Description
Ready to use a lot of eggs? Cream puffs with strawberry curd uses 6 eggs, but don't let that scare you. This sweet, tart, soft, crunchy treat is worth it.
---
For the cream puffs
¾ cup

water

6 tablespoons

unsalted butter

¼ teaspoon

salt

1 cup

flour

4

eggs, divided
For the strawberry curd
2 cups

frozen strawberries

½ cup

granulated sugar

1 tablespoon

cornstarch

3

egg yolks

2 tablespoons

unsalted butter

1 teaspoon

pure vanilla extract
red food coloring, optional
For the whipped cream
1 cup

heavy cream

¼ cup

powdered sugar
---
Instructions
For the cream puffs
Set oven to 400 degrees F. Spray a baking sheet with non-stick spray and set aside.
In a medium saucepan over medium-high heat, add water, butter and salt. Once butter is melted, remove pan from the heat and add the flour. Mix until a dough forms. Spread the dough across the bottom of the pan, so it will cool faster. Set aside for 10 minutes.
After cooling, using a hand mixer, add 3 eggs, one at a time, until well-incorporated. Using a ¼ cup measuring cup and a spoon, scoop mounds of dough onto the prepared baking sheet.
In a small bowl, add the remaining egg and a splash of water. Whisk well and brush onto each dough mound with a pastry brush.
Bake for 30-35 minutes, until the tops are cracked and golden brown. Set aside to cool completely.
For the strawberry curd
Prepare curd while cream puffs bake. Add strawberries to a medium bowl. Microwave for 2-3 minutes until the strawberries are softened. Add to a blender and blend until smooth. Pour strawberry puree through a mesh strainer, leaving behind the seeds.
In a medium pan over medium heat, add sugar and cornstarch. Whisk together to combine. Add strawberry puree and egg yolks. Whisk until smooth, stirring occasionally, until mixture is bubbling and thickened, about 5 minutes.
Remove pan from the heat and add butter and vanilla. Add a few drops of red food coloring if desired for a brighter pink color. Whisk until combined and pour into a bowl. Set aside to cool.
For the whipped cream
In the bowl of a mixer fitted with the paddle attachment, add heavy cream and powdered sugar. Mix on medium-high until soft peaks form, about 5 minutes.
Assembly
To assemble cream puffs, cut each cooled cream puff in half. Add whipped cream and strawberry curd and swirl together. Top with the other half. Sprinkle powdered sugar on top before serving.
Prep Time:

20 minutes

Cook Time:

30 minutes

Category:

Dessert, Pastries
Keywords: Cream Puffs, Strawberry