Three cheers for a recipe that can cut down on prep time and get people fed within 30 minutes. I think the fastest I have pulled off these quick turkey lettuce wraps is 15 minutes. It's all about using helpful kitchen tools, if you have them. We use a food processor in this recipe. If you don't have one, you will need to do some chopping by hand. I have a Cuisinart food processor and she works like a champ. If you don't have a food processor, considering investing in one. You will use it all the time.
What about ground beef?
Do you have a couple pounds of ground beef in your freezer? Don't take off to the store to get ground turkey. You can use ground beef in this just fine. Keep in mind that it will be higher in fat. You will have some fat rendered from cooking it. You can either drain it off or keep it. If you want to drain it off, do that before adding the hoisin sauce mixture. I personally like using ground turkey because of the lower fat and also because I like to save ground beef for other stuff that needs beef fat. For example, bolognese just tastes better with ground beef, am I right?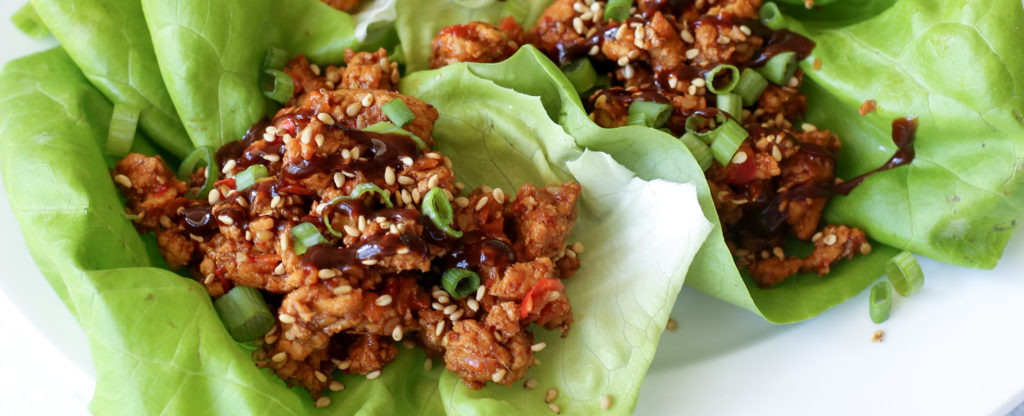 What to do about little hands that can't quite do lettuce wraps
These quick turkey lettuce wraps can be a bit challenging for little hands. Like think of a toddler eating these. It give me anxiety just thinking about it. A solution to that is putting this delish turkey mixture over a bowl of white or brown rice. When I serve these lettuce wraps, I usually serve white or brown rice on the side. You could do the same and just forgo the lettuce. Having rice with this also sets you up for perfect lunch leftovers. One of my best healthy-eating tricks is taking dinner leftovers and putting portions in small pint containers and freezing them. A couple minutes in the microwave on a busy day and I have a good lunch.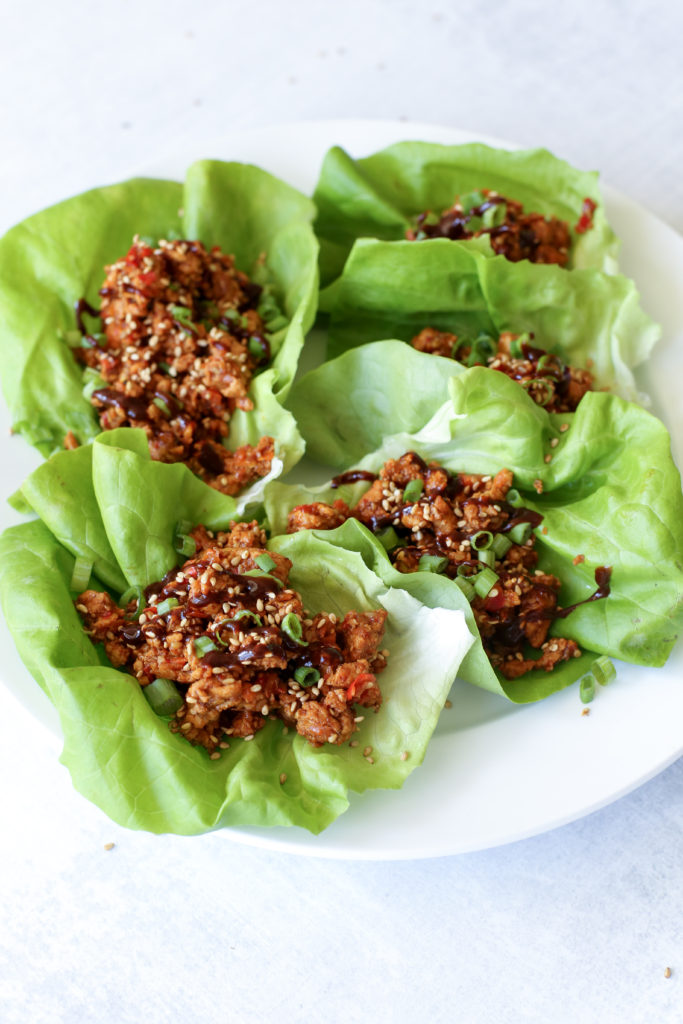 Notes on preparation
I have been super flexible with what vegetables I put in these. Like I have made these with celery, green bell peppers and even just onions. It's sort of just using whatever you have on hand. Like if you have a leek leftover in the fridge that's about to turn, go ahead and add it. Some frozen peas would also be yummy. It's only going to give you more flavor. I think we often forget that most of the flavor in our food comes from vegetables.
We are doing two pounds of ground meat for these quick turkey lettuce wraps, so you will most likely have leftovers. You can totally freeze the ground turkey mixture and save it for another meal. I think some of this mix over a bowl of rice with a fried egg would be tops.
Please tell me you are into hot sauce. Sriracha is the bomb with this stuff.
Quick and Easy Turkey Lettuce Wraps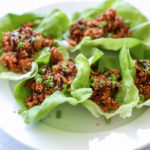 Print This
Ingredients
½ yellow onion, roughly chopped

1 red bell pepper, roughly chopped

2 carrots, peeled and roughly chopped

3 garlic cloves

1 2-inch piece peeled fresh ginger, about the size of your thumb

2 tablespoons extra virgin olive oil

1 teaspoon kosher salt

1 teaspoons ground pepper

2 pounds ground turkey

½ cup hoisin sauce

¼ cup soy sauce

2 tablespoons rice wine vinegar

1 head butter leaf lettuce, separated into leaves
Instructions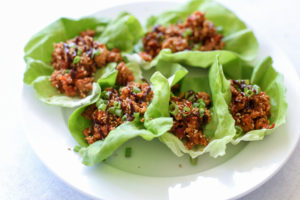 In the bowl of a food processor, add the onion, red bell pepper, carrots, garlic cloves and ginger. Process until finely minced, being sure to scrape the sides of the bowl.
In a large skillet over medium high heat, add olive oil. Once the oil is heated, add vegetables, salt and pepper. Saute until vegetables are softened and any moisture is evaporated, about 10 minutes. Add ground turkey and saute while breaking up with a wooden spoon or potato masher. While the turkey is cooking, in a small bowl, combine hoisin sauce, soy sauce and rice wine vinegar. Whisk well to combine. Once the turkey is cooked through, pour the sauce on top and stir to combine. Cook for an additional 5 minutes.
Serve turkey mixture in lettuce cups.