Many recipes we all use day to day were created out of the need to use up ingredients. Overly ripe bananas are banana snack cake, leftover rice is broccoli and kilebasa rice skillet and a stack of stale corn tortillas becomes delicious chilaquiles. This apple cake with caramel sauce helps me use up apples that are about ready to turn. Questionable apples become a spiced dessert with a warm, sweet, sticky sauce. What could be better?
Days of yore
The first few years of my marriage were spent in Southern California. We had our two boys in California, which by the way was wonderful. I was always treated with so much respect when I was pregnant. Way more than when I was pregnant in Utah. At my work at a car dealership, the shop techs always put out their cigarettes when I would walk by. The salesmen would buy me lunch and extra bottles of water. And the excitement of all the people in my church group when I gave birth topped anyone else. However, the hospital experience in Utah was drastically better. So it's a wash.
It was always a bummer when fall would roll around. I knew my family and friends in Utah were wearing sweaters and boots, watching the leaves change and queuing up the hot chocolate on cooler nights. In Southern California, we were lucky if the temps got below 90. The only way to feel like it was fall at all was to visit Riley's Apple Farm in Yucaipa. It is a U-Pick apple orchard and it's higher up in the mountains where the air is cooler.
I have great memories of taking my oldest there when he was a toddler. He wasn't ever big enough to reach the branches, so I always had to lift him up. And plenty of the rotting apples made it into the bucket because those were always in reach. A good way to use any of those apples was to make apple cake.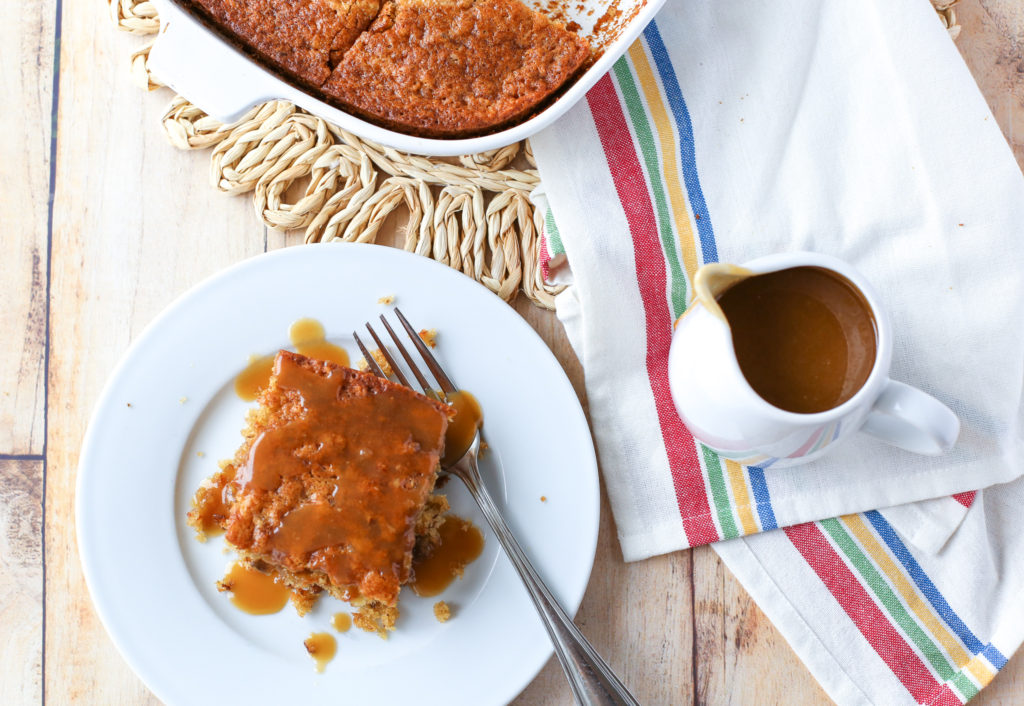 Why is everyone so weird about cooked fruit?
Part of why this apple cake with caramel sauce works is because the apples are shredded instead of chopped. My people are so lame about cooked fruit. It drives me nuts. So instead of chopped apple, I shred them. This way the fruit either dissolves into the cake while it bakes or it's just small enough to not be noticed. It's also way easier than chopping. It takes one minute to shred the apple. No big deal.
Would it be possible to do another kind of produce in this apple cake with caramel sauce? For sure! Shredded carrots, mashed bananas or chopped fresh pineapple. Any of those would pair well with the caramel sauce. Speaking of that caramel sauce, you are going to be stoked at how easy it is.
The caramel sauce that your kids could make
Having a good caramel sauce recipe around is almost essential. It's how you can take a regular dessert up a notch to something special. And this caramel sauce is almost too easy. No special ingredients or attention required. There are so many ways to use it. Besides using it as a sauce on top of a cake like this, one time I used it as a layer on a cake. It was a plain vanilla cake in a 9×13 inch pan, topped with this caramel sauce and then whipped cream on top of that. It was perfection.
Notes on preparation
The recipe calls for cinnamon, nutmeg, ginger and cloves. If you have pumpkin pie spice, go ahead and use that. Do one teaspoon.
I wrote the recipe with the pecans as optional. I am just always after texture when I write a recipe. So the pecan can add some crunch. But if you don't have any or don't like nuts, just leave them out. But now that I think about it, I have these little caramel bits I put in cookies. They would be so good in this cake. Butterscotch chips would be killer too.
Print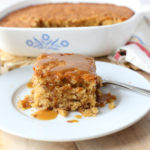 Apple Cake with Caramel Sauce
---
1 1/4 cup

all-purpose flour

1 teaspoon

baking powder

1/2 teaspoon

baking soda

1/2 teaspoon

salt

1/2 teaspoon

ground cinnamon

1/2 teaspoon

ground nutmeg

1/4 teaspoon

ground ginger

1/8 teaspoon

ground cloves

1/2 cup

vegetable oil

1 cup

brown sugar

2

eggs

1 teaspoon

pure vanilla extract

1/2 cup

buttermilk

1 1/2 cup

peeled and shredded apple
For the caramel sauce
1 cup

brown sugar

1/2 cup

evaporated milk

1/4 cup

unsalted butter

1/8 teaspoon

salt

2 teaspoons

pure vanilla extract
---
Instructions
Set oven to 350 degrees F. Spray an 8×8 inch baking pan with non-stick spray and set aside.
In a medium bowl, combine flour, baking powder, baking soda and salt. Whisk well to combine. In the bowl of a mixer fitted with the paddle attachment, add vegetable oil, brown sugar, eggs and vanilla. Mix on medium speed until well combined. Add flour mixture and buttermilk. Mix until well combined. Stir in shredded apple with a rubber spatula.
Pour batter into the prepared baking dish. Bake for 40-45 minutes, or until an inserted toothpick comes out clean.
While cake cool, prepare caramel sauce. In a medium saucepan over medium heat, combine brown sugar, evaporated milk, butter and salt. Bring to a simmer and cook until butter is melted and brown sugar is dissolved. Simmer for an additional 2 minutes. Remove from heat and add vanilla. Cool slightly and use immediately.
Prep Time:

15 minutes

Cook Time:

45 minutes

Category:

Dessert