Butterscotch pudding has eluded me for years. I remember having it at some fancy restaurant on my whatever years wedding anniversary and it was perfection. Creamy, full of rich flavor and I had to find a way to replicate it. After that anniversary dinner, I started tinkering with a butterscotch pudding recipe. I would make it, it wouldn't be great and it would piss me off. So I would leave it alone for 6 months to a year. The itch would make its way back and I would try again. It was never enough butterscotch flavor and not the right consistency. Well folks, we have arrived. It is how I want it. After all the years, we have the butterscotch pudding of my 10th anniversary.
The ingredients in this butterscotch pudding are very basic. We get the butterscotch flavor from brown sugar and molasses. For some extra decadence, I like to top my butterscotch puddings with caramel sauce. It gives everything another layer of flavor. I also like to add some toffee bits for a little crunch. I have also added crushed graham crackers on top too. Both are delicious!
How to make butterscotch pudding
All this recipe is is a bunch of whisking. We whisk together all the ingredients on the stove over a medium high flame until it is bubbling and a little thickened. So pull out your favorite whisk, get comfy and get ready to keep everything moving in the pan.
Once the butterscotch pudding is hot and bubbly, we pour it into a fine wire mesh strainer to get rid of anything that wouldn't give us a completely smooth texture. It could be burned bits from the bottom of the pan, any seized up cornstarch or hard brown sugar that didn't dissolve. The straining is essential. That is what made it restaurant quality. Now let's talk ingredients.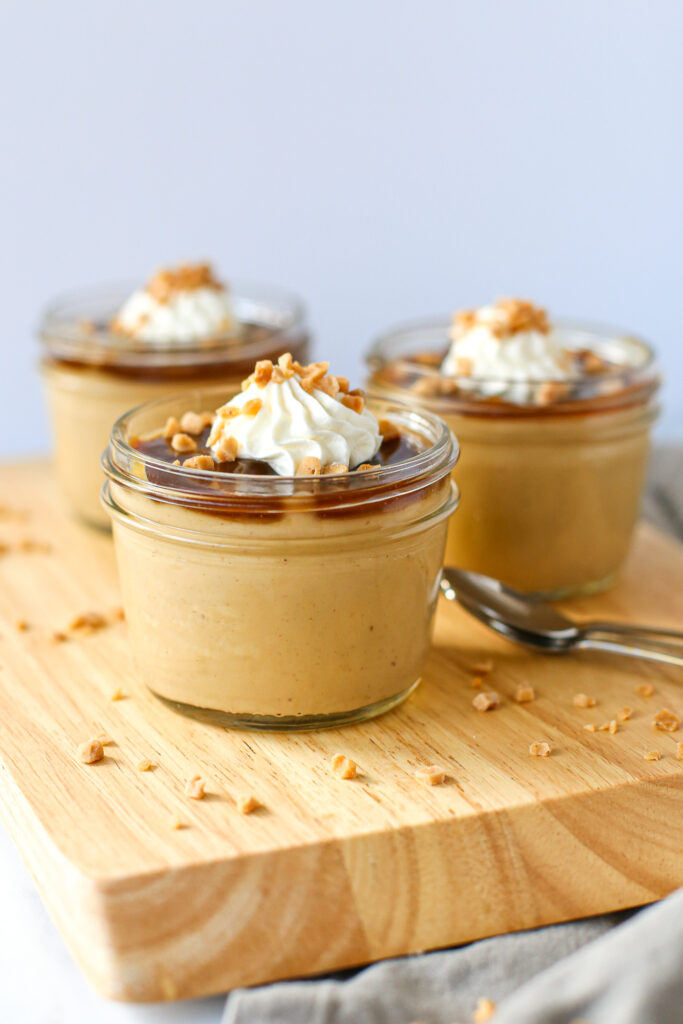 Brown sugar
We could use regular granulated sugar, but we want the extra flavor and color from the brown sugar. Depending on the climate you live in, your brown sugar could be hard as a rock (like mine). I keep a slice of bread in my brown sugar all the time, but sometimes I still get clumps of it when I made a dish like this. So I will use a measuring cup to smash up the hard brown sugar in the pan before adding the milk and cream.
Cornstarch
Cornstarch is a cook's best friend. It can thicken up anything, just enough to make it special. But there are a few tricks to cornstarch. You can add it along with other dry ingredients or you can add it at the end in liquid form. With this recipe, we whisk the sugar and cornstarch together, being sure to evenly spread it out, thus avoiding it seizing up. If we just plopped it in to the simmering milk and cream, it would just be a ball of goo. Yuck.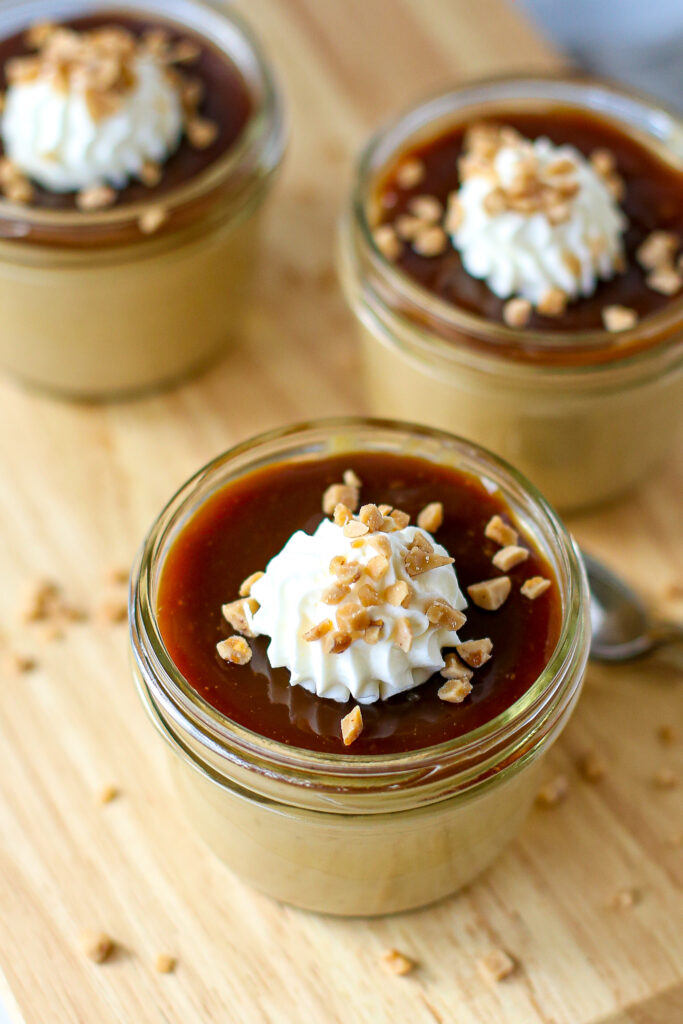 Milk
If you look around at other pudding recipes, they are pretty specific about what kind of milk to use. Usually whole milk. I just say use what you have. Whether you use skim or whole, everything will taste great. And this is because we also add heavy cream. So never fear. Personally, I always buy 2% milk so that is what I use in this recipe.
Heavy cream
We use equal parts of milk and cream in this butterscotch pudding. We go full creamy delicious on this. If you are lactose intolerant, I got nothing for you. Sorry.
Molasses
A common misconception about butterscotch is that is has scotch in it. Butterscotch flavor is like caramel except instead of using granulated sugar and butter, it is brown sugar and butter. So to intensify the butterscotch flavor, we add more of what brown sugar brown- MOLASSES! This gives the pudding a perfect rich flavor.
For my fellow food nerds, here is a great guide on butterscotch.
Pure vanilla extract
The vanilla extract gives us another layer of flavor, along with the molasses. But if you insist, you can leave it out.
When you are ready to serve
I like to top my butterscotch pudding with a layer of caramel sauce. My favorite caramel sauce is Bobby Flay's on NY Times Cooking. It is the easiest I have found. You can also buy a jar of caramel sauce by the ice cream toppings at your grocery store. That works great too. A little whipped cream and some toffee bits and you're golden. Some toasted almonds would be lovely too.
A note on NY Times Cooking: you have to pay a yearly subscription fee, but I feel like it is worth it. They have amazing resources and recipes.
Print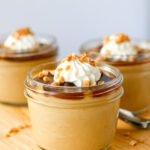 Butterscotch Pudding
---
Description
Butterscotch pudding is the smooth, rich and creamy dessert you need. Using basic ingredients, you can make a magical dessert that both refreshing and decadent.
---
1 cup

brown sugar

1/4 cup

cornstarch

1/4 teaspoon

salt

2 cups

milk

2 cups

heavy cream

1 tablespoon

molasses

2 teaspoons

pure vanilla extract
Whipped cream, for serving
Toffee bits, for serving
---
Instructions
Set 6 small cups or ramekins on a small tray or cookie sheet and set aside. Also set a fine wire mesh strainer over a large bowl and set aside.

In a medium pot over medium high heat, add brown sugar, cornstarch and salt. Whisk together, being sure to break up the brown sugar.

Whisk in milk and cream. Bring to a boil, whisking constantly. Boil for 30 seconds then remove pan from the heat. Whisk in molasses and vanilla extract. Pour hot butterscotch pudding into the wire mesh strainer over the bowl and strain the mixture, tossing out anything left behind in the strainer.

Divide butterscotch pudding between the small cups or ramekins. Top each one with a small piece of plastic wrap, being sure the surface of each cup is covered.

Refrigerate puddings for at least 6 hours or up to 24 hours.

Serve pudding with whipped cream and toffee bits.
Prep Time:

5 minutes

Cook Time:

10

Category:

dessert

Method:

stove-top
Keywords: pudding, butterscotch