If you are from the Inland Empire in Southern California, you probably know about Carolyn's Cafe in Redlands. Besides being an awesome spot for an excellent breakfast, Carolyn's is known for their coffee cake. We have family that lives in Redlands and this last summer, we finally were able to partake of this famous layered coffee cake.
Carolyn's Cafe
I had heard about this coffee cake from a few friends and family over the years. And everyone flipped out because it is served with whipped butter that melts like gravy, coffee cake gravy. How bad can it be? Finally, I got to have it. And boy it didn't disappoint. There were loads of streusel and the portion was generous. Add whipped butter and I am sold. While we were at the restaurant, I texted a picture of my layered coffee cake to another family member who lives in Utah by me. They flipped out and begged me to bring one home. Before I left the restaurant, I ordered a whole coffee cake to be picked up the next day. When my kids and I went to pick it up the next day before we drove back to Utah, we each ordered a piece to-go and then ate it in the car on the drive home. Guys, it's THAT good.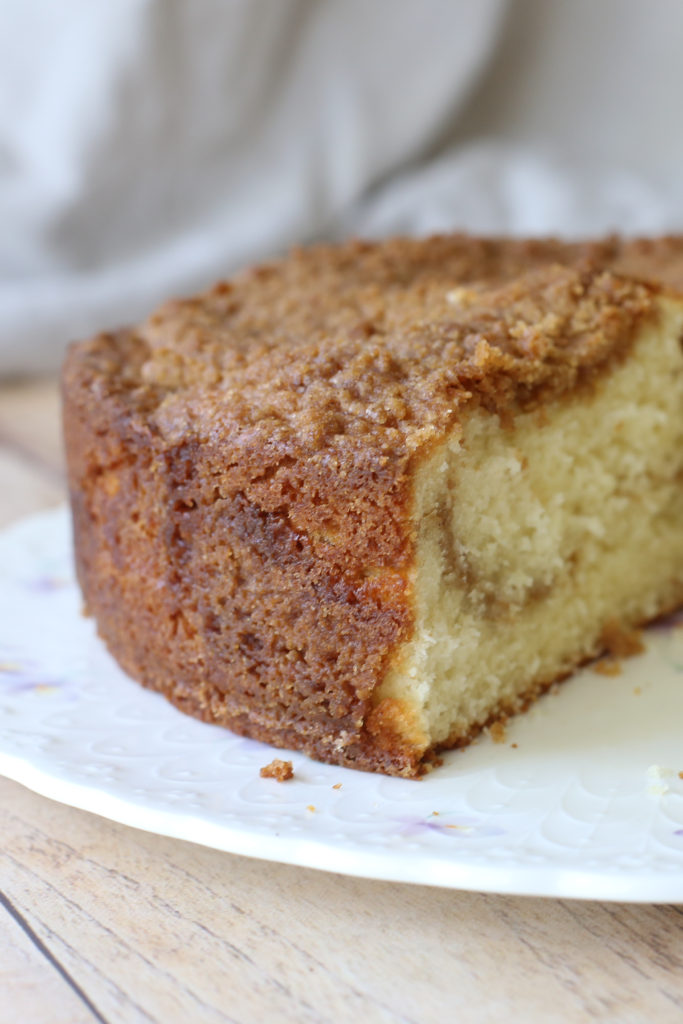 The breakfast of my childhood
Coffee cake was always a treat when I was a kid. My mom had a great recipe and she would make a double batch of it, with a triple helping of the streusel. Coffee cake always meant Saturday morning. My mom says she would make it to encourage us to get out of bed and get our house chores done. I have a binder of all our family recipes from growing up and of course, coffee cake is in it. And it's the recipe I go back to the most. For this recipe, I have taken my childhood coffee cake, changed a few things to make it like Carolyn's Cafe and baked it in a springform pan. I want a big, thick piece without it overflowing in a regular 8×8 inch pan.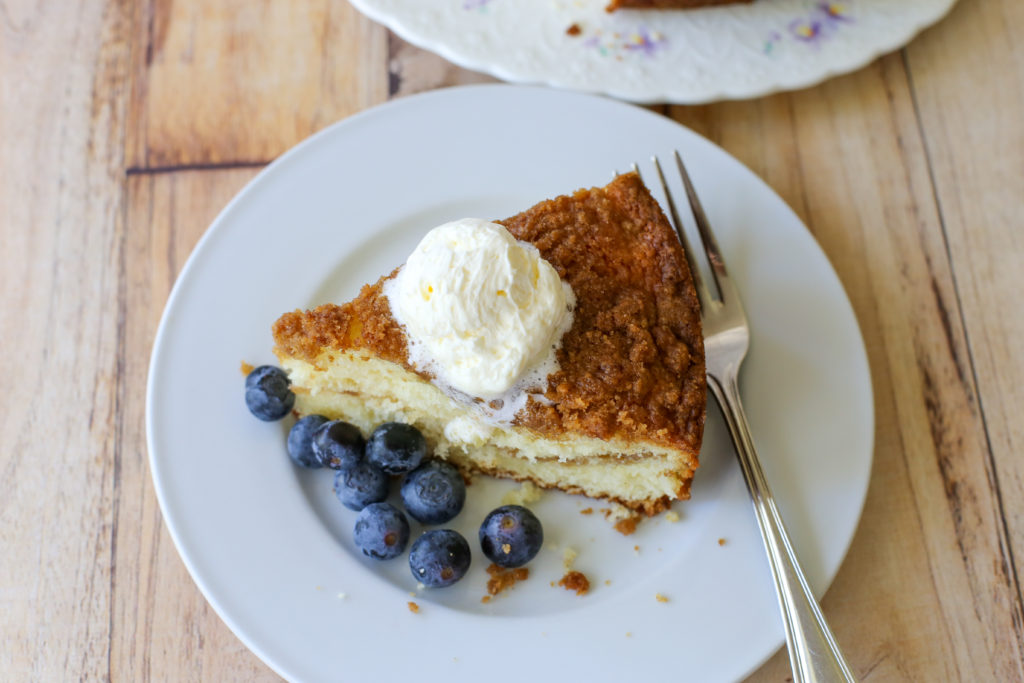 Notes on preparation
You are going to make the streusel and think it is way too much. Trust me, it's not. Go ahead and pile it on and save your worries for when it comes out of the oven. You will see it's perfect, especially on top. It forms this crunchy crust that is just…. well, you'll see.
The thing that makes Carolyn's Cafe coffee cake perfect is that it is served warm so that the whipped butter melts. And they microwave each piece. Go ahead and do that with yours. Having the butter melt is essential.
Speaking of butter, if you are a big cinnamon fan, add 1/4 teaspoon to the butter when you are whipping it.
When my mom would make coffee cake, she would use applesauce in place of the vegetable oil and regular milk instead of buttermilk. Feel free to do that. It will still turn out delicious.
Print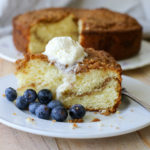 Layered Coffee Cake with Whipped Butter
---
Description
Have you ever had the coffee cake at Carolyn's Cafe in Redlands, California? This is my best attempt at their masterpiece. Moist cake, plenty of streusel and whipped butter melted on top.
---
For the streusel
1 cup

brown sugar

3/4 cup

all-purpose flour

1 1/2 teaspoon

ground cinnamon

1/2 cup

cold unsalted butter, chopped
For the coffee cake
2 1/4 cup

all-purpose flour

1 cup

granulated sugar

3 1/4 teaspoon

baking powder

1 1/4 teaspoon

salt

1/3 cup

vegetable oil

1 cup

buttermilk

2

eggs
For the whipped butter
1/2 cup

unsalted butter, softened

2 tablespoons

milk
---
Instructions
Set oven to 375 degrees F. Spray a 9 inch springform pan with non-stick spray and set aside. Prepare the streusel topping. In a medium bowl, combine brown sugar, flour and cinnamon. Mix together. Add cold butter and using a pastry blender, cut the butter into the brown sugar mixture. Mixture should look like small pebbles. Set aside.
Prepare the coffee cake. In a large bowl, combine flour, sugar, baking powder and salt. Whisk to combine and set aside. In a medium bowl, combine vegetable oil, buttermilk and eggs. Whisk well to combine and add to flour mixture. Stir well with a wooden spoon. Add half of the batter to the prepared springform pan and spread evenly. Sprinkle on half of the streusel topping. Add the rest of the batter, being careful to spread to the edges without mixing in the streusel. Sprinkle the rest of the streusel on top. Bake for 40-45 minutes, or until an inserted toothpick comes out clean.
While the coffee cake bakes, prepare the whipped butter. In the bowl of a mixer fitted with the paddle attachment, add the softened butter and milk. Mix on low speed until the milk and the butter combine. Once combined, increase speed to medium and whip for 2 minutes, until the butter is light in color and fluffy. Serve coffee cake warm with a scoop of whipped butter on top.
Prep Time:

15 minutes

Cook Time:

45

Category:

breakfast

Method:

baked
Keywords: breakfast, coffee cake