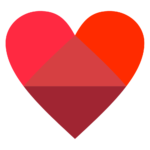 Over Christmas break, I had two people text me and ask for my recipe for homemade pizza crust. Then another person messaged me on Instagram. I never mind people asking for me to send them recipes, but I thought maybe it would be helpful to have a post on it so it's easy to pin and keep on hand. A printable recipe is always nice too. With this recipe, I am also including pizza sauce.
We are using bread flour people!
Homemade pizza crust has always been something I have been trying to get right. Over the years I have tried all kinds of tips and methods. This recipe is the result of many years. Everything from the type of flour to the method of baking has been tried and tested over and over again. I always thought that crisp pizza could only happen in a restaurant, but it is possible at home with a couple of tricks.
One trick is using bread flour. And guess what, I don't know why it works. But it does. I could go look into the science of it, but I am too lazy. All I know is that bread flour produces a chewier crust than all-purpose flour. I actually don't use bread flour for anything but this pizza crust. Which means I don't buy a bag of bread flour very often. But it's worth the extra expense.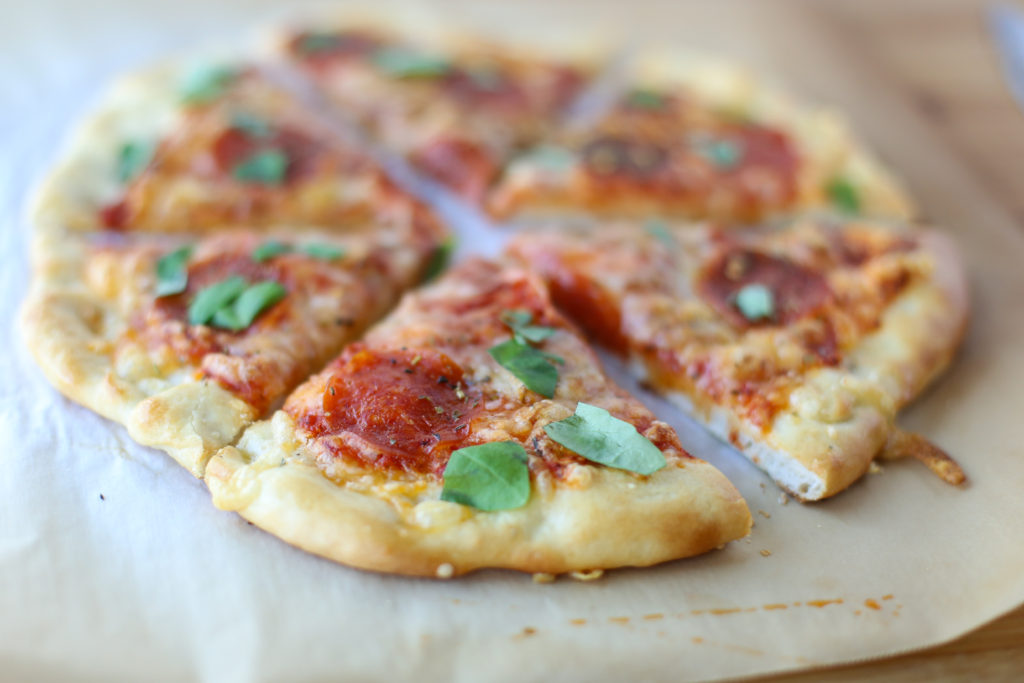 Oil over flour for rolling out
If you go to any pizza restaurant, they use flour or cornmeal for rolling their pizza dough out. And I don't love the flour residue on my crust. I use a bit of olive oil instead. Just a teaspoon or so on the kitchen counter spread out with my hands. It keeps the dough from sticking and also helps create a crisp crust.
One thing that has taken our homemade pizza crust to the next level lately is brushing garlic oil on the crust after it comes out of the oven. It adds just the right touch and takes the pizza from "good" to "wow". Garlic oil is just a good thing to have around anyway. Once you have a bottle of it in the pantry, you will find all kinds of ways to use it.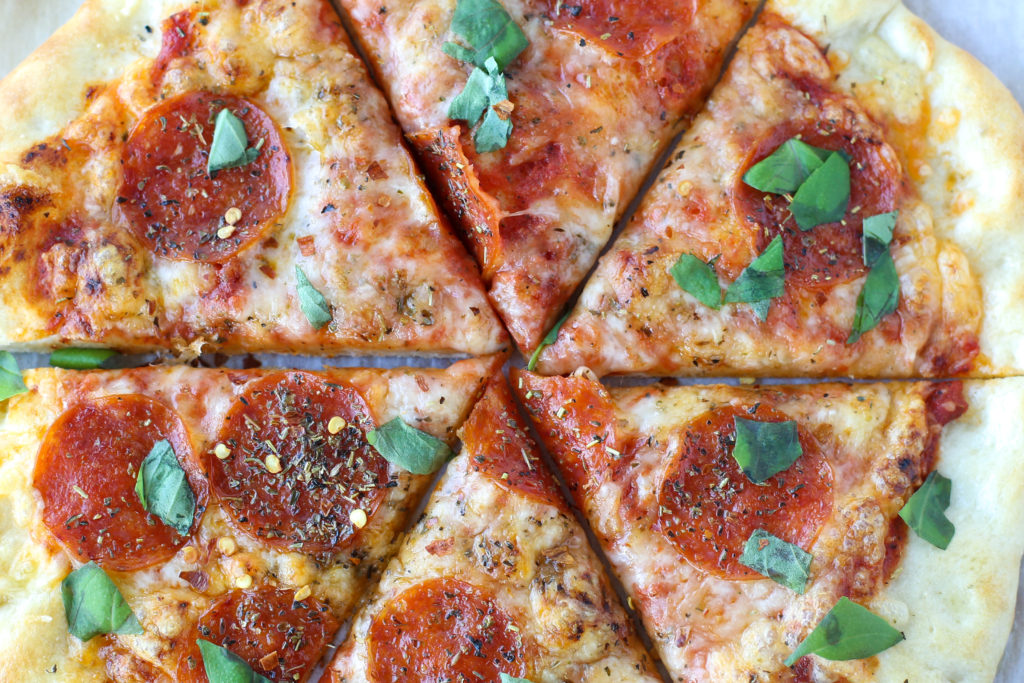 What's up with this "upside-down baking sheet" business?
Valid question. I bake my pizzas on a piping hot upside-down baking sheet. I have had a lot of people tell me I should just buy a stupid pizza stone, but I have an itty bitty kitchen and I am always careful about bringing more kitchen equipment in it. I knew the pizza should be baked on something hot so that the crust cooks on the bottom. The upside-down baking sheet-method to the rescue!
To give the crust the best possible chance of getting crisp, we also bake it on a sheet of parchment paper. It's also great or transferring the pizza to and from the oven. This idea came from my friend Kalli and we have been using that trick for years. Also- LESS DISHES.
Notes on preparation
You will probably have extra sauce, maybe even enough to make another round of pizzas. Go ahead and freeze it for next time. Or just add it to your next batch of marinara sauce.
You can use this same homemade pizza crust recipe to make one big pan pizza. You just take all the dough and press it into a baking sheet and go nuts with toppings. You will still use the upside-down baking sheet method when you bake it. Or try and handle it all on a piece of parchment. I would maybe do two sheets of parchment instead of one. Having that parchment paper break would be devastating.
Print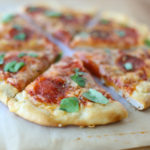 Homemade Pizza Crust and Sauce
---
Total Time:

70 minutes

Yield:

6

pizzas

1

x
2 cups

warm water, between 100-100 degrees F

2 tablespoons

honey

2 teaspoons

olive oil

2

packets active dry yeast, or

4½ teaspoons

4½ cups

bread flour

2 teaspoons

kosher salt
For the pizza sauce
15 ounce

can of tomato sauce

6 ounce

can of tomato paste

1 tablespoon

dried oregano

½ teaspoon

garlic powder

½ teaspoon

kosher salt

¼ teaspoon

ground pepper
---
Instructions
Put a baking sheet in the oven upside down and set the heat to 500 degrees F. Tear off 6 pieces of parchment paper big enough for a pizza.
In a medium bowl, combine water, honey, olive oil and yeast. Whisk to combine and set aside for 10 minutes for the yeast to bloom. It should have a layer of foam on top after 10 minutes.
While yeast blooms, add flour and salt to a large bowl. Whisk to combine. Pour yeast mixture on top and mix with a wooden spoon until combined. Dump the dough out on to the counter and knead by hand for 5 minutes, adding a sprinkling of flour if the dough is sticking to your hands.
Form dough into a loose ball and put it back into the mixing bowl. Cover with a towel and let it rise for 35-45 minutes, until it has doubled in size.
While the dough rises, make the sauce. Combine all the ingredients in a blender and blend until smooth. Pour into a small bowl and set aside.
Once the dough is risen, punch it down and then divide it into 6 equal portions. You can do this by cutting the dough in half and then cut each half into thirds.
Spread a small amount of olive oil on your counter and roll out each ball of dough to your preferred thickness. Transfer dough to a piece of parchment. Add sauce and desired toppings.
Transfer the pizza to the oven on the parchment paper and set it on the hot upside-down baking sheet. Bake for 10-12 minutes, or until cheese is melted and the crust is lightly browned.
Prep Time:

60 minutes

Cook Time:

10 minutes

Category:

Main Course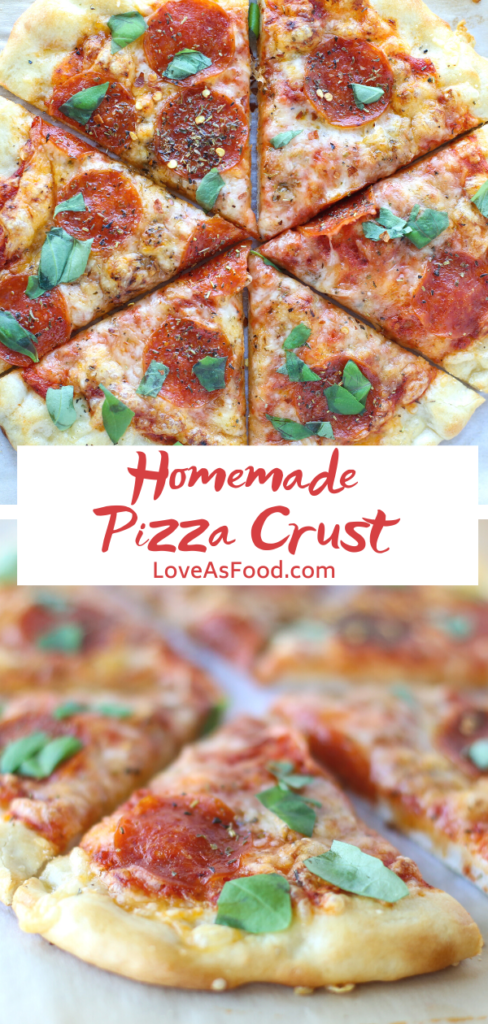 Cooking equipment I use for this recipe
Listened to in the kitchen